The Australian Industry Group (AIG) has penned a flimsy attack on increasing the minimum wage, arguing that many low-income workers would be pushed into higher tax brackets, therefore would lose some of the benefits from any increase. From The AFR:
Up to 200,000 of Australia's lowest paid employees will be bumped into the middle income tax bracket and lose more than one-third of every extra dollar they earn if the Fair Work Commission grants even a fraction of the ACTU's annual pay claim.

While workers' pay packets would be squeezed by the bracket creep, business would face the full cost of the ACTU's claim to lift the minimum wage by 7.2 per cent, or from $36,238 a year for full-time workers to $38,847…

However, a minimum wage increase of more than 2.1 per cent would lift full-time workers' minimum yearly incomes to more than $37,001, tipping them from the second lowest 19 per cent tax bracket into the middle-income 32.5 per cent bracket…

AiGroup chief executive Innes Willox said the increased cost to employers in return for less gain for minimum-wage workers should be a new consideration in this year's annual wage review.

"We are at a point where a substantial increase in the minimum wage (of 3 per cent or more) would see a full-time, minimum-wage earner facing an effective marginal tax rate of 36 per cent (or 33 per cent if the government's tax changes are introduced)," he said.

"As a result, while employers would face the full extra costs, disposable incomes of employees would only rise by two-thirds of the increase in wages"…

An ACTU spokesman noted tax brackets would not negate the effect of the wage increase: "The idea that it could somehow do that fundamentally misunderstands progressive taxation."
So according to AIG, the minimum wage should not be increased above 2.1% because that may push some workers into higher marginal tax brackets.
What about the many lower paid workers that don't work full-time and don't earn anywhere near $37,001? What about subsequent years: should the minimum wage be frozen at current levels indefinitely just to prevent some low-paid workers creeping into higher tax brackets? Obviously not.
That said, I do agree that the ACTU's $50 a week minimum wage demand is excessive at roughly four times the inflation rate. But let's have some perspective here.
Growth in employee compensation remains stuck in the gutter, falling in real terms by 4.2% since March 2012, despite solid rises in labour productivity: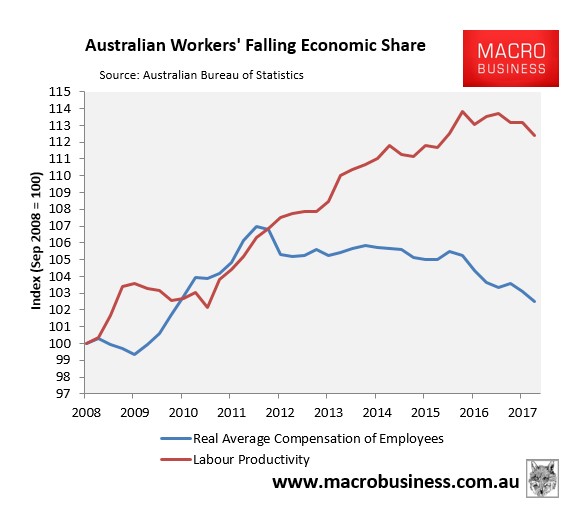 A decent minimum wage is also essential for Australia to maintain a civilised society.
Therefore, the Fair Work Commission needs to strike a fair balance that provides a decent, but not excessive, real lift in the minimum wage. But not the low-balling suggested by AIG, which comes at the same time as it demands a corporate tax cut.
At the same time as it argues for a reasonable lift in the minimum wage, the ACTU should also lobby to restore integrity to Australia's bloated temporary and permanent visa system, which is continually raising labour supply (particularly at the lower end), undercutting workers' bargaining power, and placing downward pressure on wages growth.
Of course, the AIG's Innes Willox, who is also chair of the Migration Council of Australia (a business front), would also oppose this tooth and nail.