When it comes to Australia's immigration program, you would be hard pressed to find a bigger liar than Treasurer Scott Morrison (see here, here and here).
Yesterday, Morrison again spun a web of lies over Australia's migrant program on ABC Radio [my emphasis]:
SCOTT MORRISON: Natural increase of around 150,000 each year has been falling now, proportionately, but it's been about that for a while. Permanent immigration has been about the same level.

It's the rise in temporary migration in recent times that has really fuelled that population growth. So if you are sitting on a bus or a tram or a train, the reason there's more people sitting on it actually has a lot more to do with the increase in temporary migration: people coming and studying, people here on visitors' visas; less so on the skilled work visas. That's actually been falling in recent times…

I mean, go back: I think it's the 14-, 15-year. The permanent migration program accounted for just less than a third of the increase in net overseas migration. The increase in permanent migration that year that went to population growth was half what the natural increase was.

So if you are looking to understand what are the things that are really influencing how many more people there are on the bus or the tram or the train, it's what's happening with temporary migration. So you have got to ask yourself some hard questions about that.

I mean, we've got more international students who are coming here and studying in our universities. That is generating important revenue for those universities, which means we can give more places to Australian kids in those universities. We've got tourists coming here, roaming the country, generating jobs in regional areas. So that's why you've just got to plan for growth.

And so that is not the main driver on permanent migration for the overall population growth. In fact, of natural increase, temporary migration and permanent migration, permanent migration has the lowest impact on population growth.
Scott Morrison is lying through his teeth here.
First, net short-term visitor movements into Australia are negative. Thus it is false to apportion any of the population pressures being felt in our cities on tourists – net tourism flows are actually relieving Australia's overall population pressures: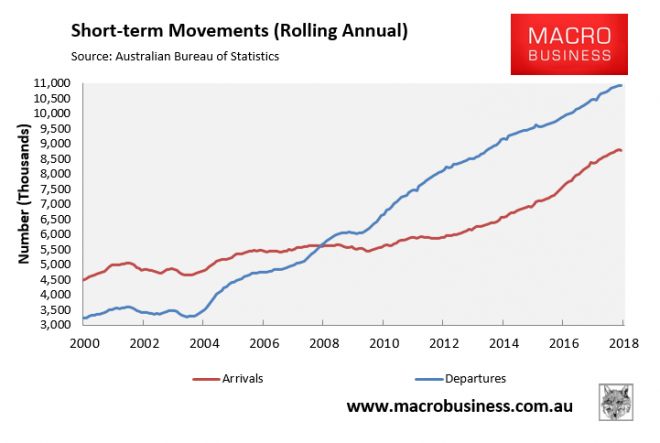 Second, the claim that permanent migration is only a minor player in Australia's population growth is false.
The 2016 Census revealed that Australia's population increased by a whopping 1.9 million people (+8.8%) in the five years to 2016, driven by a 1.3 million increase in new migrants:

Moreover, 86% of migrants (1.11 million) settled in Australia's cities, versus just 14% (187,000) that settled in Australia regional areas.
It is the permanent migrant intake that is the primary driver of Australia's population increase since, unlike temporary migrants who must ultimately leave, these migrants stay in the country and also have children, thus continually adding to Australia's population base.
Further, in the 2014-15 year that Morrison cites, the permanent migrant intake was 189,097 (202,853 including the humanitarian intake), which was well above net overseas migration (NOM) of 178,600:

In fact, the actual permanent migrant intake (rather than the cap) has averaged 202,400 over the past six years (including the humanitarian program) and is only slightly below the average 208,000 NOM recorded over the same period. It also dwarfs the 155,000 average natural increase recorded over the same period: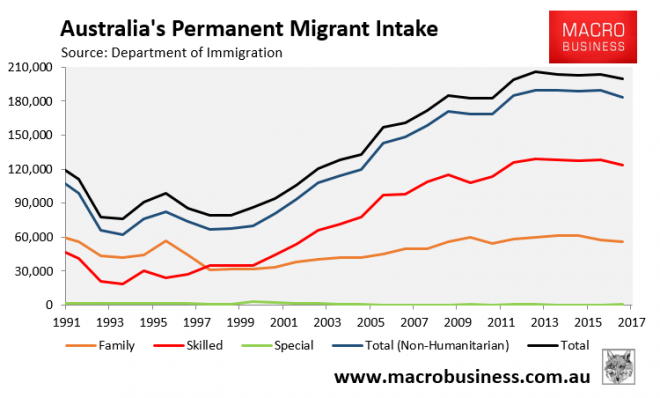 Remember, permanent migrants also have children, which then adds to natural increase. Thus, Australia's permanent migration program is the primary driver of both NOM and Australia's overall population growth.
Therefore, if the permanent migrant intake was hypothetically reduced to zero, then NOM and by extension Australia's population would barely increase: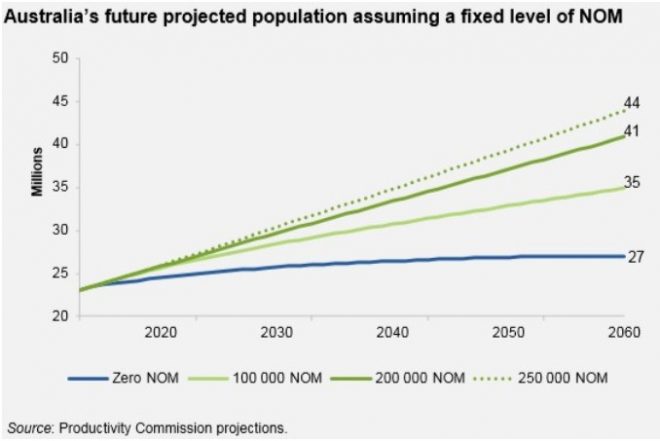 Stop lying Scott.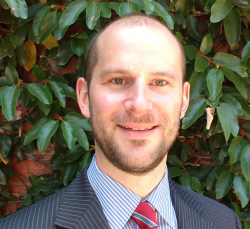 Latest posts by Leith van Onselen
(see all)