While residents of Sydney and Melbourne are suffering from crush-loaded roads, trains, schools, hospitals, and prisons, as well as hideously expensive housing, toll road company Transurban is the front-runner to buy Sydney's WestConnex toll road, which means it will own the bulk of Sydney's toll roads. From The SMH:
…one of the bidders for the [WestConnex] motorway – Transurban – already owns the concessions for the bulk of the city's toll roads. What does it mean to have so many of our motorways in the hands of one company? What might it mean to have more?..

Within the last decade, Transurban's share price has almost doubled, giving it a market value of more than $25 billion. Of the 99 kilometres of toll roads in Sydney, 95 kilometres are either majority or half-owned by Transurban…

People wary of Transurban's rise refer to the way in which the company has appeared able to get governments to do what it wants… "They've been able to invest so that they're in a monopoly position for the future," Tony Harris, a former auditor-general, says of Transurban…

"There aren't that many road projects in Sydney," says one infrastructure advisor. "If Transurban wins WestConnex, they have effectively locked up the east coast tollway market."
In February, Transurban reported a massive lift in profits as Australia's mass immigration 'Big Australia' policy continues to feed customers into Sydney and Melbourne:
The tollroad company is benefiting from higher revenues in its road development and tolling businesses…

Net profits for the six months to June rose 280 per cent from $88 million a year earlier…

Transurban makes its highest profit margins in Melbourne, where margins run at 88.5 per cent, and Sydney, where margins run at 81.2 per cent.

Group toll revenues rose 9.6 per cent to $1.13 billion, while construction revenues jumped 69 per cent to $462 million.

Toll revenue increases were driven by both traffic growth and higher toll fares…
This folks is Australia's population ponzi economy in action. It's a model of growth where corporate Australia privatises the gains from mass immigration and socialises the costs on everyone else.
Former treasury secretary turned NAB chairman, Ken Henry, explained this model in a speech last year:
Research NAB carried out earlier in the year showed that among our customers there's not wholesale support for a larger Australia. For many, the prospect of a higher Australian population means more stress in the ability to buy a house, to live where you want to live, to get to work with a reasonable commute time. And many in the community are also concerned about our ability, as a nation, to maintain norms of Australian social and economic inclusion, and to continue to provide access to high quality services in areas such as healthcare and education…

But what is the business perspective? The same NAB research showed that most of our business customers would strongly prefer a larger population, which supports better business growth.
With Australia's two biggest cities desperately trying to build infrastructure to keep pace with the population ponzi, private companies like Transurban are facing further strong profit growth, paid for by ordinary motorists like you and me.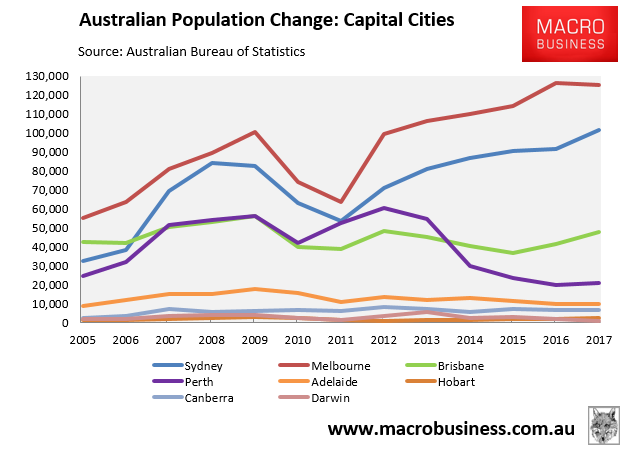 For example, the Victorian Government's $6.7 billion West Gate Tunnel Project will see Transurban contribute $4.4 billion towards the cost, but in exchange motorists will have to pay additional tolls on CityLink until 2045 estimated at $15 billion. It's a sweet deal for Transurban, but a dud deal for Melbourne motorists.
In a similar vein, Sydney's $17 billion WestConnex project will see existing free public roads like the state-owned M4 (that have already been paid off) being tolled to help fund the project. Toll are contracted to rise by 4% per year for the 43 years, thus raising costs for residents.
Clearly, private businesses like toll road operators, retailers, banks and property developers get to enjoy the easy growth in revenue and profits that come from an ever expanding customer base, whereas households suffer from the increased competition and reduced bargaining power at work, rising housing costs, rising infrastructure costs, and longer and more expensive commutes.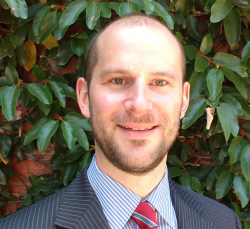 Latest posts by Leith van Onselen
(see all)