This site has frequently derided the parasitic growth of Australia's FIRE sector (finance, insurance and real estate), which has grown at roughly twice the pace of the rest of the economy since financial markets were deregulated in the mid-1980s: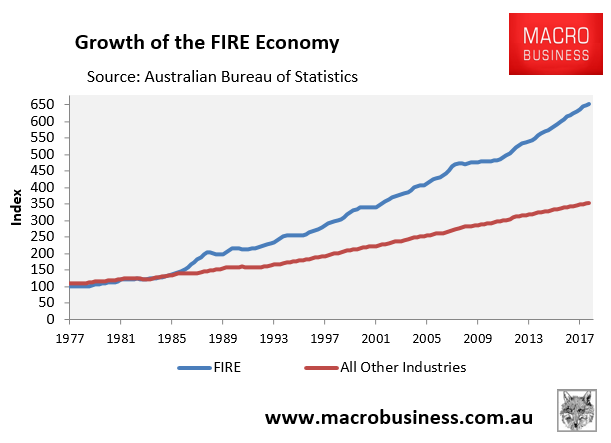 Now it appears there is a new parasite on the block in the form of the Big Four accounting firms. From The ABC:
The "big four" are the unseen hand guiding Australian life.

Not the banks, but the global consulting firms KPMG, Deloitte, PricewaterhouseCoopers (PwC) and Ernst & Young (EY).

Their revenue in Australia topped $7 billion last financial year, and the sector is growing at nearly 15 per cent annually — powered by rampant acquisitions of everything from advertising agencies and marketing companies to law firms.

"The firms are incredibly important in Australia — they're proportionally larger here than anywhere else," Stuart Kells, co-author of a new book The Big Four, said.

"And they've got fingers in all sorts of pies: corporate auditing, government advice, not-for-profits, real estate, marketing, you name it…

KPMG has "enjoyed almost double digit growth" for the last five years, according to its chairman Alison Kitchen.

"With the economy growing at about 3 per cent during that time, clearly that cannot continue indefinitely or else we'd end up taking over the world"…

"Whilst I don't think that we are 'too big to fail' … I'm sure that the regulators are not going to allow us to get ourselves into that position," Kitchen said.
One area where the Big Four has made out like bandits is consulting for Australia's various governments, with the federal government alone understood to have spent $500 million on consultants last year alone, with the Big Four's fee revenue more than doubling.
Latest posts by Leith van Onselen (see all)