With the Coalition set to deliver on the first part of the Abbott Government's promise in October-2013 to deliver one million jobs over five years: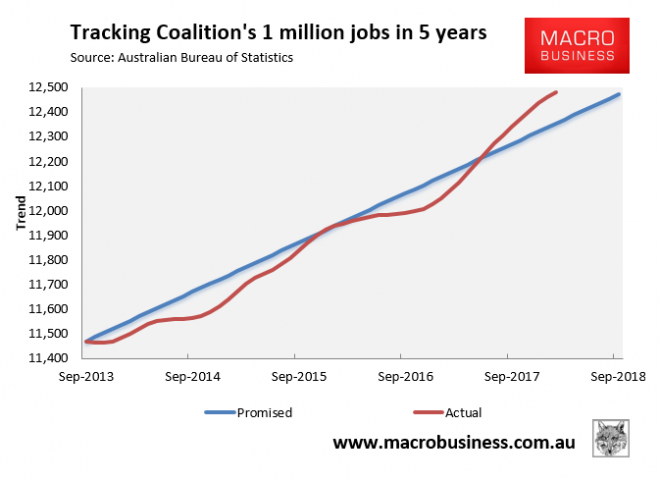 The ABC has published a report assessing the jobs growth:
Australia's population is rapidly increasing, driven by high immigration, and the economy has been growing continually for decades.

On average over the last 15 years, about 200,000 new jobs have been created each year. Multiply that by five and you've got 1 million.

…we are investing big in health and education and have the spare cash to spend on services and things like arts and recreation, which is creating a whole lot of jobs in that sector.

The National Disability Insurance Scheme, together with an increasing demand for aged care, is fuelling a spike in jobs in the health and social assistance sector.

This is now the single-biggest employer and largest contributor to employment in every state.

The NDIS alone is expected to create an extra 80,000 full-time jobs by 2020, according to Department of Social Security figures.

Economist Chris Richardson predicts this "magnificent" jobs growth will continue and notes it is a remarkably stable sector, pointing to statistics that show businesses in health care are the least likely to go bankrupt.

"If you've got a backache or a toothache, you're going to do something about it. The ups and downs of the economy don't really have a big impact," he says.

A more educated society, together with the rise of the consultant, is helping drive very fast growth in the vaguely named "professional, scientific and technical services" sector.

This includes everything from lawyers, engineers and architects to designers and computer programmers. It's now the second-fastest growing sector in New South Wales, Victoria and the ACT, behind health.

This reflects Australia's move towards a "services" over "goods" economy.

But that doesn't mean all of the new jobs are "professional".

Australia's construction industry is going gangbusters — ABS figures show it's more than doubled in every state except the ACT and SA, where it's up by at least 50 per cent.

That's thanks to a residential housing boom, the tail-end of the mining boom and huge Government-funded projects like Sydney's WestConnex motorway.

Almost one in 10 jobs is now in the construction sector — the biggest share in over a century…

According to University of Melbourne economist Mark Wooden, the dominant employment feature of the current generation has been the growth in part-time work, which is out-stripping growth in full-time jobs. Close to one in three workers is now part-time.
I was one of the naysayers that two years ago didn't believe the one million jobs pledge would materialise. However, the strong growth over the past year or so has changed the situation: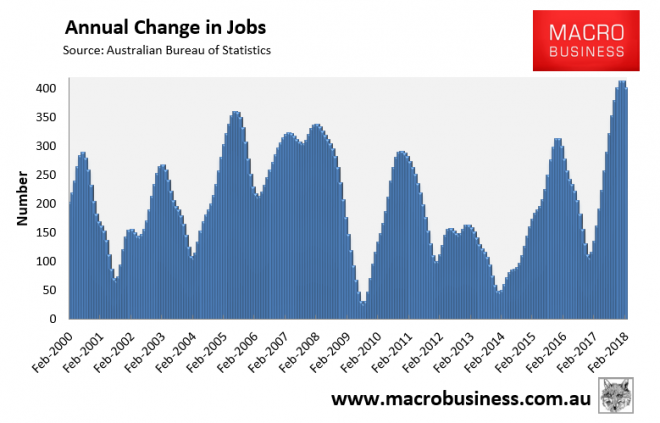 Jobs growth since September 2013 has averaged 18,800 a month, which is marginally above the 17,230 jobs per month created in the decade to September 2013, which also included the fallout from the Global Financial Crisis.
However, this level of jobs creation is off a much bigger base than was experienced previously. That is, there were 12,173,000 people in the labour market in September 2013, versus 11,253,900 in September 2008 and 9,985,900 in September 2003.
Australia's population is also growing rapidly, which (other things equal) means that employment must grow faster to absorb the additional workers.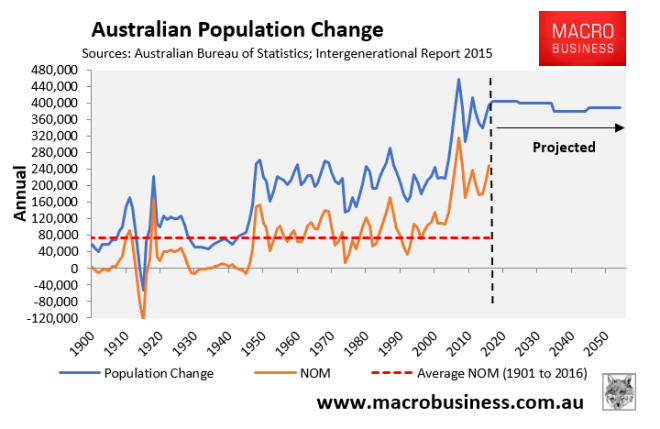 On this point, the 400,000 increase in jobs in the year to February 2017 was almost perfectly offset by a commensurate increase in Australia's population.
Accordingly, Australia's labour underutilisation rate remains elevated: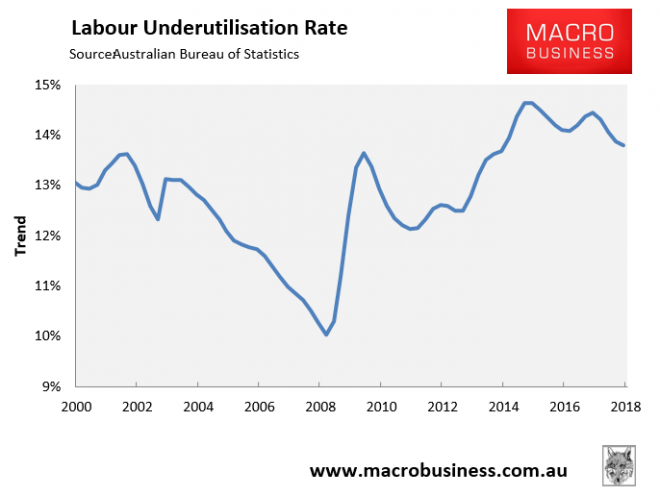 Australia's unemployment rate is higher than the OECD average: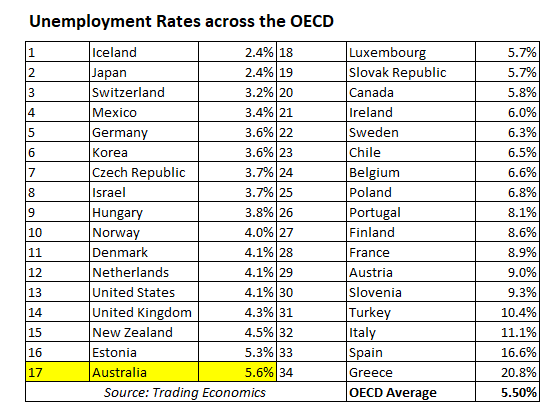 The number of unemployed persons has increased since September 2013 – i.e. from 701,700 to 729,500 currently.
And, of course, real wages growth has been falling: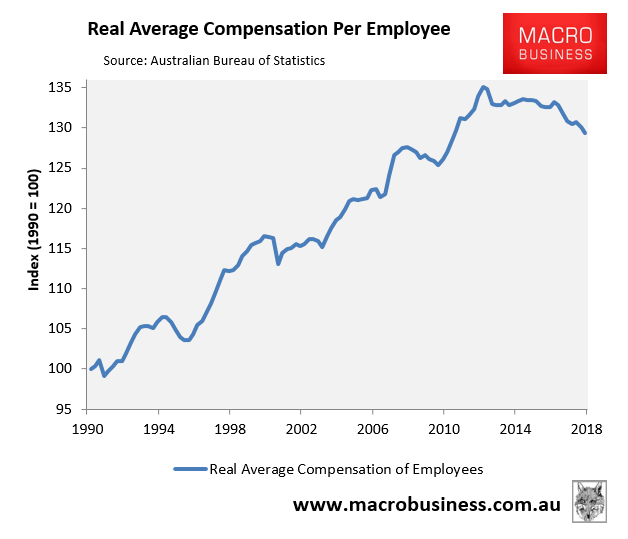 Thus, while jobs growth has been superficially strong, it is not translating into higher living standards.
Further, the composition of jobs growth has shifted towards areas reliant on force-fed mass immigration, government spending, and debt: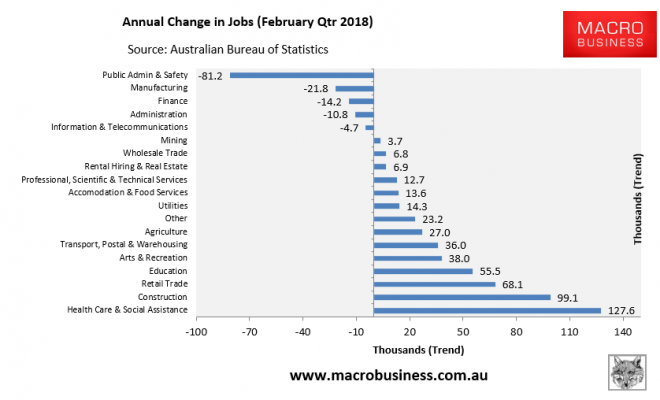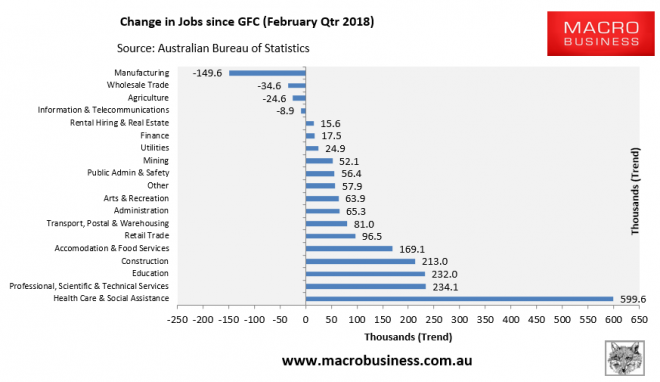 We've got booming 'caring' jobs in health care & social assistance and education, not to mention public sector jobs. These types of services jobs being created are more about shifting wealth around the economy, rather than creating new wealth. That is, they typically exhibit low productivity, low wages, are non-tradable, and are paid for to a large extent via taxation.
Then there is the population-led construction jobs boom that is being driven by record apartment construction as well as public infrastructure investment.
Such building-led growth is ponzi growth, since it requires ever more people, asset sales and debt to fund it. Moreover, if Australia doesn't build more than last year, then the economy shrinks (i.e. it's the rate of change that matters not the absolute level).
By contrast, those trade-exposed sectors that truly create wealth in the economy are under the most pressure. Accordingly, wages growth is at a record low (outside of the public sector) and there is significant under-employment. Put simply, the economy's growth levers are not operating properly.
MB has warned repeatedly that a strong and diversified economy is not built around endless apartment construction, selling cappuccinos and flipping homes to each other, as well as emptying each other's bedpans. Australia actually needs to find things to sell to the rest of the world other than the nation's assets and permanent residency.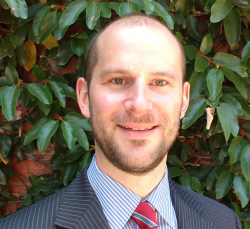 Latest posts by Leith van Onselen
(see all)