At the same time as former Canberra Times editor, Crispin Hull, made a robust case for lowering immigration, the Fairfax editorial was quick to pump out propaganda espousing that "immigration is key to our prosperity". Let's examine the main arguments.
"There are many great cities much larger than any in Australia. Our population has been growing by about 2 per cent a year, twice the international average and the fastest in the OECD group of 35 wealthy, industrialised nations. Immigration provides about 60 per cent, in raw numbers, of the growth and about half after accounting for departures. The number of immigrants, excluding our humanitarian intake of close to 18,000, has been close to the cap of 190,000 in recent years, with a further half a million or so temporary visas – mainly for tourism, seasonal labour and tertiary study – granted. This, though, does not mean almost a quarter of a million people shift to Australia each year; close to half are already here and are merely renewing a visa or switching to a new status as their bid for permanent residency progresses.
The argument that "there are many great cities much larger than any in Australia" is banal. There are also many struggling cities that are "much larger than any in Australia", including Mexico City, Buenos Aires, Moscow, Sao Paulo, Rio de Janeiro, Manila, Jakarta, Istanbul, Bangkok, Lagos, and Tehran. So what's the point? Is bigger necessarily better?
The editor's claim that "immigration provides about 60 per cent, in raw numbers, of the growth and about half after accounting for departures" is also false.
The Productivity Commission's (PC's) 2016 Migrant Intake Australia report showed clearly that Australia's population would peak at just 27 million by 2060 under zero net overseas migration (NOM) versus more than 40 million under current settings: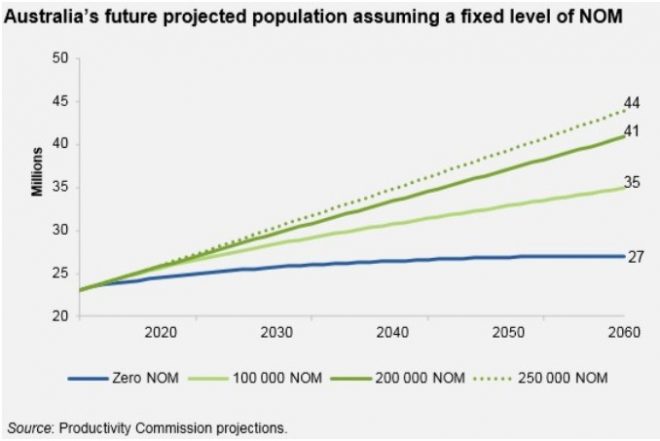 In a similar vein, the NSW State Government's population projections show that Sydney's population would increase by just 210,000 people over the next 20 years with zero NOM, versus 1.74 million people under current immigration settings: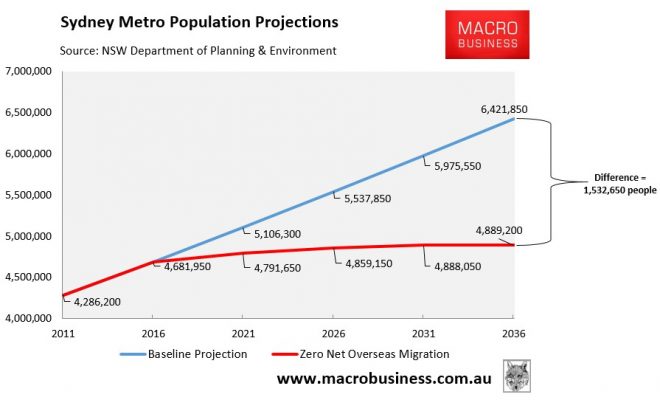 The reason why current immigration levels have such a big impact on population growth is because migrants grow the population in two ways: 1) directly as soon as they come off the plane; and 2) indirectly as they have children, which is then counted as natural increase.
Regardless, immigration is the primary driver of Australia's population increase. Nothing else even comes close.
Back to the editorial:
Policy has largely been bipartisan, so compelling is the evidence immigration is of net economic and social benefit, a notion reinforced in recent days by a study jointly released by the federal Treasury and the Department of Home Affairs…

Its net effect is unambiguously positive.
What about the PC's various detailed reports on the impacts of immigration, which show small temporary economic benefits only if you exclude externalities like increased traffic congestion, having to live in smaller and more expensive housing, having to pay more for infrastructure, environmental degradation, and lower income growth for incumbent workers.  Add in these costs and the impact on existing residents' welfare is very likely negative.
Rather than repeating the PC's analysis, you can read a comprehensive summary of it here. You can also read MB's separate comprehensive analysis of Australia's immigration program.
Back to the editorial:
The situation has a mischievous internecine dimension, with former prime minister Tony Abbott publicly urging an unusually big cut of 80,000 in the cap, Home Affairs Minister Peter Dutton revealing cabinet discussed a cut of 20,000 that was dismissed by Prime Minister Malcolm Turnbull, and Treasurer and former immigration minister Scott Morrison, armed with the fresh official report, promoting immigration.
"An unusually big cut of 80,000". Really? Such a cut would merely restore Australia's permanent migrant intake to 2003 levels, which is still incredibly generous: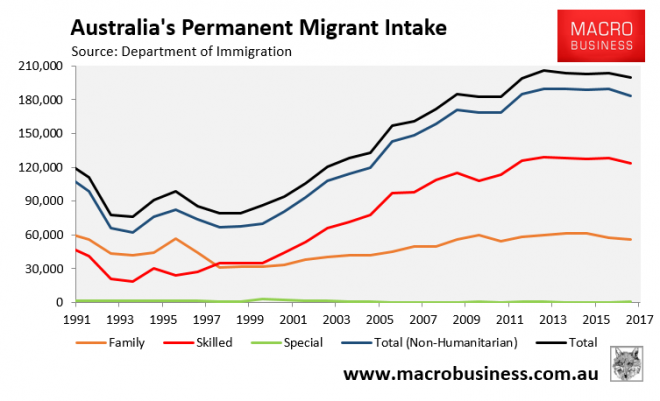 At the turn-of-the-century, Australia's non-humanitarian permanent migrant intake was 70,000. In 2016-17 it was 184,000 – an increase of 160%. Any objective analysis of these figures would conclude that this increase in the migrant intake was "unusually big" and requires normalisation.
Back to the editorial:
The community's consideration of temporarily moderating the flow is reasonable; there are valid concerns the pace of infrastructure investment has lagged. But the best solution is to build infrastructure, not significantly cut such a beneficial program.
Just increase infrastructure, hey? Like it is that simple.
The reality is that in already built-out cities like Sydney and Melbourne, the cost of retrofitting new infrastructure to accommodate greater population densities is prohibitively expensive because of the need for land buy-backs, tunnelling, as well as disruptions to existing infrastructure. These are basic dis-economies of scale.
But don't just take my word for it.
In November 2013, the PC released its final report on An Ageing Australia: Preparing for the Future, which projected that Australia's population would swell to 38 million people by 2060 (let alone 40 million as projected currently) and warned that total private and public investment requirements over the 50 year period are estimated to be more than 5 times the cumulative investment made over the last half century: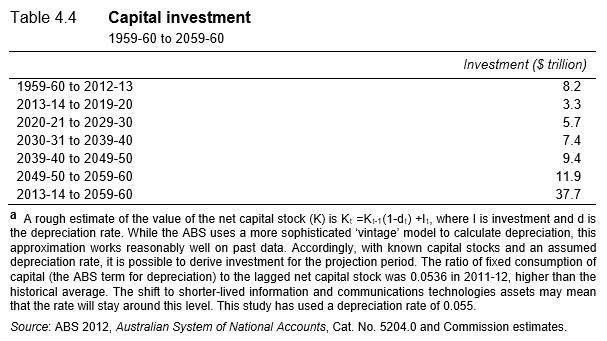 The PC's 2016 Migrant Intake into Australia report explicitly noted that infrastructure will have to increase to accommodate a bigger population, and that this infrastructure will necessarily be expensive:
A larger population inevitably requires more investment in infrastructure, and who pays for this will depend on how this investment is funded (by users or by taxpayers). Physical constraints in major cities make the costs of expanding infrastructure more expensive, so even if a user-pays model is adopted, a higher population is very likely to impose a higher cost of living for people already residing in these major cities.

…governments have not demonstrated a high degree of competence in infrastructure planning and investment. Funding will inevitably be borne by the Australian community either through user-pays fees or general taxation…
Whereas, the PC's recent Shifting the Dial: 5 year productivity review explicitly noted that infrastructure costs will inevitably balloon due to our cities' rapidly growing populations:
Growing populations will place pressure on already strained transport systems… Yet available choices for new investments are constrained by the increasingly limited availability of unutilised land. Costs of new transport structures have risen accordingly, with new developments (for example WestConnex) requiring land reclamation, costly compensation arrangements, or otherwise more expensive alternatives (such as tunnels).
So clearly, the most obvious and least cost policy solution to mitigate Australia's infrastructure woes is to significantly dial back Australia's immigration program and forestall the need for costly new infrastructure projects in the first place.
Finally, Infrastructure Australia's recent study found that both Melbourne's and Sydney's living standards will be crushed as their populations surge to 7.3 million and 7.4 million by 2046, with worsening congestion and reduced access to jobs, hospitals, schools and green space: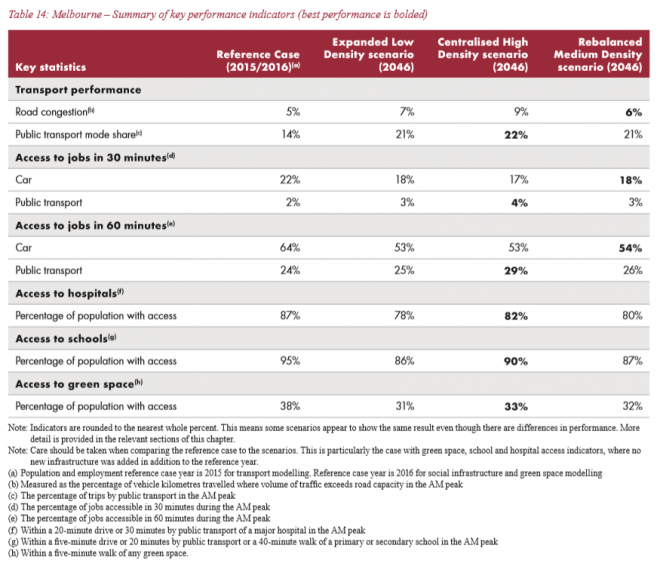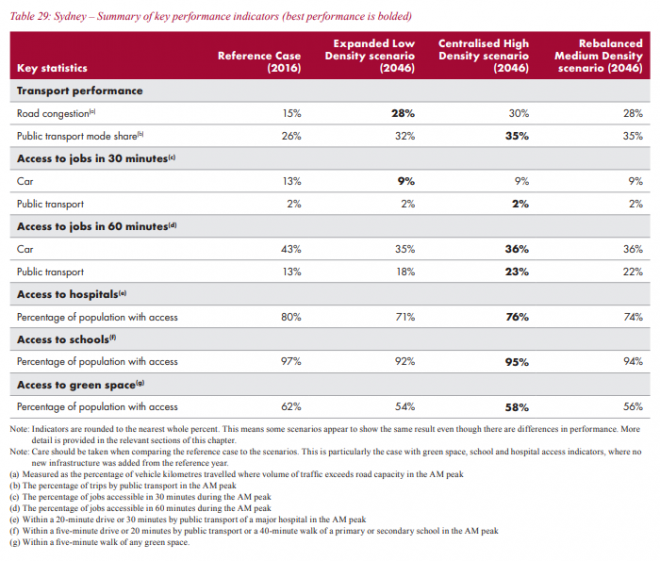 Why would Fairfax's editor wish to bestow lower living standards on Australians living in these two cities?
The answer is simple, Fairfax's newspaper division is now little more than the marketing arm for Domain, which profits from an increasing population. Follow the money.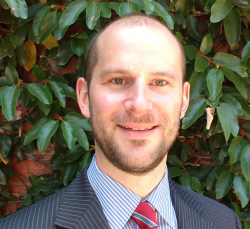 Latest posts by Unconventional Economist
(see all)