Over recent months, there's been a flood of stories about how Sydney residents are being forced to leave the city due to its high cost of living and degrading quality of life.
According to analysis late last year by economist Callam Pickering, many of the workers leaving Sydney are high skilled, meaning the city is experiencing a 'drain brain'.
Fairfax also reported in February that essential workers had fleed Sydney's inner and middle suburbs, driven-out by the high cost-of-living (namely housing):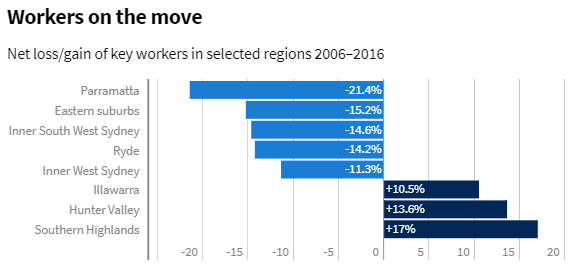 Today, The ABC continues this theme, reporting that many young Sydneysiders are planning their escape from the city, again forced-out by the high cost of living:
When my wife and I started telling our friends about our plans to move our family out of Sydney and head for the wider spaces and less aggressive rents of Adelaide, something unexpected happened.

Around three quarters of the people confessed that they too had an exit strategy planned.

One was slowly moving stuff into his parents' garage in Newcastle ahead of a planned relocation.

Another couple had been inspecting properties in Perth with a view to moving when they decided to have kids.

Another had sent their partner ahead to look at opportunities on the Gold Coast before they committed to taking the plunge.

And friends that had moved to Hobart joked that they were hosting guests every weekend as Sydneysiders popped down to check the city out…

The people who were determined to stay in Sydney weren't sure how they could manage long term. Even those who weren't fearing a budget-busting rent increase spoke darkly of rumoured developments or shared stories of compulsory acquisitions that didn't come close to paying for an equivalent property.

Everyone seemed to feel like they were one unexpected redundancy or medical crisis away from their entire economic system collapsing…

Everyone seems squeezed a little more every day — financially by rent bumps or road tolls or public transport increases, or physically by smaller and smaller properties and imposing developments lining every road, or emotionally by a city that seems culturally disinterested — whether that's selling off the Powerhouse or begrudgingly winding back lock-out laws years after most of the city's venues have vanished.
The latest population figures for NSW showed that the state received a whopping 98,570 net overseas migrants in the year to June 2017, but lost nearly 15,000 residents interstate: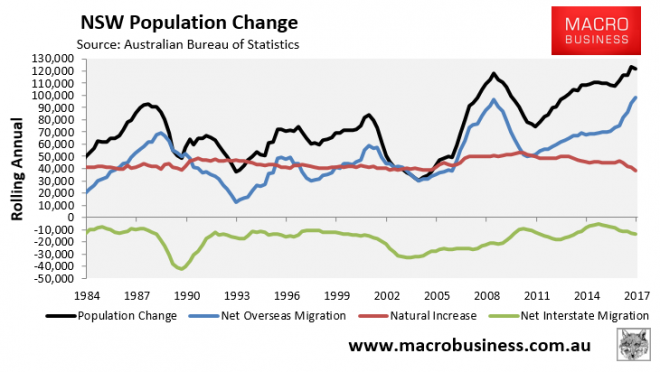 The NSW Government's own population projections also show that Sydney's population will balloon by 1.74 million over the next 20-years, 1.53 million of which will come from net overseas migration: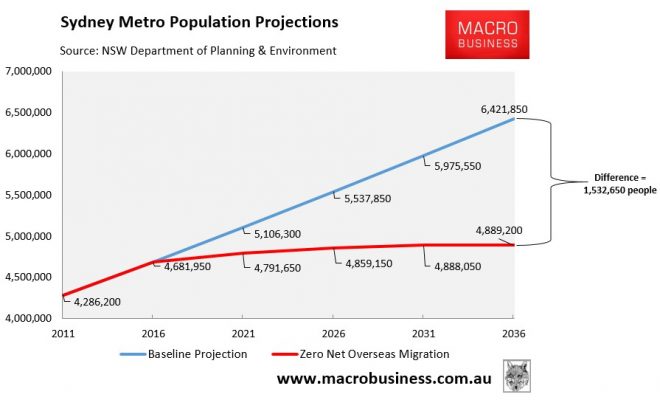 Whereas Infrastructure Australia's latest report showed that no matter what Sydney does to cope with the migrant influx – i.e. builds up, spreads-out, or does a combination of the two – public transport's modal share will barely increase, road congestion will dramatically worsen, and access to jobs, schools, hospitals and green space will all deteriorate as Sydney's population balloons to 7.4 million people by 2046: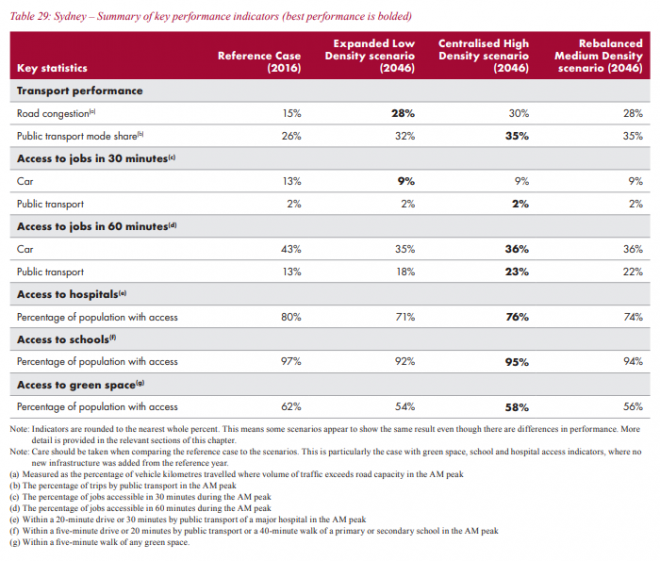 Fake Left mass immigration advocates call this 'cultural enrichment'. Everyone else sees it for what it is: housing unaffordability, wage stagnantion, congestion, pollution, and the overall destruction in Sydney's quality of life.
Abandoning Australia's mass immigration 'Big Australia' policy would stop this dystopian future from coming to fruition.
Low immigration would improve income/wealth inequality and home ownership as there would be less upward pressure on house prices, as well as less economic rents flowing to the owners of capital (who benefit the most from mass immigration while ordinary residents bear the costs).
Wages growth would also improve, other things equal, as there would be less competition for jobs and workers' bargaining power is increased, which would also help to reduce inequality.
There would also be less youth unemployment, as employers would be incentivised to hire and train young workers and graduates rather than taking the easy route of importing a migrant.
Lower population growth would also lift productivity and income by decongesting cities and, over the long run, would share Australia's fixed national endowment of resources among fewer people, also ensuring higher income per capita.
In short, cutting the immigration intake back towards the historical average of around 70,000 people a year (from 210,000 currently) is a no-brainer for anybody concerned about inequality and quality of life.