Yesterday, I derided the Labor Party for promising to undo the Gonski 2.0 needs-based school funding model by vowing to pork-barrel Catholic Schools to the tune of $250 million.
In a similar vein, the left-leaning Centre for Policy Development has joined the fray, labelling Labor's pork barrelling of Catholic Schools a "funding horor story" that will "corrupt" fair school funding plans. From The Guardian:
Almost a year ago we thought that peace had been declared in the school funding wars. True, the Turnbull government's "Gonski" school funding changes fall well short on many fronts but the government did try to bury the special deals that have dogged school funding for decades. After less than a year Labor has resurrected them in a planned gift of $250 million to Catholic schools in the first two years of a new Labor government.

Both sides of politics have done these deals in the past and they have always corrupted whatever fair school funding plan has been designed…

To get a picture of the chaos that has emerged all you need is a computer and an internet connection to log onto the My School website. Find your local public school and add together its combined Australian and state government recurrent funding per student. Then go to the Naplan section, find a Catholic school enrolling similar students and check their combined government funding. In a surprising number of cases around Australia it is almost as high, if not higher than the public school – the one which must be open to all students…

Around Australia the vast majority of Catholic schools receive between 90% and 100% of the recurrent public per-student funding received by public schools. In financial terms Catholic schools, and large numbers of Independent schools, have become public schools.

It might make some sense if they had to meet the same (and often expensive) obligations as public schools, but they fall well short. They choose where and who they serve, their fees ensure that in almost every community they enrol students who are more advantaged. That's easy to check on My School. While many Catholic schools do their very best, as a system they aren't obliged to enrol or continue serving any student who might pose an extra challenge.

And the Labor party wants to hand them an additional $250 million…

Labor has apparently not been able to learn anything new. The difference this time around is that they might get an unwelcome judgment from an electorate that has, and one that expects something better.
As I noted yesterday, the original botched Gonski program implemented by Labor would have seen non-government school students  – and those in Catholic schools in particular – receiving greater taxpayer funding than average public school students by 2020: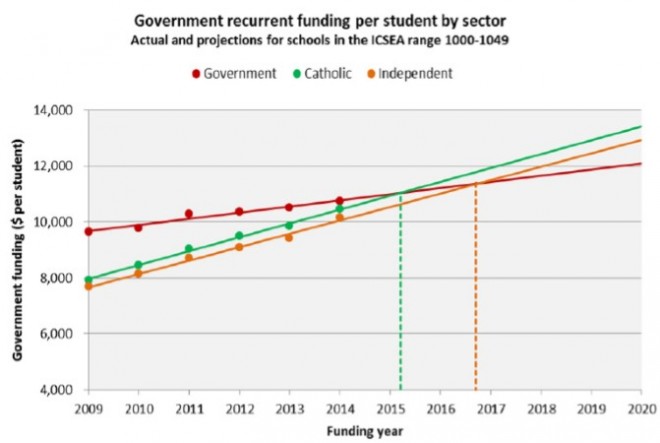 By comparison, the Gonski 2.0 package proposed by the Turnbull Government would redirect some funding from these privileged Catholic schools to public schools, improving equity and saving the Budget billions in the process.
It beggars belief that Labor opposes Gonski 2.0 and is seeking to engage in a new special deal with the Catholic School sector, corrupting the school funding system in the process.