It is amazing to watch. We noted recently how it is now Australia's young turk economic commentators that are now at the forefront of defending mass immigration despite it smashing the prospects of their own generation via crazy house prices, lower wages and crush-loading of the built and natural environments. The big five include:
"Racism" Rob Burgess who libels anyone with the One Nation brush that dares mull immigration cuts;
"Sell-out" Greg Jericho who has openly repudiated all discussion of migrants for fear of racism;
"Domainfax" Jess Irvine who recycles official propaganda with greater efficiency than a fax machine;
Adam Creighton who really should know better and according to our sources does.
And, "Ignorant" Chris Kohler who has declared stupid anyone who questions mass immigration.
Pitted against these five generational apostates are now virtually the entire older generation of economic commentators who will all lose if immigration is cut given they are of the propertied and privileged class. The big four includes:
Terry McCrann who says mass immigration today is an "overall negative";
Ross Gittins who has condemned it for many years as environmentally and labour market destructive;
Alan Kohler who says it should be cut if we can't lower house prices;
Judith Sloan who composed the original PC report outlining the net negatives, and
The Pascometer whose ceaseless hollow defenses of more people augur the precise opposite.
The public academic debate is also now split along age lines in the same way.  Those pro-mass immigration are again young including Guardian hack Tom Westlandlake and Australian National University demographer Liz Allen. Whereas the most prominent proponents favouring a cut include grey beards Bob Birrel and Jonathon Sobels.
There are outliers. Young commentary in favour of cuts includes Carrington Clarke and Crispin Hull. And there are some old dogs that favour high numbers too, such as immigration extremist Peter Martin, though his better, Tim Colebatch, does not.
But the generational division is as stark as it is unexpected with the young determined to trash their own (and the nation's) interests while the old have an attack of guilt or good parenting.
Nowhere is this more apparent that at the Kohler dinner table. Chris Kohler has previously described concerns about Australia's rapid population growth (immigration) as "ignorant", and claimed that Australia needs lots of population growth "to keep the country healthy".
Now, at the same time as his father, Alan Kohler, penned an article in The Australian decrying mass immigration for pushing-up the cost of housing and eroding living standards, Chris Kohler has pinned the blame solely on NIMBYs preventing middle-ring suburbs from being turned into apartment complexes. From Domain:
So-called 'nimbyism' is stunting the growth of Australian cities and remains at the glowing centre of the housing affordability debate.

Now an astronomical price tag has been associated with the zoning laws guarding against suburban development by the Reserve Bank of Australia, in a report set to fuel a gear shift in conversation about the future of Australian cities.

Home buyers in Sydney must hand over $489,000 above the marginal cost of their property – what the house costs to build and how the market would otherwise value the land – not because of a physical land shortage, but an "administrative" scarcity of land channelled through restrictive zoning laws…

The "zoning effect", as it is named in the RBA report, isn't restricted to houses, with about $400,000 added to the price of an average apartment in Sydney, and over $100,000 in Melbourne and Brisbane.

With a reluctance from NIMBYs in middle-ring suburbs to see increased development, while housing affordability supposedly becomes the fastest-rising national concern for Australians, something is about to give…

Suburbia will soon become more crowded, and with a clear and eye-watering price now associated with resistance, zoning laws are likely to be relaxed to allow it.
We all know the need to boost profits at Domainfax but this is pretty awful, Chris. Australia's housing affordability problem may be about a 'lack of supply' but it is also about force-fed demand through FHB incentives, tax concessions and mass immigration, which is the primary driver of Australia's population growth: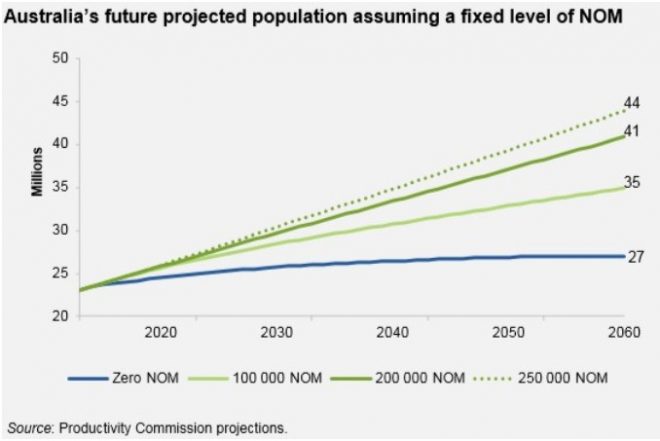 Take a look at the above Productivity Commission chart. Notice how Australia's population would barely increase to 27 million only by 2060 if we had zero net overseas migration (NOM), versus more than 40 million people under current settings?
Demand side measures including immigration are the primary reason why you cannot afford a Melbourne home, not because of a 'lack of supply', which is running at record levels: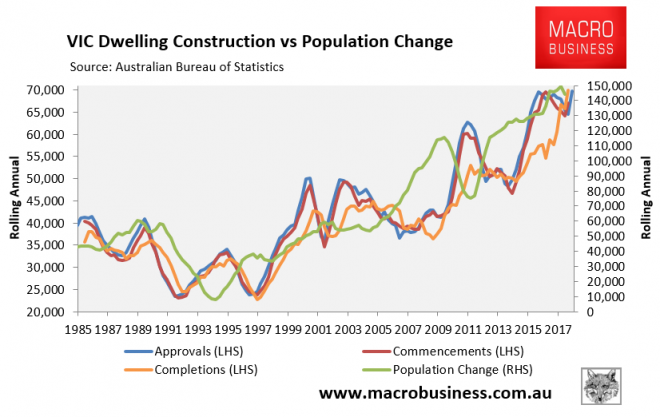 Moreover, do Sydney and Melbourne residents really want their children and grandchildren to be forced to live in expensive high-rise apartments in congested cities? They can get that in Hong Kong but why would we want it?
If you don't believe us, then check out Infrastructure Australia's latest report, which showed that no matter what Melbourne and Sydney do to cope with the migrant influx, public transport's modal share will barely increase, road congestion will dramatically worsen, and access to jobs, schools, hospitals and green space will all deteriorate as Melbourne's and Sydney's populations balloon to 7.3 and 7.4 million people respectively by 2046: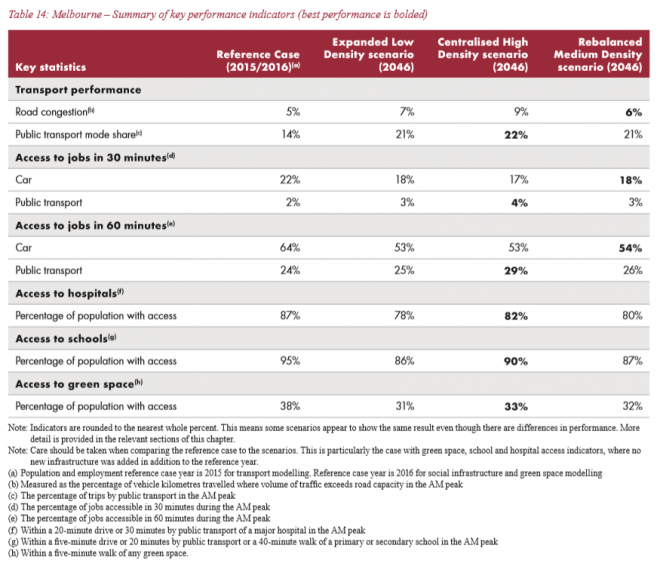 Certainly, Australia's housing supply system is busted, and that isn't going to change anytime soon. But where is the logic in force-feeding hundreds of thousands of migrants into the broken supply-side each and every year, in the process making the housing situation and broader living standards so much worse?
Take note, young turks, it is only you that now stands in the way of cheaper houses and better living standards for your generation.
Latest posts by MacroBusiness
(see all)