Via the AFR:
The bulk of professional stock pickers have once again been unable to beat the market, as shown by Standard & Poor's scorecard for the industry, which reveals another disappointing year for the industry in 2017.

Over the 12 months to December 31, the average large-cap Aussie equity fund managed to match the S&P/ASX 200's return of 11.8 per cent, including dividends. But six in 10 of those funds underperformed the benchmark (the performance of which doesn't include the costs of tracking the index).
Maybe so. But if you were one of those early birds that jumped into the MB Fund in July and got a more heavily-weighted international equities exposure then you beat the annual S&PASX200 index in just six months at 12% including fees and trading costs.
Why limit yourself to a zombie economy and bourse especially when the currency is so high?
Just sayin'.
———————————————————–
David Llewellyn-Smith is chief strategist at the MB Fund which is currently overweight international equities that will benefit from a weaker AUD so he definitely talking his book. Fund performance is below: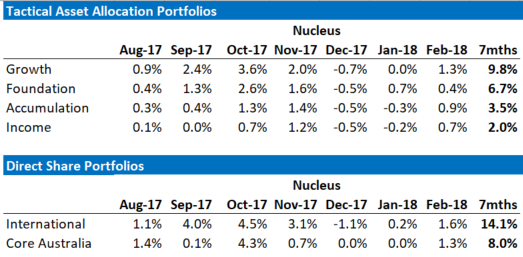 If these themes interest you then contact us below. 
The information on this blog contains general information and does not take into account your personal objectives, financial situation or needs. Past performance is not an indication of future performance.