Here's the chart to lead us off: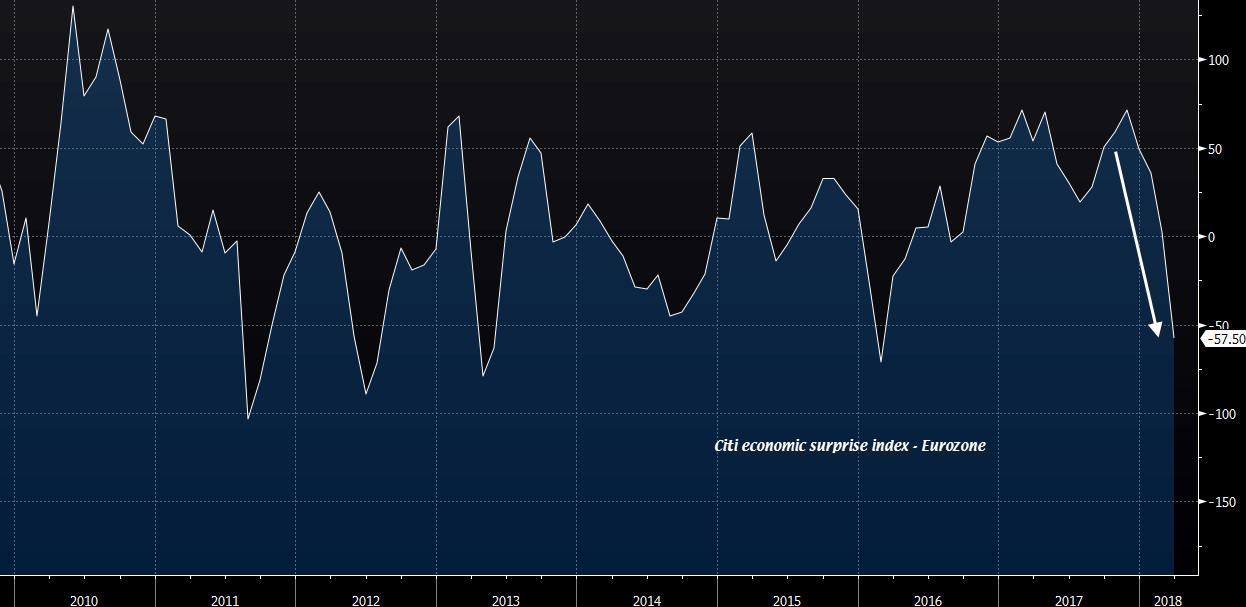 That's what a tearaway currency will do to you. Now other components of European boomlet are on the turn, via Westpac:
With the benefit of hindsight, we believe that 2017 will be seen as this cycle's peak year for Euro Area growth. Against the 2.5% year-average outcome for 2017, we foresee growth of 2.1% in 2018 then 1.6% in 2019. While a little more optimistic, the ECB has a similar view, expecting growth of 2.4%, 1.9% and then 1.7% in 2018, 2019 and 2020 respectively.

In any modern growth story, labour income; credit and confidence are key. On the labour market, we expect continued gains in employment to drive down the unemployment rate even as participation rises. Continued improvement in the labour market will not only grow household incomes, but should also sustain confidence and therefore consumers' willingness to spend – on goods and services as well as housing.

If we expect labour incomes to continue improving and confidence to be sustained, then why do we expect growth to slow? Simply because the growth trend has been flattered over the past three years by a wave of (nonrecurring) pent-up demand that has finally been released after being held back for many years.

Importantly, this spending has partly been funded by the much freer availability of consumer credit in addition to household income. This has allowed consumption growth across the continent to run well ahead of the pace that income growth (by itself) would have allowed.

To put the support of credit into perspective, at 6.2%yr the current annual pace of consumer credit growth is just a touch below the mid-2016 peak of 6.5%yr – a high back to mid-2006, prior to the GFC. It is also a multiple of current mortgage credit growth, 2.7%yr, and more importantly compensation per employee, 1.8%yr.

Further supporting our view of softer consumption, note that consumers' forward view of their financial situation is much less buoyant than for the past twelve months (two points above average rather than five) as well as the headline level of sentiment (currently twelve points above average).

Consumers also continue to report that they are dissaving. This reduction of savings may be offset by wealth gains on housing and equities; but unless an asset is sold, household cash balances will remain depleted.

A final point to draw out on the outlook for the consumer and confidence is the threat that fiscal policy poses.

Here it is not so much the immediate impact of political infighting and hung elections, but rather their consequence: a lack of reform and a deterioration in long-term growth. The need for fiscal process was made clear by President Draghi at the March ECB meeting when he noted that the "implementation of structural reforms in euro area countries needs to be substantially stepped up to increase resilience, reduce structural unemployment and boost euro area productivity and growth potential."

Related to this point, evident in business surveys such as Germany's IFO is the beginning of a broad-based softening in expectations. Though currently still above average, a further deterioration in growth expectations will put at risk job and wage growth, and hence momentum in activity and inflation.

Only time will tell whether this slowdown will be significant for policy or not. Both the ECB's and our expectation remain constructive, with growth to remain above potential. That would be enough to warrant (a few) gradual rate hikes. The risk however is that the consumers' appetite to spend recedes more dramatically and/or income growth disappoints, forcing the issue. Either outcome would delay the ECB from rate hikes indefinitely.
Europe'e external economy will also slow as China does. Global synchronised growth will soon be US growth with others following and the USD the only game in town making the bulk commodity bust worse through H2.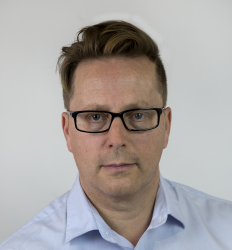 Latest posts by Houses and Holes
(see all)