Via the AFR comes the contemporary Australian business model:
A Fair Work Ombudsman investigation released on Wednesday identified non-compliance at 90 per cent of Woolworths' 31 supermarkets in the state, with cleaners paid as little as $7 an hour for training and just $14 an hour for work.

…But the FWO estimates the total underpayments to be much greater as inspectors were hindered by false records and lack of cooperation from vulnerable visa workers.

…While Woolworths' agreements with contractors only allowed one level of subcontracting, the FWO found the supermarket failed to check this requirement and subcontracting could extend to four levels deep.

Meanwhile, Woolworths would itself only passed on 90 per cent of annual minimum wage increases, leaving the rest for the contractor to make up.
Are trolly-pushers and cleaners really in such short supply that we need to be importing them as "skilled migration"?
The truth is that this is not an accident, an oversight, a one-off or rare occurrence. This is the contemporary Australian business model, crushed wages and all.
The argument that Australia needs to maintain a turbo-charged skilled migrant intake (both permanent and temporary) to alleviate skills shortages was recently shot to pieces by the latest Department of Employment skills shortages report, which showed that Australian skills shortages "continue to be limited in 2016-17", and that there are a high number of applicants per job: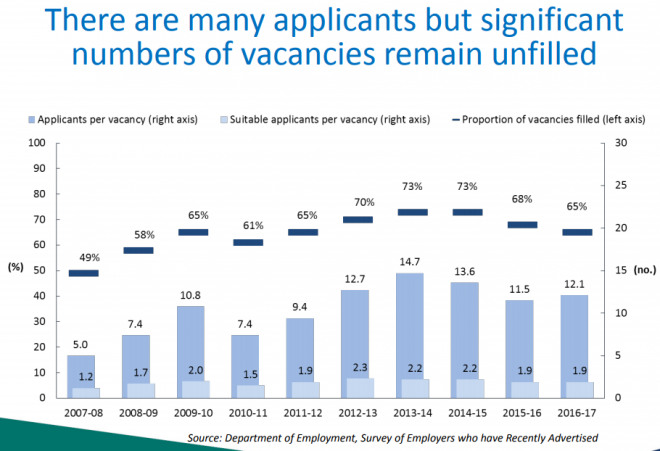 As well as a record number of Aussies studying at university: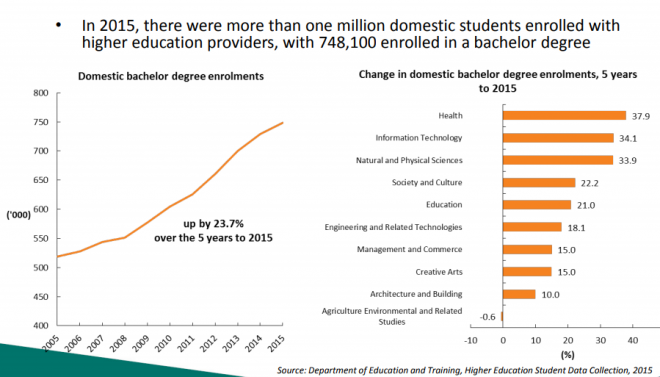 Of whom many graduates cannot gain meaningful employment: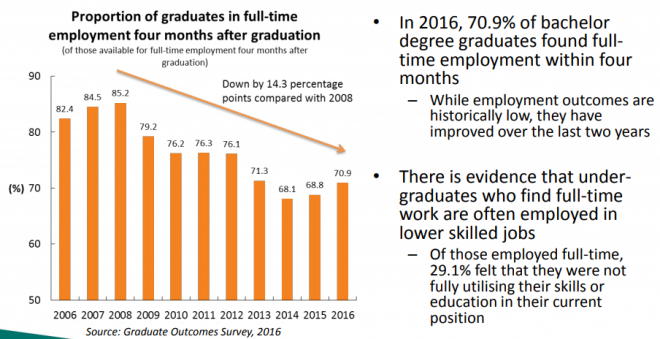 Last month, Global jobs site, Indeed, also suggested that Australia's 'skills shortages' are among the lowest in the world, with a world leading rate of 70% of jobs being filled within one month:
Most jobs advertised in Australia are filled within a month.

Analysis by Indeed, the global jobs site, shows that Australia, along with the UK, has a world leading rate of 70% of jobs being filled within one month.

In the US, only 56% of jobs are gone in the first 30 days. In Germany, it's 51%.

In Australia, the jobs situation has been improving.

…the employer still has the advantage in the jobs market, says Chris McDonald, managing director, Australia and New Zealand for Indeed…
Despite these inconvenient truths, the Business Council of Australia (BCA) is calling on the federal government to ease restrictions so that so-called "trusted employers" can hire more foreign workers. From The AFR:
Businesses are calling for a list of "trusted" employers who would be exempt from the Turnbull government's new skilled visa restrictions set to come into full effect in March…

The "trusted companies" program would exempt employers from extra red tape proposed by the government, including restrictions on permanent residency set to be introduced in March.

According to the BCA's submission on the visa changes, the new program would "streamline visa processing and create more flexibility for low-risk businesses".

"Under the program, more skilled occupations would be eligible for the four-year visa.

"Safeguards would be designed to ensure the integrity of the temporary migration program is maintained."
It's hard to take claims that Australia is suffering from widespread skills shortages seriously, and thereby needs more foreign workers, when Australia's labour underutilisation remains at elevated levels and wages growth is stuck near historical lows.
As explained by The Australia Institute's chief economist, Richard Denniss, in April, the very purpose of foreign worker visas is to "suppress wage growth by allowing employers to recruit from a global pool of labour to compete with Australian workers". In a normal functioning labour market, "when demand for workers rises, employers would need to bid against each other for the available scarce talent". But this mechanism has been bypassed by enabling employers to recruit labour globally. "It is only in recent years that the wage rises that accompany the normal functioning of the labour market have been rebranded as a 'skills shortage'".
If there is a problem with the Turnbull Governent's temporary 'skilled' visa reforms it is that they were nowhere near stringent enough and left the pathetically low pay floor of $53,900 (non-indexed) in place. SBS News in March noted the ridiculousness of this low pay floor:
The government's decision to ignore calls to increase the salary floor of 457 workers in its recent reforms threatens to undermine the 'skilled' component in the temporary skilled visa scheme, according to migration experts.

The salary floor for 457 visa holders, known as the Temporary Skilled Migration Income Threshold (TSMIT), has remained at $53,900 since 2013, despite a government review recommending it be increased.

In the nine months to March, almost 10,000 457 visas were granted to workers on salaries between $53,900 and $57,000 (an estimate of where the TSMIT would have risen to by now had it not been frozen), according to documents published under Senate Estimates.

This group represents around one-quarter of the entire 457 scheme, which will provide grants to approximately 45,000 foreign workers in 2016-17, according to latest Department of Immigration figures.

Dr Joanna Howe, Professor in Law at the University of Adelaide, said although it might not seem significant to not increase the TSMIT each year, if it is not indexed a key integrity measure of the 457 visa is undermined.

"The decision to freeze the TSMIT and to keep it frozen means that the 457 visa is shifting somewhat from being a skilled and highly-skilled work visa, to being a more general labor supply visa which can meet the alleged shortages in industries like accommodation and food," she said.

Of the 9850 visas granted, with salaries between $53,900 and $57,000, in the past nine months, 3806 were in the accommodation and food sector – six times more than any other identified sector.

Alex Kaufman, migration manager and lawyer at FCB Group, argued the continued freeze on the TSMIT "runs counter" to measures introduced under the government's recently announced reform package.

"Given the TSMIT has been used as a proxy indicator for 'skills', both in terms of signalling skills shortages, and the level of skill held by a 457 visa applicant, the decision to not increase the TSMIT for the time being is likely a political one, designed to placate sectors where the highly skilled still come at relatively low cost – notably, the hospitality sector," he said.
The fact remains that the floor salary for 'skilled' temporary workers should be set well above the average full-time salary of $83,642 (which includes unskilled workers), not 36% below it at $53,900.
By maintaining such a low pay floor for temporary foreign workers, the Coalition has ensured the system will continue to be overused and abused by employers, and will continue to undermine the pay and working conditions of local workers.