Treasurer Scott Morrison went on the attack in Parliament yesterday, claiming the link between company tax cuts and higher wages was "pretty simple":
"If you want businesses to pay workers more, you don't force them to pay the government more," Mr Morrison told parliament.

"If you want businesses to spend more on employing more Australians, you don't force them to spend more on higher taxes being paid to the government. The Labor Party is standing between a wage rise and Australian workers."

…"Business is making it very clear," Mr Morrison said.
This generated a strong rebuke from former Prime Minister, Kevin Rudd, who said that the business sector must demonstrate the benefits of an across-the-board company tax cut and commit to a 'social contract' lifting wages:
…former Labor prime minister Kevin Rudd expressed doubt companies would use lower takes to pay higher wages.

He reflected on his time in office when he agreed to cut foreign withholding tax from 30 per cent to 7.5 per cent because fund managers had told him they needed rates that were competitive with Singapore and others to boost their offshore investment.

In our first budget, we cut it by half into 15. Second, we cut it by half again, to 7.5 per cent. The Singaporeans nearly died," he said.

"(But) those who went offshore to engage in building the Australian export base, I could have counted on half a hand. There's a big question for corporate Australia.

"What is corporate Australia going to do? Stick it in its back pocket? Increase wages? Invest and grow the scope of their enterprises, create new export industries for Australia?"
One Nation leader, Pauline Hanson, was also under fire yesterday after she last week doomed company tax cuts in the Senate.  But rather than bowing to the pressure from the government and some commentators, Ms Hanson dug in, arguing that the Government will need to show that the tax cuts will result in both higher wages and profits, as well as maintaining that reducing the company tax rate would result in lower franking credits for Australian investors. Ms Hanson also called for the government to instead use the money earmarked for company tax cuts to lower payroll taxes:
[Ms Hanson] said if businesses returned the company tax cut as higher profits, that would be at the expense of higher wages, which is one of the key selling points of the tax cuts.
"You can't spend the money twice," she said.

Senator Hanson, who is being advised by a former Australian Tax Office official now on her staff, said it was up to the government to produce modelling showing the cuts could boost both wages and profits but she was sceptical…

Senator Hanson has told the government during negotiations she would rather some or all of that money be used to compensate the states for paring back their dependency on payroll tax, a move she believes would create more jobs than a company tax cut.
Even Robert Gottliebsen has chimed in arguing that investment allowances would do far more to boost business investment than company tax cuts:
Non-mining investment in Australia is at a 58-year low at just nine per cent of GDP. This will lock Australian shares into a generation of underperformance to the rest of the world which is "going full steam ahead" into a technology-driven investment and research revolution of incredible proportions…

So in the national interest I ask every one of the 150 members of the Business Council of Australia to think deeply and ask themselves one simple question: What would be best way for Australia to overcome its greatest weakness —lower company tax or to increase investment allowances, accelerated depreciation and research deductions?..

Let me be brutally frank.

Handing our biggest taxpayers, banks, miners and retailers a fist full of cash, where in the case of Australian-owned companies shareholders will demand higher dividends, is not an efficient way to boost investment.
As MB has argued repeatedly, the arguments used by the Turnbull Government and businesses to lower company taxes simply do not stack up.
First, unlike most nations, Australia has dividend imputation. This means that the financial benefits from cutting company taxes would flow almost exclusively to foreign owners / shareholders, thereby representing a direct fiscal transfer from Australian taxpayers to overseas, and reducing national income.
Second, these proponents never give due consideration as to how the Coalition's company tax cut plan would be funded. According to the Australian Treasury's initial modelling, released in early 2016, the full company tax cut package was estimated to cost the Budget some $8.2 billion a year. The Treasury's more recent modelling, released in November last year, downgraded the cost of the Turnbull Government's company tax cut package to around $4 billion a year.
Either way, the cost to the Budget would be significant and would need to be made up somehow, most likely by increasing the tax burden on workers and/or cutting expenditure in other areas (e.g. social services). Such actions would necessarily lower growth and offset any benefits from cutting company taxes.
Third, these proponents conveniently fail to mention that Australia's average and effective corporate tax rate is already far more competitive than the United States'. Here's the US Congressional Budget Office's analysis via Ian Verrender: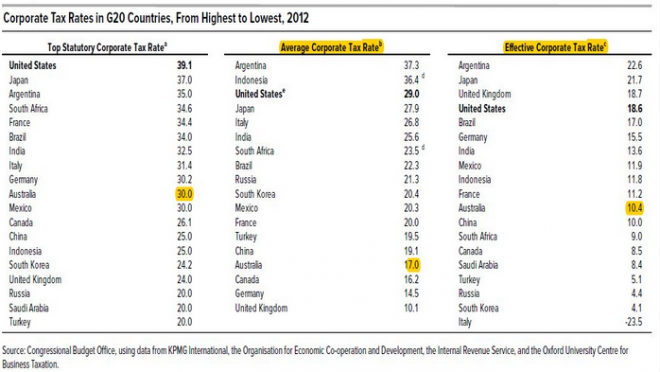 In short, any across-the-board company tax cut would largely benefit foreign investors, while any possible boost to the economy would be offset by the need to lift other taxes to make up for the revenue lost by cutting corporate taxes.
Herein lies the fundamental problem with the Turnbull Government's company tax cut plan. The Treasury's own modelling showed minimal benefits to either jobs or growth – primarily because the benefits flow to foreign business owners/shareholder – but a seismic shift in the tax burden from companies to individuals.