In last year's NSW State Budget, the Berejiklian Government eliminated stamp duty for first home buyers (FHBs) purchasing a new or existing home valued up to $650,000, whereas discounts were offered to FHBs for purchases valued between $650,000 and $800,000.
The result has been to significantly increase FHB demand in NSW, with FHB finance commitments up by 63% relative to December 2016: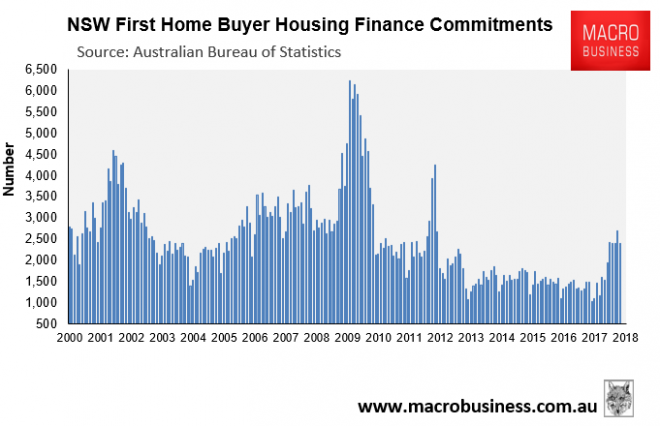 Today, NSW Premier, Gladys Berejiklian, has hailed the jump in FHBs as a 'win' for housing affordability. From The AFR:
On Sunday, Premier Gladys Berejiklian said there had been 5400 more first-home buyers in greater Sydney since her government introduced stamp duty concessions in July 2017…

"I made helping first-home buyers one of my first priorities as Premier, so I'm thrilled that our stamp duty reforms are driving real outcomes for people in NSW," Ms Berejiklian said.

"While we know there is always more to do on tackling housing affordability, the results so far clearly show that we are turning the tide for first-home buyers."
Curiously, the rent-seekers over at the Housing Industry Association (HIA) are still not happy, calling for the NSW Government to expand stamp duty concessions even further:
The HIA is advocating for an elimination of stamp duty across a larger bracket of house prices.

The current brackets of discounts for purchases up to $850,000 was not enough to help many buyers get on top of high median house prices even for western Sydney, HIA executive director David Bare said.

Despite a gentle fall in house prices in Sydney since October last year, median house prices for houses are still about $884,000.

"Having more first-home buyers in the market is a good sign because they have been out of the market for so long," Mr Bare said.

"It shows that stamp duty is the reason why people don't go into the market. A more structured application of the reduction in stamp duty will have a better effect [of increasing homebuyers]. They've struggled to keep up with prices."
Has the HIA forgotten that in June last year it argued that cutting stamp duties for FHBs would merely raise house prices and undermine affordability:
Shane Garrett, senior economist for the Housing Industry Association, said… "Boosting subsidies for existing homes only gets first home buyers bidding against each other in that side of the market. It would have been better to stimulate the construction of new homes"…
Of course, the HIA was correct then when it warned that NSW's FHB stamp duty changes would merely push-up prices. So why is it now arguing for the stamp duty concessions to be increased?
Logic and consistency in thought are clearly not the HIA's strength.