The consumer zombie is shuffling in to eat the brains of superstar retail now. AFR:
The unravelling of some big retailers with large physical store networks such as Myer and vacuum cleaner retailer Godfreys is accelerating. Their old-school approach and big-store footprint around Australia leaves them much more vulnerable to the seismic shifts under way as more shoppers gravitate to buying goods online.

They have too many bricks and mortar stores on long-term leases not generating sufficient returns, and underwhelming online operations aren't offsetting the lower levels of foot traffic from the physical outlets.

Yet the big-picture changes in consumer behaviour in retail heartland are having an uneven impact. There are retailers such as electronics and appliances group JB Hi-Fi with a large store footprint, which are still making solid headway. (Yet, even after posting solid profit growth on Monday, JB Hi-Fi shares were hammered as it revealed it would have to cut prices and spend more strengthening its online offer).

…It's an issue being tackled with urgency by boards and senior executives in retail across the country as they grapple with how to optimise their retail footprint, shut down poorly performing stores with the least possible financial pain, and set up nimble distribution centres to service increasing online sales.

KordaMentha principal Mark Korda says it is a big area of focus across a range of industries. "People are grappling with fixed cost bases including long-term contracts and disrupted revenue streams. That is the same for retail," Korda says.

Ferrier Hodgson's retail practice leader James Stewart sums it up. "Getting the mix right is really difficult," he says.

Fund managers with investments in big shopping landlords are uneasy. "There is a real tension there," Stewart says.

It is obvious in some cases that rents are too high for some retail stores to be viable in the new landscape, but a shopping centre owner taking a big haircut on rental income is often unpalatable.
JBH versus MYR: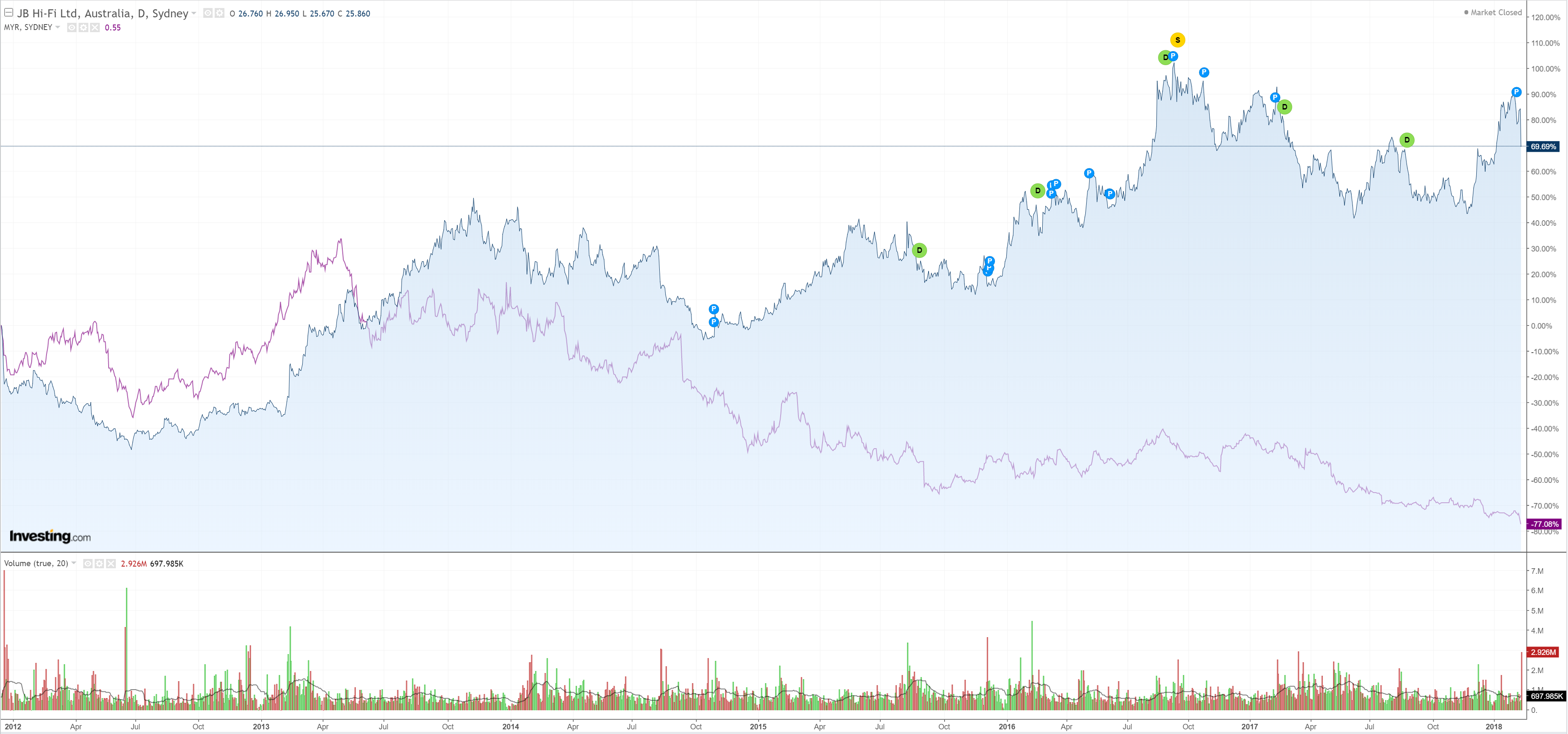 It's rents, it's online, it's competition. Whatever you do don't mention the consumer for she is dead.