The Coalition has become little more than a fistful of lies on every topic you can imagine. Today we add the efficacy of its non-policy on gas reservation, via The Australian:
The Turnbull government says it has met its objective of halving domestic gas prices, while ­reassuring overseas gas buyers of the reliability of Australian LNG exports.

Resources Minister Matt Canavan said the threat of export controls had brought gas prices to $8-$9 a gigajoule — down from up to $20/GJ in April when Malcolm Turnbull declared prices should be "around half that".

"Our goal in introducing the gas security mechanism was to bring prices down to a reasonable level, a fair level, a level that reflected the world price. And that has happened — there is no doubt about that," Senator Canavan said. He recently returned from Japan and South Korea, where he sought to ease fears about the new Australian Domestic Gas Security Mechanism.

The government decided in November not to trigger the mechanism, relying instead on a "handshake" deal with industry to set aside sufficient gas to meet domestic shortfalls.

Senator Canavan said the government reserved its rights to trigger export controls next year if lower prices did not hold. He said he believed Asian gas buyers understood Australia had to secure its own domestic supplies.
Actually, only the spot market is trading at $8-9Gj which is down from a $10-11Gj average: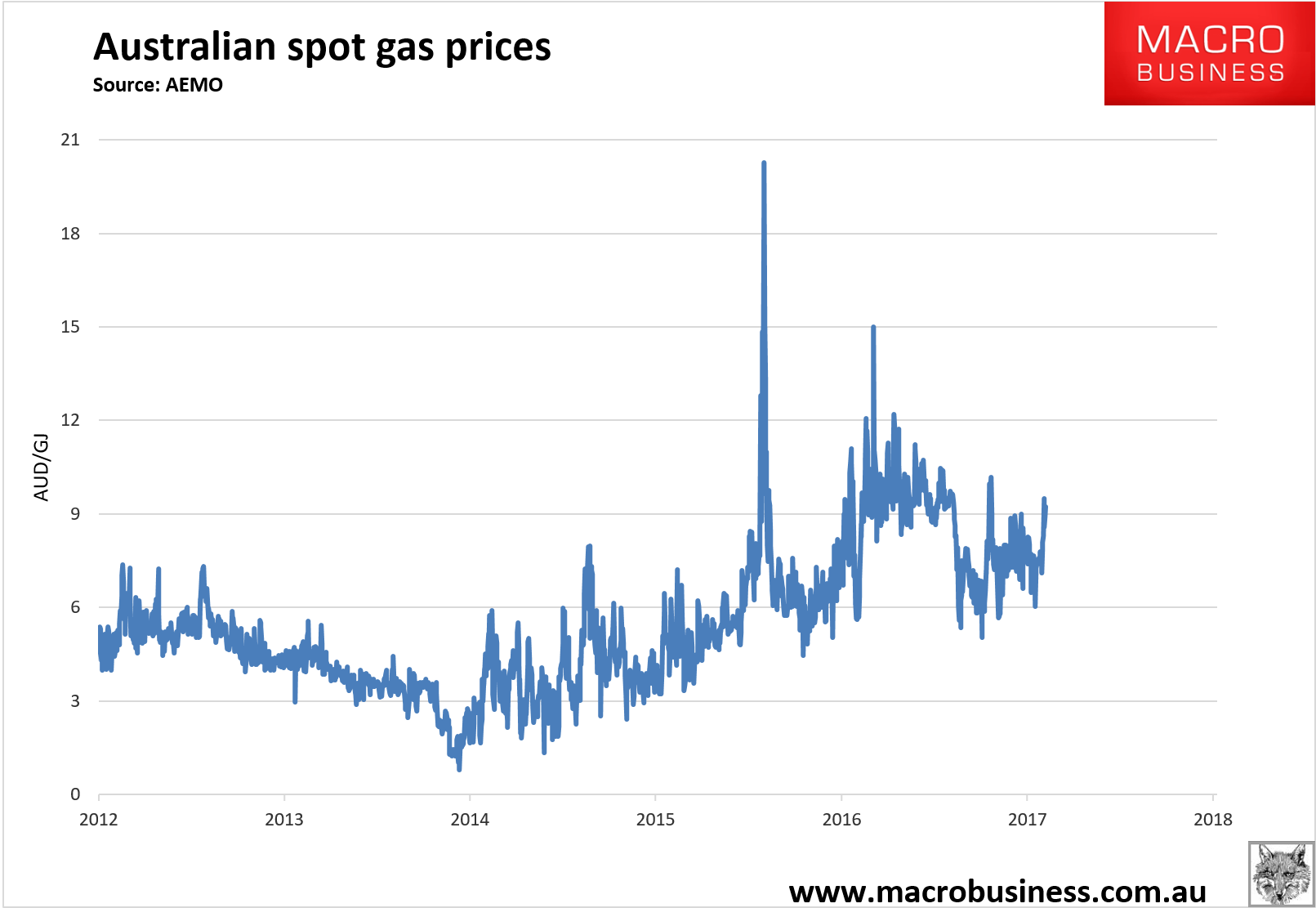 Contract gas has improved but not enough, via the ACCC:
Prices offered to C&I users have fallen substantially since early 2017, but contracted prices remain higher than the ACCC's benchmark estimates Gas prices offered to large C&I users that consume more than one petajoule of gas per annum reached a peak of $16/GJ in early 2017, while some prices offered to smaller C&I users by retailers were even higher. Given these high prices, many C&I users chose to delay contracting for 2018 supply at the time. Since July 2017, commodity gas prices offered to large C&I users have eased and have generally been made at $8–12/GJ, as shown in chart 1.

As offered prices declined, C&I users have become more willing to enter into GSAs, with around 12 large C&I users recently contracting with retailers or aggregators for 2018 supply.

While 2018 prices under recently agreed GSAs are considerably lower than prices that were being offered in early 2017, prices that are expected to be paid in 2018 under the recently struck GSAs are similar to, or higher than, those prices that were agreed for 2018 supply under GSAs entered into in 2016.5 Further, the recently agreed 2018 prices remain largely at the upper end of, or above, the prices that would be likely to prevail in a well-functioning and competitive market.

In Queensland, wholesale gas prices set by LNG producers for 2018 supply between June and November 2017 have averaged $8.38/GJ. This is higher than the forecast average spot LNG netback price at Wallumbilla for 2018, which ranged between $5.87/GJ and $7.85/GJ over this period.

In the Southern States, wholesale gas prices set by producers between June and November 2017 have averaged $9.74/GJ. This is at the upper end of, or higher than, the ACCC's estimates of benchmark prices in the Southern States, which range between $6.55/GJ and $9.93/GJ. The benchmark estimates vary depending on a gas user's location, with the upper limit of the range relevant for users in Victoria and the lower limit for users in South Australia.

Following the publication of the September 2017 report, the ACCC sought updates from C&I users that were uncontracted during the previous round of consultation and contacted some smaller C&I users about their experiences in the market. On the whole, C&I users informed the ACCC that market conditions have improved since the September 2017 report. Some C&I users thought that the government's focus on the gas industry and the ACCC's market monitoring were likely contributors to these improvements. However, user experiences varied depending on size.
That's an $8-12Gj average. There are only more electricity price hikes ahead on these prices as long term contracts roll off at new, much higher, prices.
Prices have clearly improved but this is only down to catastrophic from calamitous levels. Canavan's benchmark is wrong given only a few years ago we enjoyed gas at $2-3Gj. We should be aiming for AUD5Gj and prices that are unaffected by offshore movements. The next shoe to drop is price rises as the AUD falls.
Basically, we now have a government that is working behind closed doors with the gas cartel to keep prices at nosebleed levels but low enough for both to pretend that it's all good.