Via Domainfax:
The ASX is reviewing claims made by real estate giant McGrath disputing speculation its Rich Lister founder John McGrath has a $100 million margin-lending facility attached to his shares in the publicly listed company

Details of the loan emerged on Friday after the company told the stockmarket on Thursday night that the multimillionaire had never used his shares as collateral for a loan.

Documents lodged with the corporate regulator indicate Mr McGrath has a maximum liability of $100 million through his private entity, Fondorru Pty Ltd, but they do not specify how much the loan was for, nor do they mention what assets were available at the time to secure the loan. Fondorru holds a 14.8 per cent stake in McGrath.

The documents show Mr McGrath took out a margin loan with St George in 2011. McGrath Real Estate listed on the ASX as an entity in December 2015.
Shares in the beleaguered firm held up last week: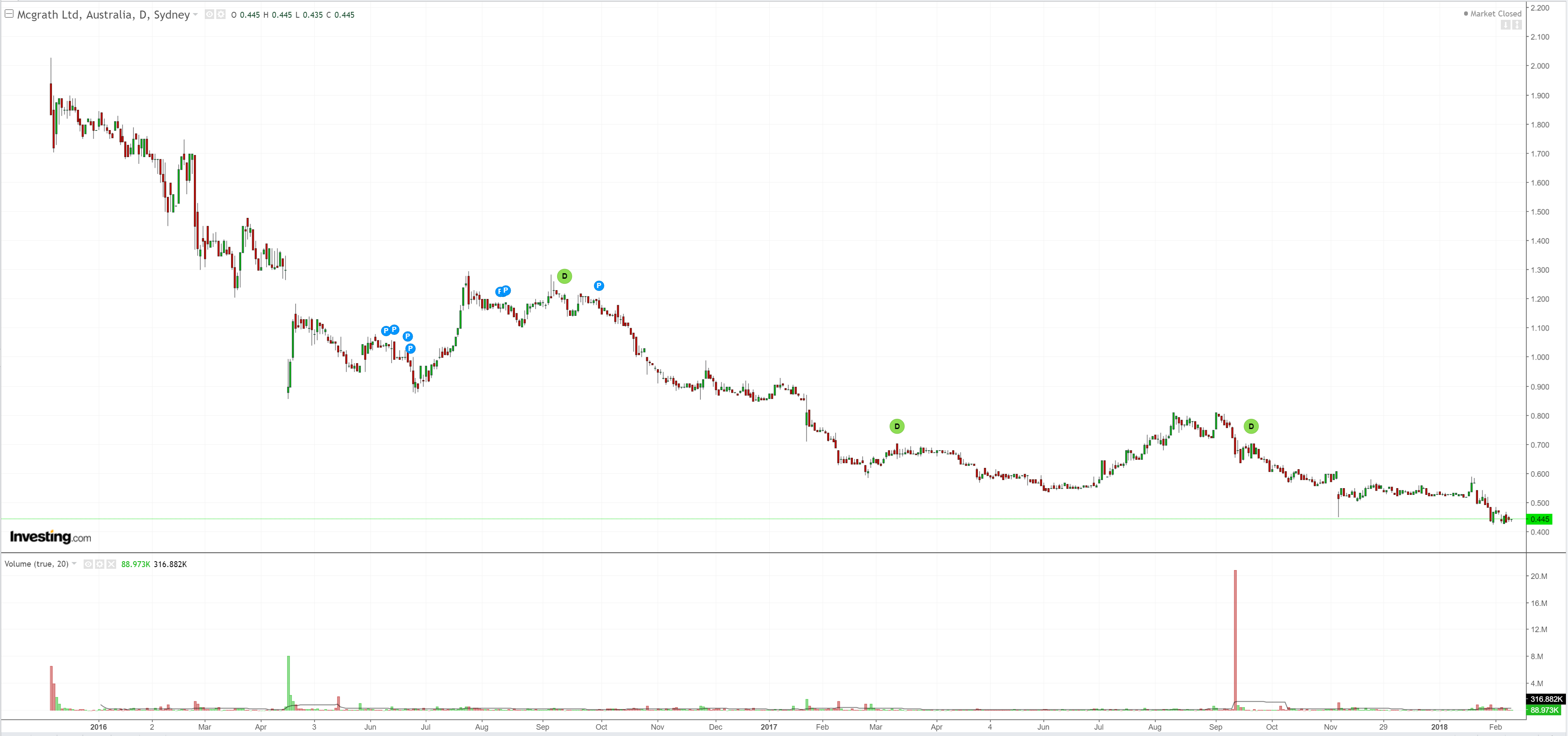 Then again, with the real estate slide only just beginning, the bottom is not likely to be in.
The other falling titan of realty is also taking more heat, via The Australian:
Fairfax Media has confirmed for the first time that Antony Catalano, former chief executive of its real estate listings business Domain, resigned after being called in about a human resources complaint alleging the company's culture resembled a "boys' club".

With no replacement lined up, Domain chairman Nick Falloon's explanation for Mr Cata­lano's sudden exit in January — "he had decided to put his family first" — raised more questions than it answered.

But, as the company prepares to report half-year results this month, Fairfax said in a statement sent to The Australian that Mr Falloon received "formal allegations" about Domain in December.