In its response to the Murray Financial System Inquiry, the Government has also endorsed the Australian Prudential Regulatory Authority (APRA) introducing a leverage ratio to act as a backstop to ADIs' risk-weighted capital positions from 1 July 2019.
Today, APRA has released a discussion paper on how this leverage ratio will be applied. The key features are summarised in the below table: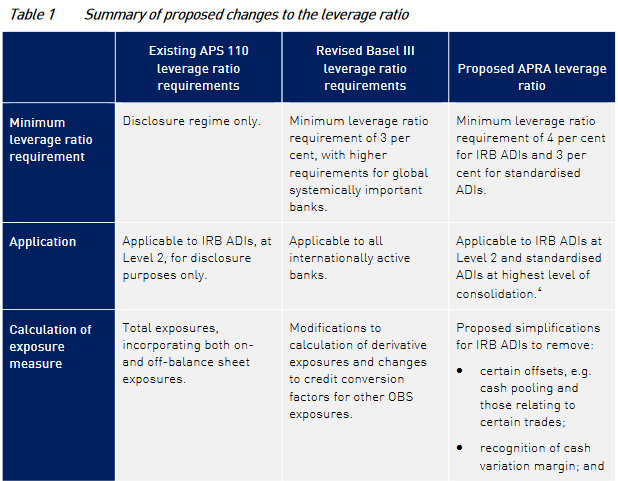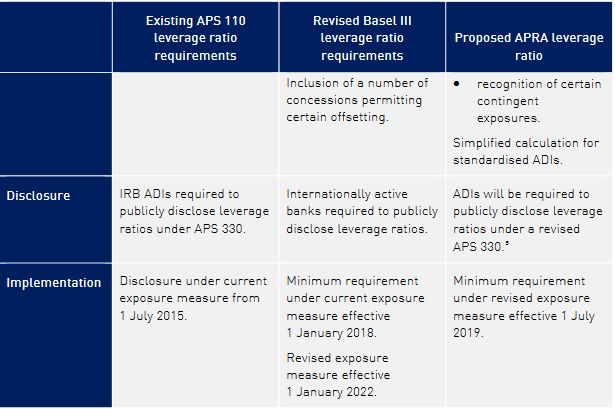 As explained by APRA:
APRA proposes that an ADI's leverage ratio be expressed as the ratio of Tier 1 Capital to total exposures, largely based upon financial accounting measures. APRA intends to apply the leverage ratio as a minimum requirement to all ADIs, but will consider excluding small, less complex ADIs from the requirement under its proposed simplified framework as detailed in the accompanying discussion paper.

In calibrating the leverage ratio, APRA intends to apply a differential minimum leverage ratio requirement for ADIs which use the standardised approach (standardised ADIs) and those that use the internal ratings-based approach to determining capital adequacy (IRB ADIs). As IRB ADIs tend to have more complex balance sheets, with a greater proportion of off-balance sheet (OBS) exposures and a greater reliance on modelled risk estimates in their risk-based capital measures, their leverage is inherently more difficult to measure. For this reason, APRA is proposing a minimum leverage ratio of 4 per cent for IRB ADIs and 3 per cent for standardised ADIs…

APRA is proposing a single-step implementation. Application of the minimum leverage ratio requirement would therefore be deferred until 1 July 2019, and implemented based on the revised Basel III exposure measure definition at that time. IRB ADIs would be required to continue to disclose their leverage ratios under the existing measure until these changes come into effect.
These changes will make the capital environment tougher for Australia's banks, and therefore Australia's highly indebted mortgage holders.
The days of hyper loose capital requirements around mortgage lending and extreme leverage may finally be coming to an end, which is yet another sign that the Great Australian Housing Bubble is on borrowed time.