Friday night saw the release of the latest employment stats from the US, the most important event on the economic calendar as it gives the Federal Reserve the clearest insight into the strength of the world's largest economy, and hence sets its interest rate agenda and thus the direction of USD.
Stocks reacted positively to the headline result, with a little leeway given due to the weather conditions prevalent in December. A steady and very low 4.1% unemployment rate with ca. 148,000 jobs created was announced, under expectations, but also with a couple of revisions for October and November.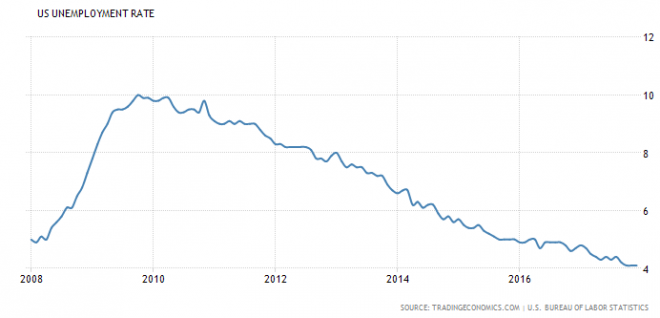 More detail via Forbes:
The sectors that reported job gains are a familiar bunch: healthcare once again led the pack, adding 31,000 jobs in December. According to the BLS, ambulatory health care services continued to "trend up" with 15,000 jobs added, and hospitals added 12,000 jobs. In 2017 as a whole, the healthcare sector added an even 300,000 jobs, down from 2016's gain of 379,000.

Other industries that contributed to the 148,000 headline number were construction (which added 30,000 jobs), and manufacturing (which logged a gain of 25,000). On a full-year basis, the construction sector added 210,000 jobs in 2017, up from 155,000 in 2016, and manufacturing added 196,000 jobs during the year, a vast improvement over the 16,000 jobs lost in 2016.
What was actually important was the details within the report, notably average hourly earnings, which only rose by 9 cents to $26.63 in December or about 65 cents for calendar year 2017.
From Calculated Risk:
Wage growth had been trending up, although the acceleration in wage growth slowed in 2017.
That's only 2.5%, not enough to excite core inflation: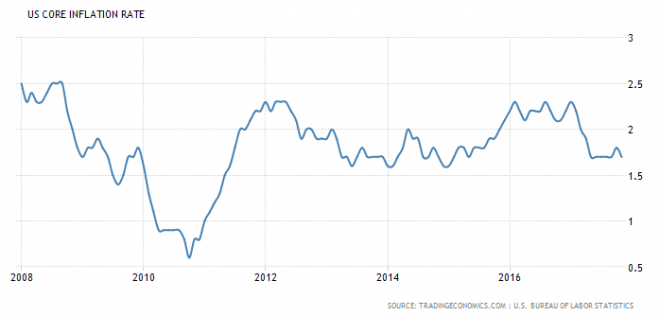 So while the headline rate and the rate of job growth is keeping the Fed on line for its interest rate lifts, the timing may keep spacing out if wage growth doesn't kick up soon. With the Republican's tax cut plan unlikely to effect the vast majority of US wage earners, and with no other major fiscal agenda yet passed by Trump's administration, hourly earnings and core inflation are unlikely to move higher.
Latest posts by Chris Becker (see all)