Gold priced in USD has had a great start to 2018, up nearly $100USD per ounce since the early December 2017 trough and capping a great 2017: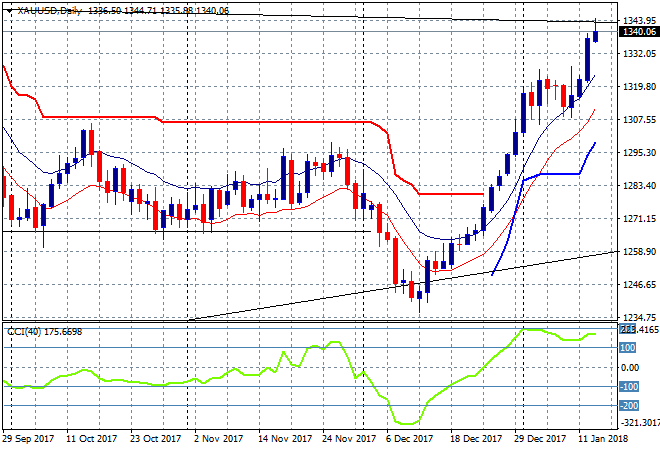 Alongside other commodities, the driving force behind the appreciation is the weakening USD, but there's also other factors involved in gold's revival, as it approaches its 2017 high at ca. $1347USD per ounce.
Bell Potter have a note out where they consider the "lack of interest" in gold, particularly with no further increase in ETF (exchange traded fund) gold positions, combined with the move of risk to growth instead of yield fares the shiny metal well for 2018:
With the theme of synchronised global growth gaining momentum, capital now seems to be chasing growth rather than yield. Commodity and energy prices have risen across the board in 2017 and PMI's and GDP continue to read strongly. We think that in this environment rising bond yields are reflective not only of increased risk appetite but also of an emerging inflation theme.

Inflation expectations (as measured by the spread between 5yr TIPS and 5yr US bonds) show a recent step up and a fresh positive correlation to the gold price – shown in the chart below. The gold market has been looking for a driver and whilst it is early days this may see gold returning to one of its traditional roles as an inflation hedge.
The 5 year TIPS are definitely on a tear, alongside the traditional 10 year US Treasury, which has reversed its bull market, signalling a return to inflation: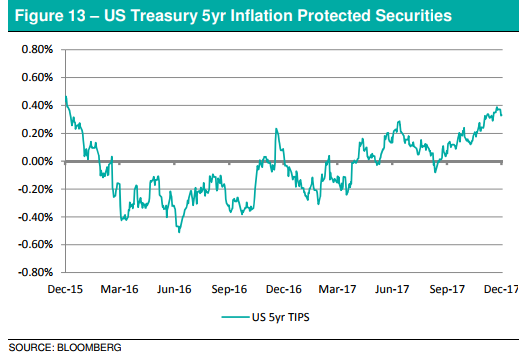 If the inflationistas are correct, there is considerable upside potential for gold. Technically, the monthly chart is showing a very positive setup with a clear ascending triangle that is about to be completed as the daily spot price hits resistance at the $1340USD per ounce level: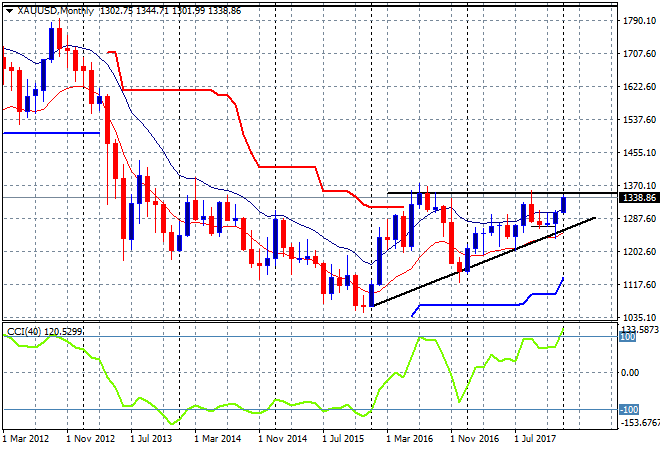 Once broken, its daylight from there to the previous nominal high at ca. $1800USD per ounce. Gold so far has not reached its former inflation adjusted high, nor has it kept pace with the advances in equities.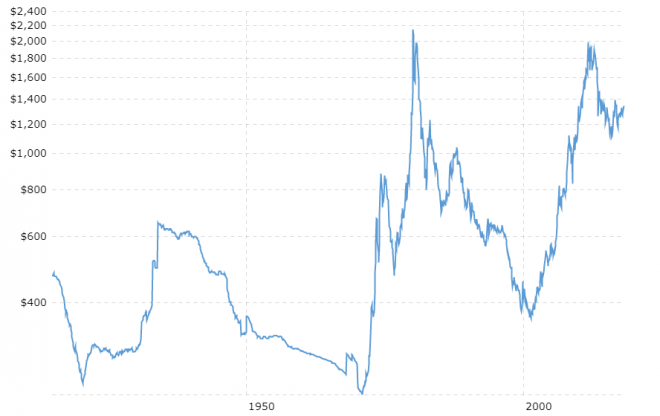 For it to keep rising the USD will have to keep falling which, in turn, will require ongoing strong global economic growth.
Latest posts by Chris Becker
(see all)