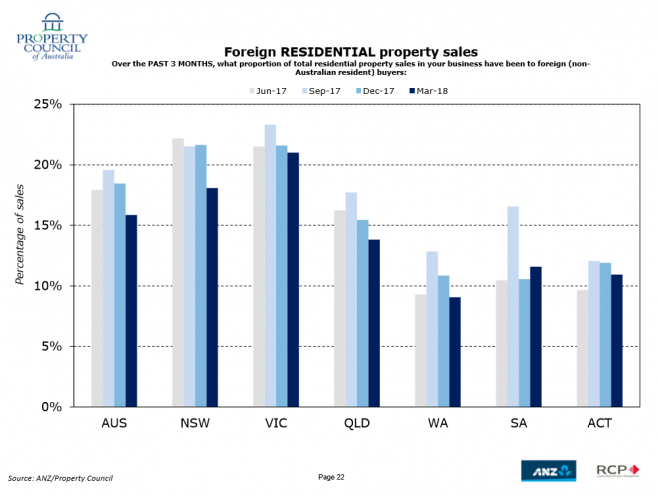 In the wake of yesterday's data from ANZ showing a sharp drop in foreign residential property sales (see chart above), as well as the hissy fit from "Highrise" Harry Triguboff, The AFR has reported that foreign buyers are attempting to skirt recent stamp duty increases by purchasing "nominated" off-the-plan apartments whose contracts were signed prior to the stamp duty increase:
The Australian Financial Review Rich Lister Jonathan Hallinan, the founder of developer BPM, said a new "secondary market" had emerged to trade off-the-plan contracts signed prior to July 1, the date from which lucrative concessions were removed for investors by the Victorian government.

"The Chinese want to buy nominated contracts, so there is now a market for nominated contracts," Mr Hallinan said.

"These investors don't want to have pay the full stamp duty when their friends and family haven't had to."

Most developers allow off-the-plan purchasers to nominate a substitute buyer prior to settlement to take over the contract.

According to Victoria's State Revenue Office: "If there is a nomination under a contract that was entered into before 1 July, 2017, the previous off-the-plan concession would apply to the transfer to the substituted purchaser."

A search on classifieds website Gumtree revealed that a number of off-the-plan "nomination contracts" for projects, including Aspial's Australia 108, BPM's Shadow Play tower and UEM Sunrise's Aurora development, are all available to be purchased on Gumtree.

"I imagine stamp duty would be between $2000 – $5000 as opposed to full stamp duty on the purchase price which is $29,900," said one seller in response to a question from a potential buyer.
These types of 'secondary' sales will soon run their course. The further we get from the 1 July 2017 increase in stamp duty, the less 'nominated' properties will be available in the market. So if foreigners want to purchase off-the-plan in Victoria (or elsewhere where stamp duty has been hiked), they will have to pay up.