The European Central Bank (ECB) released their latest policy outlook last night and it set a fire under the Euro as the language within had gotten decidely more bullish.
From Bloomberg:
In the account of its December meeting, the Governing Council said there was a "widely shared" view among officials that communication would need to evolve gradually based on the outlook for growth and inflation. But the language on the monetary-policy stance could be revisited early this year.

The yields on German bonds also increased, with the two-year yield gaining 4 basis points to minus 0.57 percent.

"The big picture is that any shift in communication, whether it happens in March or June or if it's gradual or hawkish, now seems to be backed by the majority of the Governing Council, which didn't seem to be the case in October," said Frederik Ducrozet, an economist at Banque Pictet & Cie in Geneva, adding that QE may end even if underlying price pressures only improve slightly.

"This could have some very concrete policy implications."
This has been the second shift in 2018 by central banks, following the BOJs more accomodative stance on its bond buying program earlier in the week.
Are we beginning to see more signs of normalcy as the Fed leads the charge in the interest rate race?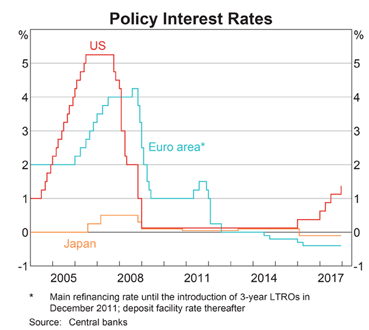 Barclays reckons the ECB will take the foot of the QE stimulus pedal this year, including a potential rate rise. From Forexlive:
However, given the ongoing acceleration in the pace of economic expansion and the slow improvement in the inflation outlook, there is also a broad agreement that the forward guidance will have to be adjusted gradually; accordingly we expect a first step in this direction at the April or June meeting.
We maintain our call that the ECB will likely end QE before year-end, possibly as early as September, and proceed with a first depo rate increase by 20bp in Q4.·
The ECB views "strength" and inflation in the underlying economy through the nexus that is the German economy and inflation. Last night saw the most recent estimates of growth of the German economy revised upwardly with a 0.5% rate through 4Q 2017, but inflation remains modest: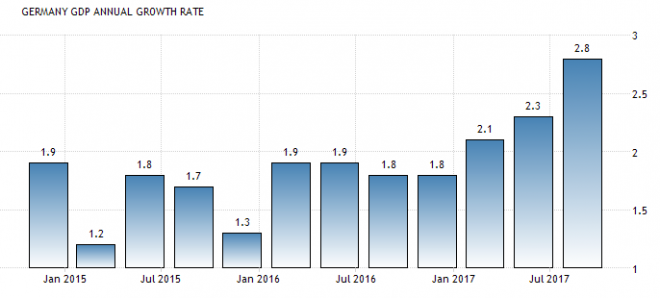 The ECB reckons that EZ-wide CPI will only get to about 1.7% or so through to 2020, still well under the much-lofted goal of all central banks of 2%.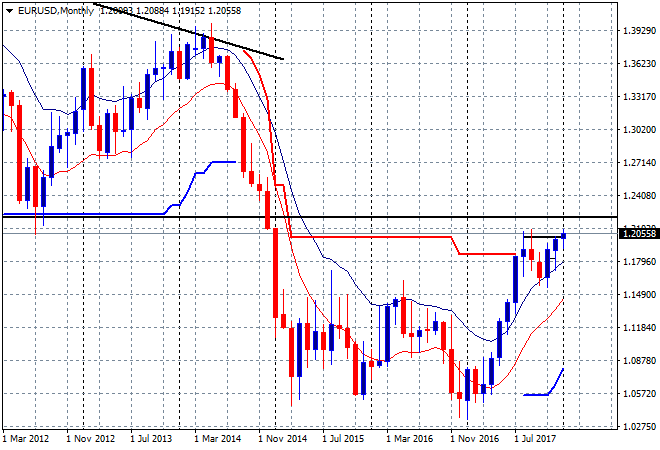 A stronger Euro may not be what the ECB wants as it heads back to multi year highs, helping deflate producer price pressures. Risk traders on the continent are also wary of the central bank lifting the gas pedal that has supported stock prices for so long.
Latest posts by Chris Becker
(see all)