A new report commissioned by Urban Taskforce Australia projects that detached houses with backyards will vanish in Sydney over the next 40 years, meaning future children will be forced to grow up in apartments, many in insecure rented accommodation. From The SMH:
While Sydney's apartments are most likely to be occupied by singles (34 per cent) or couples (27 per cent), the report highlights rapid growth in couples with children living in apartments. These households – dubbed "vertical families" – jumped from 65,000 families in 2011 to more than 87,000 in 2016, an increase of 34 per cent.

One in five apartments in Sydney is now occupied by couples with children.

The top five suburbs for these vertical families are Parramatta, Bankstown, Westmead, Liverpool and Campsie.

There has also been strong growth in the share of apartments occupied by single-parent families; they now account for 8 per cent of those living in high-density accommodation. The number of single parent families in apartments has grown by 14 per cent since 2011.

Report author Mark McCrindle said… "Couples with children is one of the fastest growing segments in the apartment category"…

Apartment dwellers are also much more likely to be tenants: 63 per cent of Sydney's apartments are rented compared with just 18 per cent of detached homes.

Those living in apartments are very mobile and 55 per cent have lived in their current home for less than five years. They are also much more likely to be born overseas than those living in detached homes…

The report forecasts the share of detached houses to fall to just 25 per cent of Sydney's housing stock by mid-century.

"Towards the end of the 2050s, apartments will become the most dominant housing type of any other accommodation in Sydney," it said.
As usual, the report fails to mention the key driver behind the shift to battery living: the federal government's 210,000 strong mass immigration program, which is behind the extra 850,000 people (+20%) that has flooded Sydney over the past 12 years: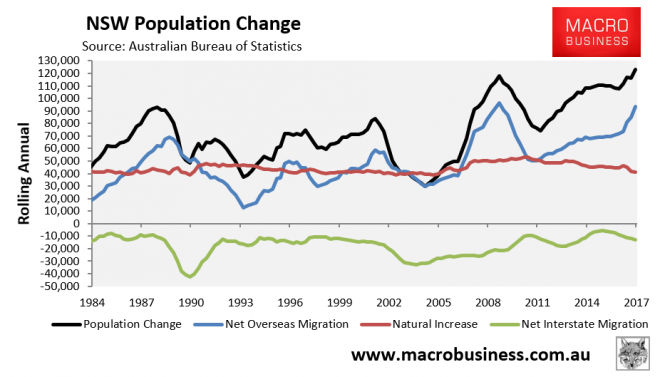 This mass immigration program is also the primary driver of the expected 1.74 million surge in Sydney's population over the next 20 years, not to mention the projected ballooning in Sydney's population to 8 million mid-century: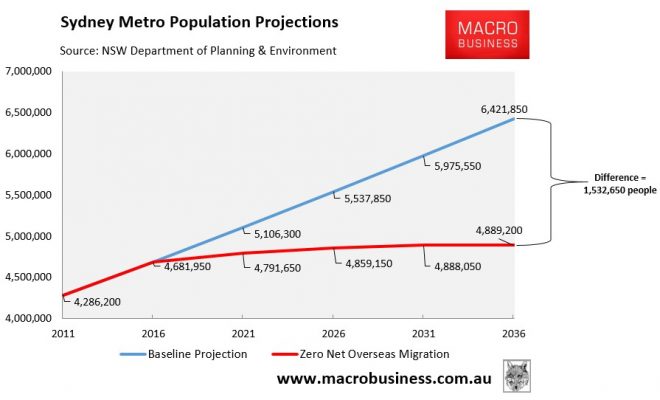 Since when have Sydney residents been given a choice about how crowded and over-populated the city becomes, nor whether they approve of Sydney morphing into a high-rise Asian-styled city?
The Australian way of life is quickly disappearing before our eyes. And for what? Just so rentiers like Highrise Harry and Gerry Harvey can feather their nests.
Australia desperately needs a plebiscite on Australia's future population size so that voters can determine how 'big' Australia comes, not have it force-fed by the 'growth lobby' and their political mouthpieces.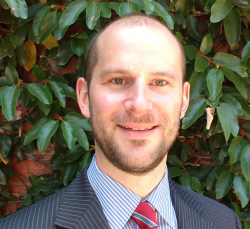 Latest posts by Unconventional Economist
(see all)