Last month, The AFR reported that first-home buyers (FHBs) are desperately fighting for land in Melbourne as the city's population soars:
First-home buyers face fierce competition in Victoria's fast-rising market, with only a quarter of the 84 lots in Stockland's latest land release going to first-time buyers.

Shaneel Veerabathula was one of about 1400 people pre-registered last Saturday morning for the developer's Mt Atkinson project in Tarneit, 25km west of Melbourne, but wasn't sure if he would be successful.

"I was sitting at the computer at 10 o'clock," Mr Veerabathula said. "I jumped in right away and we were 51st. My number was 51 and we had 84 lots. I was lucky to get one."

Mr Veerabathula, a manager with BP Australia, and his wife Raga Navya secured a 350-square-metre lot for $275,000. They hope to move in at the end of 2019 to the house they'll build on the site…

It's only the first release in Stockland's 315-hectare Mt Atkinson project, which will ultimately build 4000 homes over the next 20 years, but the land release suggests that even tax breaks can do little to make it easier for first-home buyers in a state undergoing its fastest pace of population growth in almost 60 years…

Stockland took 7500 enquiries in the run up to last Saturday's ballot, which residential head Andrew Whitson called an "unprecedented level of demand" for any launch the company had done…

"The prices are out of control," he said. "It was not an option in buy in an auction. There is such a high demand" [Mr Veerabathula said]…

"Everyone needs a home," Mr Veerabathula said. "I know 10 people who don't own a house. Ten of my friends are looking for a house in the market."
Now, The AFR reports that the median price for a housing lot in Melbourne has passed the $300,000 mark, according to project marketers Red23, driven by the influx of new arrivals into Melbourne:
Melbourne's long-held status as the country's most affordable new housing market is under severe threat with median lot prices hitting $300,000 in October, pushing the total cost of building a new house to well over $500,000.

The figures, compiled by project marketers Red23. show lot prices rose $355 a day across Melbourne's growth corridors in October, or $11,000. Over the past year they are up almost 25 per cent…

"Developers will tell you its supply driven, but it's mainly due to demand – Melbourne has been caught on the hop," said Red23's general manager of research Andrew Perkins.

"We're getting 145,000 new people here a year and 60 per cent of them are moving into the new growth areas. That means we need 29,000 new homes a year in these areas."

Developers argue they can't keep up with demand because of delays in approvals and a shortage of tradesman, but many are also taking advantage of the competition for a limited supply of lots from first-home buyers and new immigrants to release only small batches of lots at a time and aggressively lift prices…

Mr Perkins, a long-time analyst and observer of Melbourne's new housing market, said he had never seen price growth like this before.
Much of the demand, he said, was due to the wave of new immigrants coming to the city who want to own their own homes but can't afford a house in the established and expensive inner and middle ring suburbs.

According to red23, which analyses lot sales across all active projects, over the past 12 months median lot prices rose 24.6 per cent (or $59,000) – more than double the 10 per cent increase in existing Melbourne house prices over the same period. Five years ago the median lot price was $200,000.
We know from the Census that Melbourne's population grew by a monstrous 126,000 people in the 2016 calendar year, and that Melbourne added just under one million people in the decade to 2016 – a 26% increase in the city's population: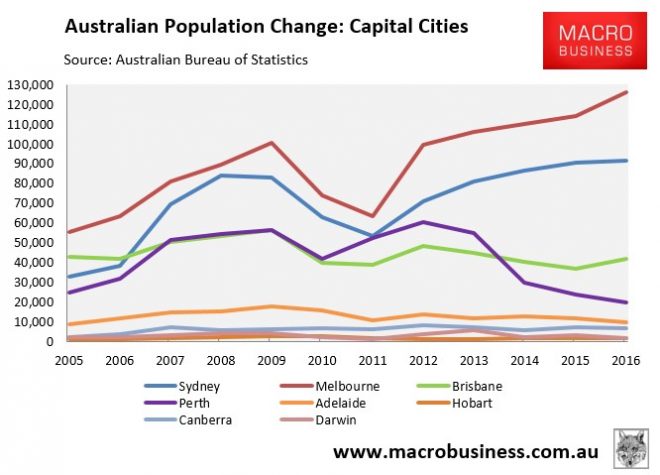 The State Government's own forecasts, which surely will be revised upwards given the latest Census, also has Melbourne's population growing by 97,000 people annually for the next 35 years, adding a monstrous 3.4 million to the city's population (equivalent to adding Melbourne in 2001 to current day Melbourne):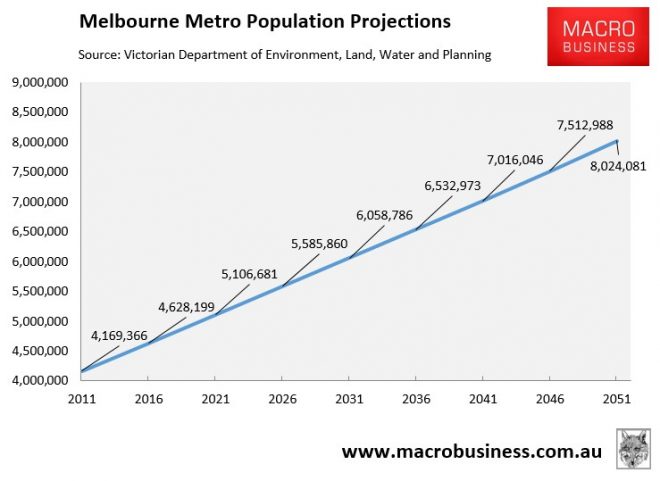 Where will all of this new population go? And how will the State Government ensure that infrastructure and land release keeps up with the bulging population?
Melbourne's population ponzi meltdown continues… And for what?