The Mitchell Institute's 2017 report has been released, which shows that while funding to universities has skyrocketed over the past decade in real terms, funding for vocational education and training (VET) has plummeted to a decade low. From The Conversation:
The chart below shows the trends in expenditure over an 11-year period to 2015-16. This analysis uses 2005-06 as the base index year. Indexing enables comparison of change over time from a common starting point, which is 100 here. So, an increase from 100 to 102 would represent a 2% increase. All expenditure values are in 2015-16 dollars, converted to real terms using a GDP deflator…

---

---

The figures include all expenditure by government entities – meaning by governments (to both public and private education providers) and also by public schools, TAFEs and universities. This gives us an approximate picture of where the dollars are flowing, and how this is changing over time.

What's important here is the increasing disparity in expenditure growth between the sectors, particularly between VET and higher education…

This comparison confirms widespread concerns about VET going backwards. Expenditure in 2015-16 was 4.7% below the level in 2005-06.

This tells a worrying story about quality vocational education and training not being a priority for governments.

Key growth employment areas like aged care, early childhood education and hospitality rely on vocational training for skilled workers. Building up vocationally qualified workers in the growing service and caring industries will be essential, particularly as employment in the manufacturing sector declines…
The situation facing the VET sector is probably now even worse than suggested above, given most of the enrollments were in private colleges, which have been gripped by scandal.
In 2015 the federal government introduced a number of reforms to the VET loan system designed to curb unsustainable growth and address unscrupulous behaviour, and resulted in the total amount of loans for 2016 almost halving, decreasing by more than $1.4 billion compared to 2015, from $2.92 billion to $1.47 billion.
The 2016-17 Department of Employment skills shortages report also showed that while skills shortages were low overall, conditions were tighter in the trades: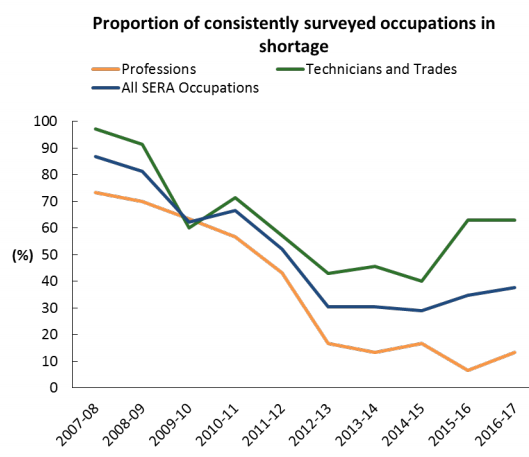 Because they are experiencing relatively few apprenticeship and trainee commencements and completions: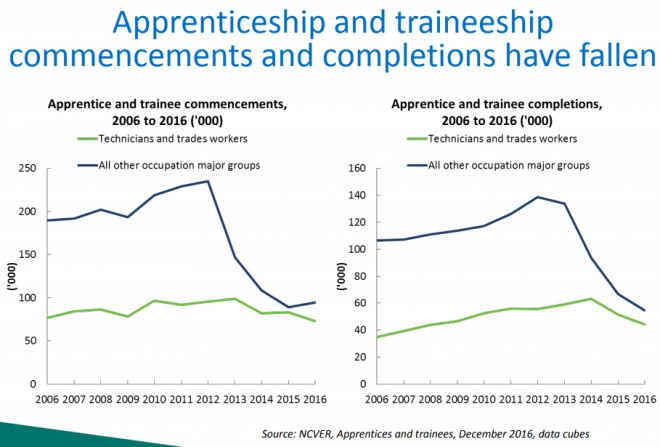 By contrast, the university sector is way oversupplied, with a record number of Aussies studying at university: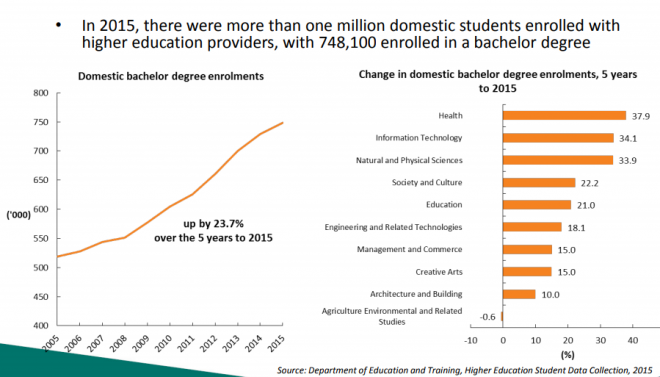 Of whom many graduates cannot gain meaningful employment: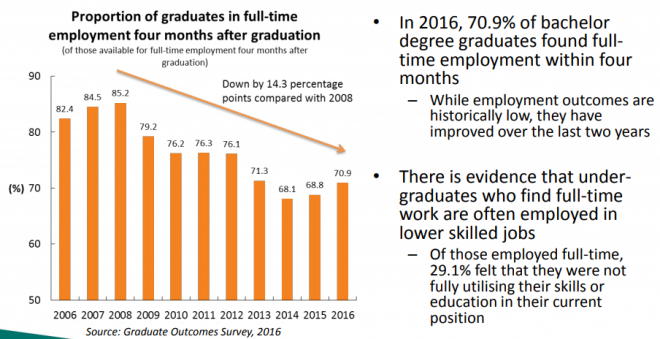 By contrast, employment outcomes are much stronger in the trades, reflecting the relative undersupply: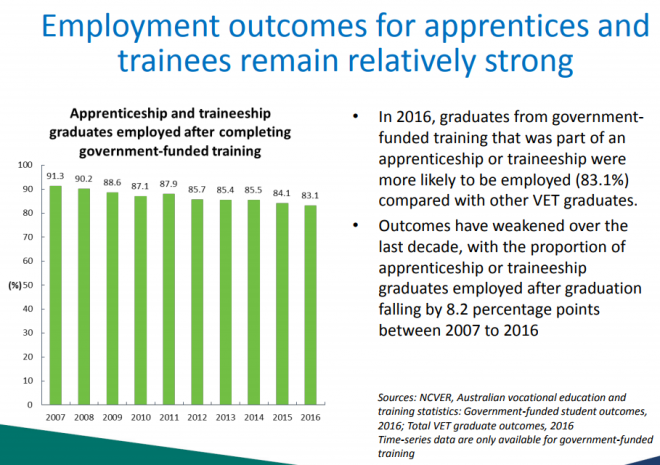 The above data from the Department of Employment does support the view that Australia is spending way too much on university and not enough on VET. Accordingly, it should divert some funding towards publicly-run TAFEs, which according to the 2016 VET FEE-HELP Statistical Report, offer lower course fees and have much higher completion rates than private (rorted) VET providers.