The Australian's Henry Ergas has penned another article today attempting to debunk ACTU chief, Sally McManus's, claim that Australian workers are getting less of the economic pie:
At the heart of those inventions is the assertion that Australian workers are being brutally crushed. "Labour's share of ­national income," she says in ­support of that assertion, "is at a 50-year low."

Like so many of her purported facts, that claim is simply incorrect: at 54 per cent, the share of wages in national income is line ball with the 55 per cent that has been its trend level since the late 1980s.

Moreover, far from being at a low, the wages share of national ­income is materially higher now than it was during the mining boom, when surging export prices boosted profits and helped finance a doubling in Australia's capital stock.

As for profits being at historic peaks, profit rates, as measured by the national accounts, have dropped since the boom ended to well below their long-term ­average, and the profits share of national income has fallen with them.

…firms won't hire workers who cost more than they produce. Productivity growth therefore sets a constraint on wage rises.

That McManus entirely avoids that issue is unsurprising: our ­productivity performance hardly creates scope for the steep wage hikes she advocates.

Multifactor productivity — which measures how much output we get for each unit of capital and labour combined — is only 1.5 per cent higher today than it was in 2006-07, implying an annual growth rate of less than two-tenths of 1 per cent.
Now consider the below long-run charts from the June quarter national accounts.
First, the average compensation of employees fell by 0.2% over the year to June 2017 – the lowest annual growth recorded in the series' history: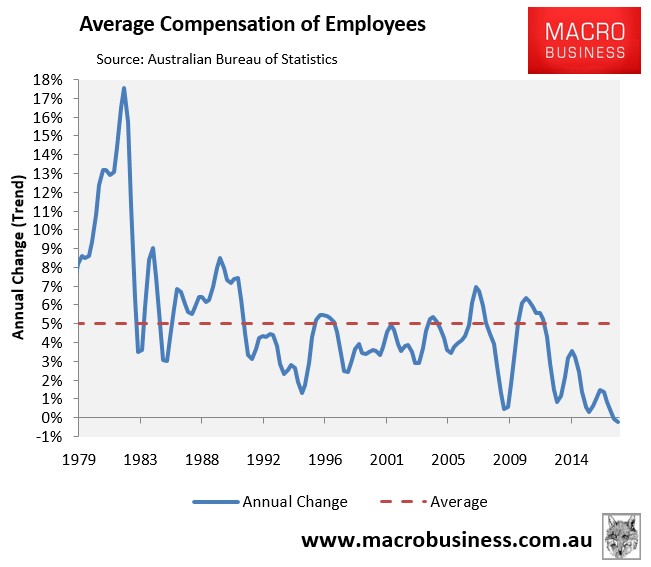 Adjusting for inflation, the situation facing Australian workers is even worse, with average compensation falling by 2.1% over the year.
Second, the slump in workers' compensation comes despite solid increases in labour productivity. As shown in the next chart, real average compensation of employees has badly lagged labour productivity since the early-1980s, however, the divergence has become especially stark over the past five years: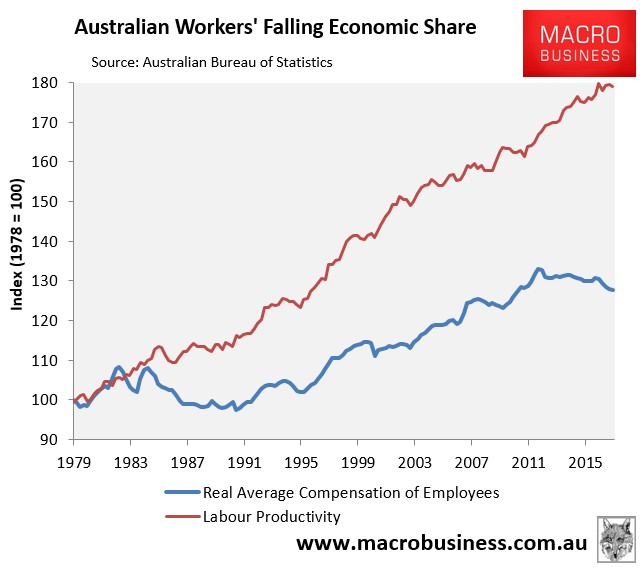 Third, company profits have boomed just as workers' incomes have declined: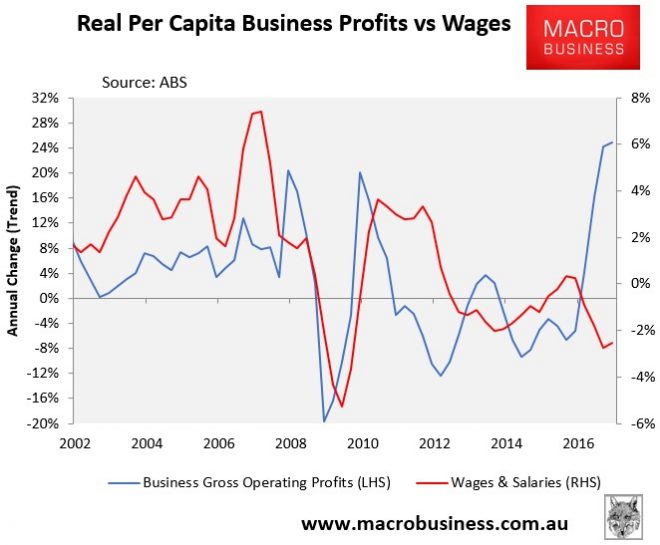 Fourth, the wages share of total factor income has hit the lowest level since June 1964 (53 years):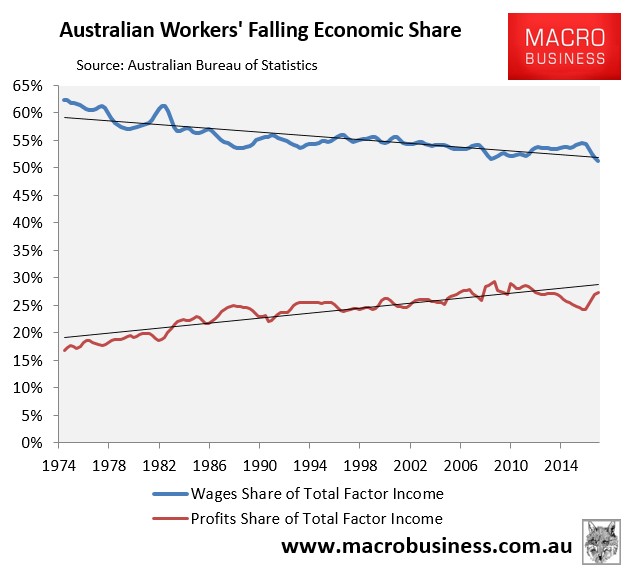 Clearly, the above data backs the ACTU's claims that Australian workers are receiving less of the national economic pie.
While labour has been doing a good job, as evident by its strong productivity performance, its efforts are getting killed by dismal capital productivity as savings are massively mis-allocated into profitless houses, profitless energy and a profitless government that wouldn't know a reform policy if it ran over it in a bus.