The Australian's Judith Sloan has re-entered the immigration debate today, destroying the flimsy arguments for mass immigration perpetuated by the boosters at the RBA and the Australian Treasury, as well as calling for a national discussion on whether Australian's want or need a 'Big Australia':
Of course, having more people, say through migration, makes the economy bigger but that doesn't mean that living standards, as measured by gross domestic product per head, for example, are enhanced by bigger migrant intakes.

And what the best quality studies show is that the economic benefits of immigration are zero or slightly positive, with most of the gains being captured by the migrants themselves… incumbent workers who have similar profiles to new migrants miss out in terms of employment prospects and wages.

Then there is the myth about immigration being useful in the context of an ageing society. The Productivity Commission has made the point at least three times that the impact of immigration on the demographic profile of Australia is minimal. After all, migrants themselves age.

What does surprise in the context of the immigration debate in Australia is the now active role being played by the Reserve Bank…

The governor and now an assistant governor of the bank have become active players in promoting high rates of immigration.

…newly appointed governor Philip Lowe recently expressed the view that "our immigration program I see as a source of national strength. To give that advantage up just so that we can take some pressure off housing prices, I find kind of problematic"…

" … a source of national strength" is a non-specific, non-analytical and lazy rationale for our immigration program.

But not to be outdone, we now have assistant governor Luci Ellis also proclaiming the virtues of our mass migration program…

[Ellis] asserts that because migrants are younger than the incumbent population and they are more skilled — in terms of post-school qualifications, at least — this should boost the economy.
If she had actually bothered to look into the research on immigration, she would have found that the post-school qualifications of immigrants to Australia are much less likely to be translated into well-paid jobs compared with Australian-born graduates.

Using 2013 data, Bob Birrell and Ernest Healy of Monash University found that "nearly 70 per cent of Australian graduates aged between 25 and 34 held managerial or professional jobs, whereas only 31 per cent of non-English speaking background immigrants with a degree held such jobs". A total of 80 per cent of these immigrants came from non-English-speaking backgrounds.

Then there is the current favourite of the high immigration set, including Ellis: we need huge, congested cities to give our economy dynamism, promote innovation and boost productivity. We have seen ridiculously high population growth rates in Melbourne and Sydney, but sadly for Ellis the data on productivity does not support the thesis.

Multifactor productivity growth has gone nowhere and the capital deepening that has occurred (and that has driven labour productivity slightly higher) is overwhelmingly the result of investment in mining — not in the cities.

We have known for a long time that Treasury is part of the big immigration fan club, in part because economic measures are reported in absolute rather than per capita terms. We all know about the more than a quarter of a century of uninterrupted growth — the trouble is that's not the case in per capita terms. We can now add the Reserve Bank to the fan club's membership base.

It's more important than ever that we have a frank discussion about the costs and benefits of immigration, as well as the specific features of our immigration program, as we hurtle towards a population of 40 million by 2060, if not before.
Beautifully said, Judith. Nailed it.
Judith Sloan was the Commissioner in charge of the PC's 2006 review into the Economic Impacts of Migration and Population Growth, so on this topic she carries significant weight and her views should be taken seriously. And, not surprisingly, Sloan has found only modest (if any) per capita economic benefits from immigration, but significant costs to incumbent workers' wages, congestion, housing affordability, and the environment.
The fact of the matter is that Australia's mass immigration program, which has more than doubled since the turn of the century (see below chart), was never based on rigorous analysis of need, and its deleterious impacts on incumbent residents in Sydney and Melbourne, as well as Australia's natural environment and broader economy, have never been considered.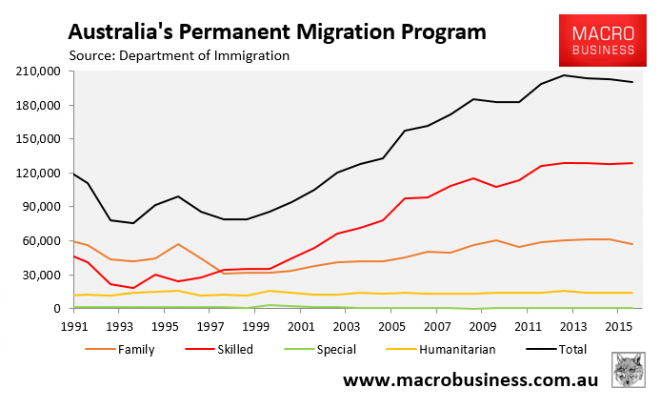 If the permanent migrant intake was normalised back to the historical (115 year) average of 70,000 people – as advocated by Sustainable Australia, Dick Smith and MB – then Australia's population would grow to around 32 million by 2060 versus over 40 million under current projections: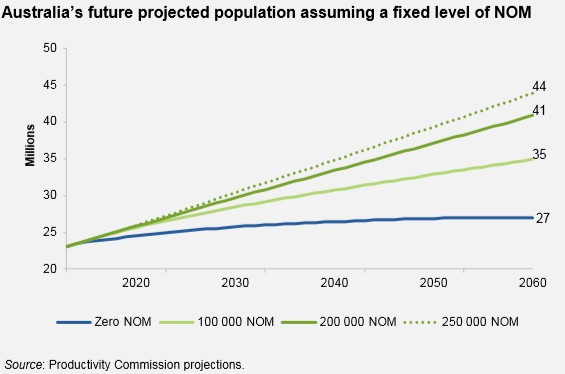 Such growth would be far more manageable and easily digestible than the turbo-charged mess that is currently being created and mis-mananged.
It's time that our politicians stopped ignoring the issue. Australia's living standards are at stake.