Via The Australian:
Queensland is exporting gas at record rates as resurgent oil prices boost LNG contract revenue and a Chinese push to reduce coal-fired power and heating pushes LNG spot prices and medium-term demand forecasts higher.

China's campaign to clean its air, particularly around Beijing, has already had a big impact on the prices of Australia's two biggest exports — iron ore and coal — as the Asian demand centre prioritises lower-emission products.

It is now hitting Australia's third-biggest export, LNG, where spot prices are up 53 per cent in the past two months as the dramatic push for better air drives more gas demand.

And forecasts of when the current global LNG glut will turn into a shortage are now starting to come forward to early next decade, which should bode well for LNG contract price resetting.

…Analysis of Australian Energy Market Operator data shows that in the five days from October 30, Gladstone's exports ran at record rates equivalent to 23.7 million tonnes per year, or 93 per cent of nameplate capacity, according to consultants Energy Edge.

…Spot LNG prices are up 55 per cent since the start of September to $US9.29 per million British thermal units ($11.54 per gigajoule) as Chinese imports increased 44 per cent for the year to date.
Blah, blah. On an all-in cost basis these sales are losing roughly -$5Gj. The firms can make money on a cash basis but it's the all-in cost that matters to Australia because the difference between the two is written off and, along with accelerated depreciation, prevents the collection of any taxes. Add that the same firms are gouging the local market with high prices thanks to the resulting shortage, forcing governments to give money to pensioners to pay their utility bills, and every tonne of exported gas is actually being paid for by Australians and their government.
It's beyond stupid. It's economic suicide.
As for regional gas turning into a shortage thanks to China, Reuters Clyde Russell is getting excited:
…it's worth noting that so far the LNG market has proved remarkably resilient to forecasts of a supply-driven price slump, as demand growth has surprised to the upside.

Asian spot prices ended last week at $9.45 per million British thermal units (mmBtu), up 75 percent since the 2017 low of $5.40 in mid-April.

The price is also not far below the $9.75 peak from last winter, reached in the first week of this year.

While seasonal rallies and declines are a feature of spot LNG pricing in Asia, if the market was truly over-supplied, it would be logical to expect that the winter gains would be more muted than they have been.

Vessel-tracking and port data compiled by Thomson Reuters Supply Chain and Commodity Forecasts also show just how robust demand growth has been so far in 2017.

In the first 10 months of the year, 242.1 million tonnes of LNG was delivered by the seaborne market, up 10.3 percent from the 219.5 million in the same period in 2016.

Of that, 141.3 million tonnes was supplied to North Asia, which includes top buyers Japan, South Korea and China, an increase of 12.8 percent on the 125.3 million in the first 10 months of last year.

Much of the growth in Asia has been down to China, which imported 28.8 million tonnes of LNG in the first 10 months of the year, according to the vessel-tracking data.

This is 45 percent more than the 19.8 million tonnes China bought in the same period in 2016, underscoring just how successful the country's efforts have been to expand the use of natural gas in a bid to limit air pollution from burning coal.
Here's China's growth: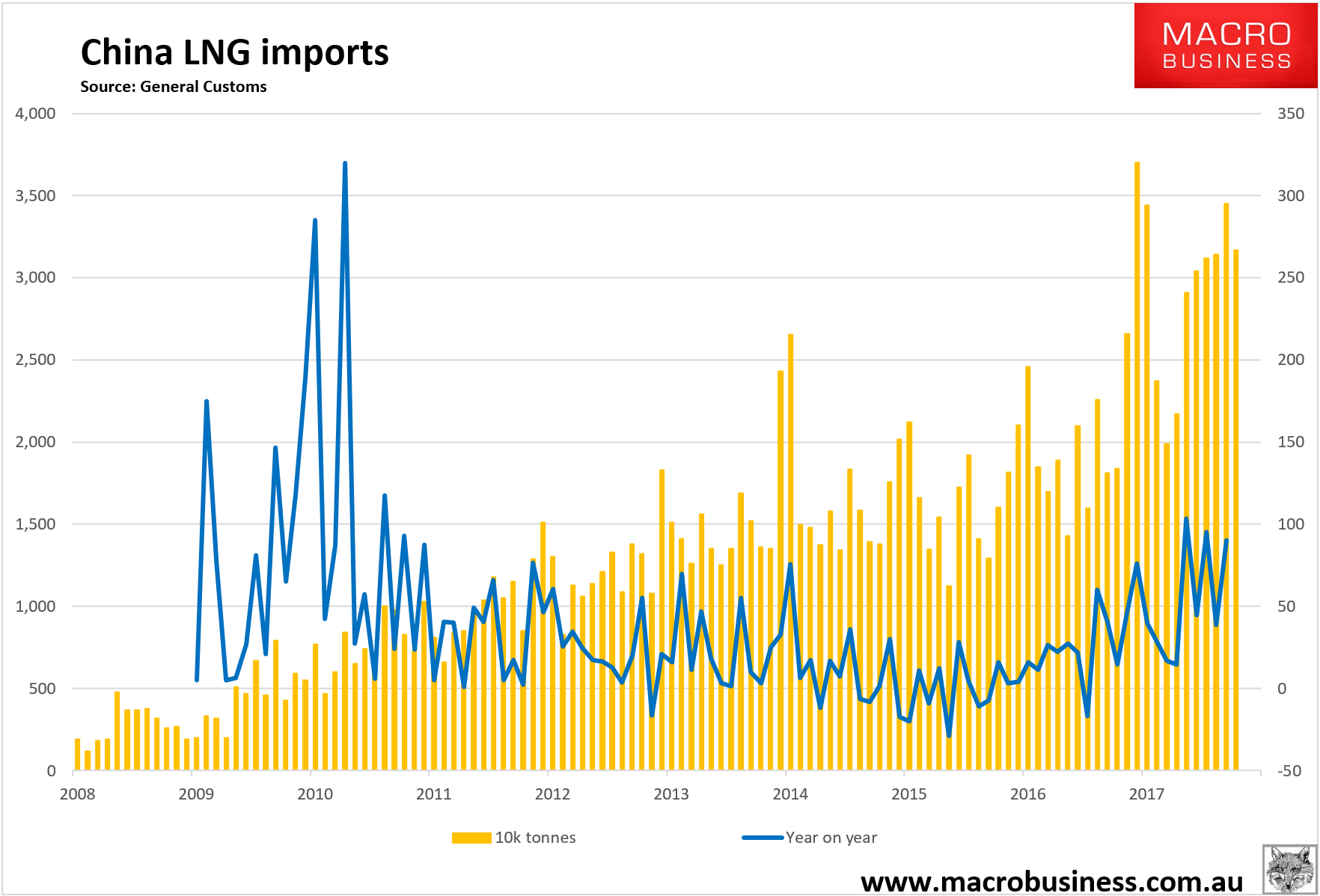 Impressive, no? The thing is, these volumes are the long-expected ramp up of the contracts that underpinned the development of the projects. This was always coming. Indeed, BREE's long-held forecast for Chinese imports is for it to keep growing to 45mt per annum in 2019 as other new projects come on-stream.
Now, undoubtedly, the anti-pollution drive is lifting demand at the margin. But it has a very long way to go before overwhelms the huge glut: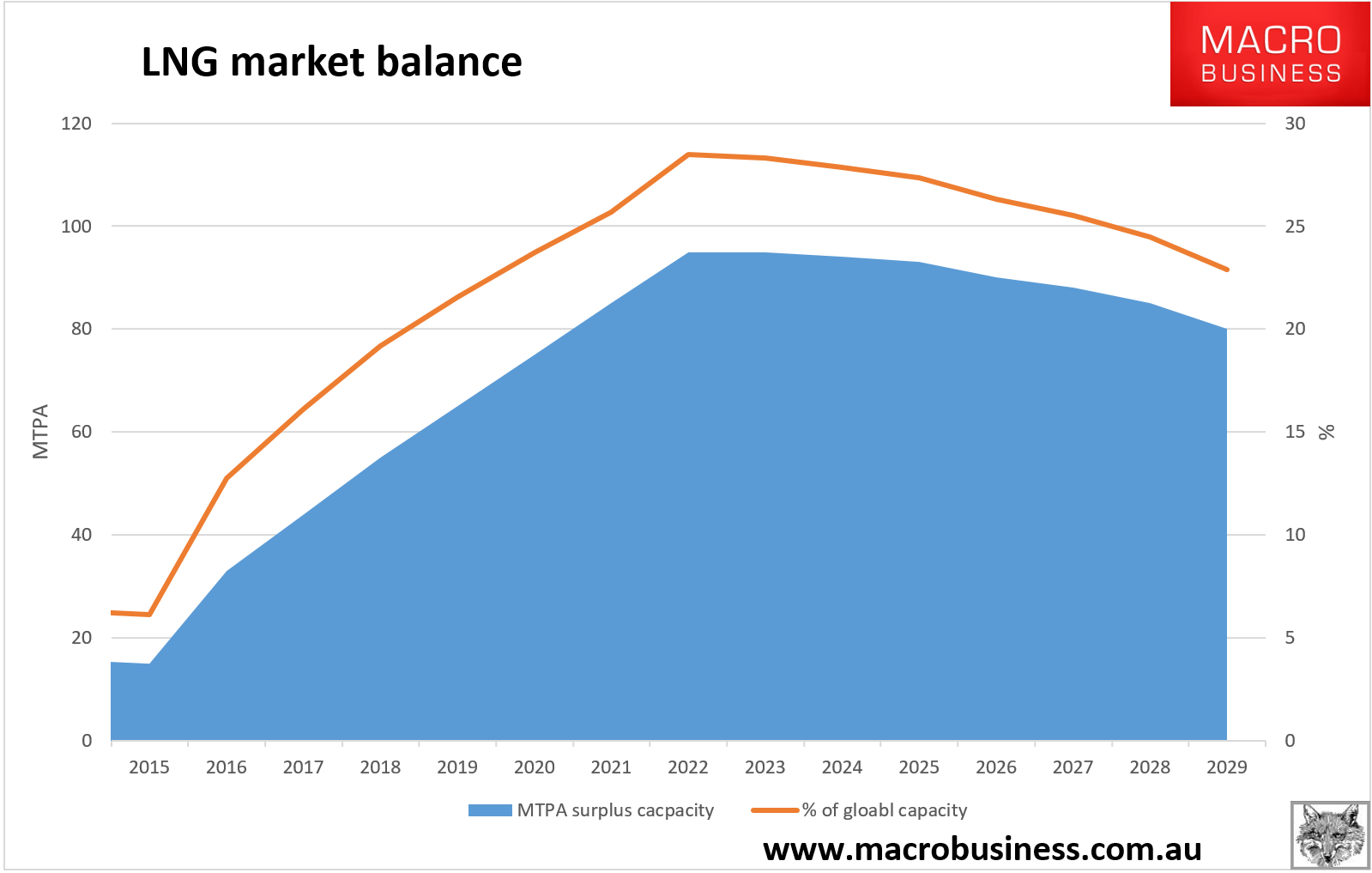 Qatar is expanding supply massively and so is the US. In fact, the latter just got a huge boost:
Three state-owned Chinese companies have signed an agreement to develop liquefied natural gas in Alaska in a move that signals the US may become a key source of energy supply for China. The deal – between China Petrochemical Corp, or Sinopec, China Investment Corporation and Bank of China, the State of Alaska and its Alaska Gasline Development Corporation – was inked while US president Donald Trump visits China president Xi Jinping in Beijing. The Alaskan government said in a brief statement the agreement will see investment of up to $43bn and reduce the trade deficit between the US and Asia by $10bn annually. It was one of a batch of corporate deals with a total face value of $250bn scheduled to be witnessed by the two presidents.
Though doubts remain, the point is that although the glut has eased back on strong Asian demand, it remains huge. Current prices are just typical seasonal activity: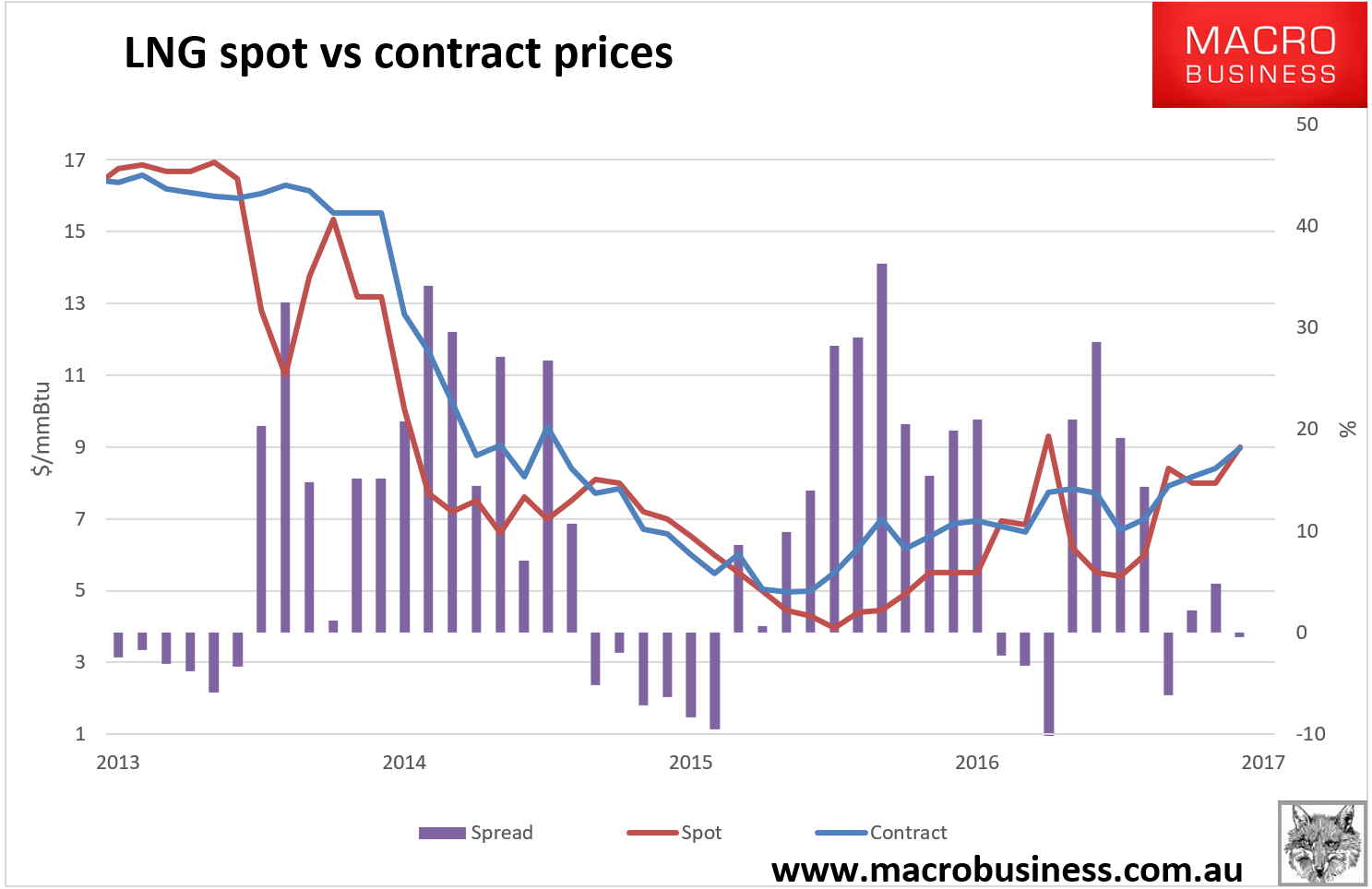 Australia's Asian gas giveaway remains one of the great economic debacles of the age.