Yesterday, the Productivity Commission (PC) released its draft report on Horizontal Fiscal Equalisation (HFE), which approved the overall goal of equalisation between states but also recommended changes to the way in which tax revenues (principally the GST) are distributed.
Below are the key points:
The basic premise of HFE — fiscal equity in the Australian federation — has broad support.hile the specific practice of HFE has always been debated, it is now under significant strain as Western Australia's share of the GST has fallen to an extreme low.
While the specific practice of HFE has always been debated, it is now under significant strain as Western Australia's share of the GST has fallen to an extreme low.
The practice of HFE has evolved over time, and now embodies an undeliverable ideal: to give States the same fiscal capacity. In other words, all States are brought up to the fiscal capacity of the fiscally strongest State (currently, as assessed by the CGC, Western Australia).
Notwithstanding anomalies, the current system of HFE has good points.

It achieves an almost complete degree of equalisation — unique among OECD countries.
The independent and expert CGC is well placed to recommend GST relativities. It has well-established processes that involve consultation and regular methodology reviews.

And HFE does not result in significant distortions to interstate migration or economic growth.
But the pure may be the enemy of the good: the current HFE system struggles with extreme circumstances, and this is corroding confidence in the system.

Equalising comprehensively and to the fiscally strongest State means that the redistribution task is too great for any jurisdiction to bear; and is volatile at times of significant cyclical and structural change.
There is scope for it to discourage desirable mineral and energy resources policies (royalties and development) and State policy for major tax reform (a costly first-mover disadvantage).
The system is beyond comprehension by the public, and poorly understood by most within government — lending itself to a myriad of myths and confused accountability.

The Australian Government should articulate a revised objective for HFE. While equity should remain at the heart of HFE, it should aim to provide States with the fiscal capacity to provide a reasonable level of services.

Equalisation should no longer be to the highest state, but instead the average or the second highest State — still providing States a high level of fiscal capacity, but not distorted by the extreme swings of one State.
By contrast, relativity floors or discounts for particular revenue streams do not resolve HFE's deficiencies and must prove arbitrary, and likely have unintended consequences.

Any material change to HFE in the current extreme environment will lead to significant redistributions of the GST. Timing and careful transition are paramount, especially to ensure the fiscally weaker States are not significantly disadvantaged.
The Commonwealth Treasurer should ask the CGC to recommend relativities consistent with a revised objective. The CGC should also be directed to pursue significant simplification of its assessment process, even if it results in slightly less — or less precise — equalisation.
The CGC should play a prominent public communication and education role — a much needed objective voice to inform the public dialogue about HFE.
Reforming HFE will deliver benefits to the Australian community. But ultimately, greater benefits will only come from more fundamental reforms to Australia's federal financial relations: namely, to spending and revenue raising responsibilities and accountabilities.
The draft report includes the below chart showing the distribution of GST by jurisdiction. Note WA's extremely low share: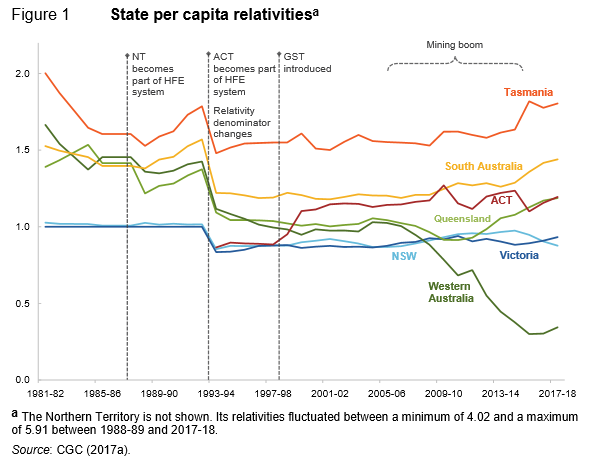 It also includes the below table showing the distribution of grants and GST by state. Again, note how WA is getting shafted:

The PC raises as a reform proposal cutting the baseline for HFE from the strongest state to the second strongest: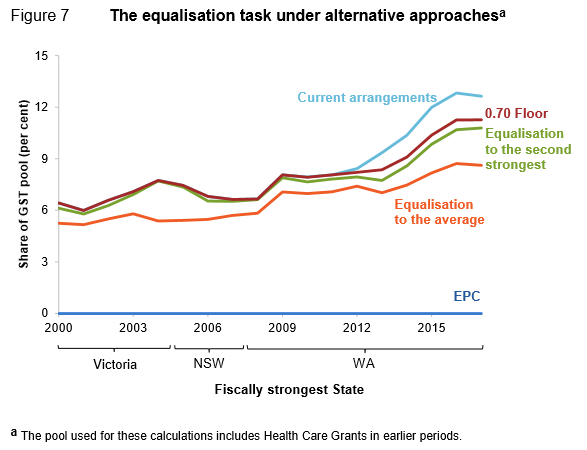 Such a distribution would see WA's share of the $60 billion GST pie rise by $3.2 billion in 2017-18, whereas all other state and territories shares would be reduced.
Specifically, NSW would be worse off by some $1.1 billion, VIC and QLD would lose some $920 million and $730 million respectively. Whereas TAS would miss out on around $80 million.
Another alternative reform is to operate an "equalisation to the average" approach, which would have left WA $3.6 billion better off this financial year, whereas QLD (-$1.6 billion), VIC (-$970 million) and SA (-$500 million) would all be worse-off.
Both sides of WA's politics are hailing the PC draft report and are cautiously excited that reform of GST distributions might finally come to fruition. From The ABC:
Treasurer Ben Wyatt labelled the Productivity Commission's draft report on the GST system "very encouraging", while the State Liberals termed it "an important step in achieving real reform"…

However, any joy WA politicians took from those findings must be tempered significantly for a few key reasons.

Firstly, the report was just a draft, and the final version released next year could look very different.

Furthermore, any eventual change to the GST distribution model is not expected to come for years…

But perhaps the most important point is that the Federal Government is not obliged to follow through on any recommendations and faces significant political risk if it does.

Prime Minister Malcolm Turnbull and Treasurer Scott Morrison have previously acknowledged the GST situation WA finds itself in is unfair.

But both major federal parties will inevitably balance fairness with political reality.
By contrast, Victoria is having a nice whinge, via the Herald-Sun Editorial:
The amount of GST returned to Victoria is already the third lowest in the nation and further cuts must not be inflicted. Indeed, Canberra should be increasing the amount going to Victoria rather than siphoning off more to subsidise less economically vibrant states and territories.

At present, Victoria gets back just 93.2c of every dollar it pays to the Commonwealth in the collection of the Goods and Services Tax.

Under draft Productivity Commission proposals unveiled yesterday, that figure would fall to just 88c or 87c.

If the changes were adopted, they would equate — based on figures from this financial year — to a loss of $920 million to $972 million each year, before compensation arrangements are considered…

Western Australia and Queensland have benefited greatly from mining and resource exports in recent years. WA, while slamming its 34.4c return, remains the nation's strongest financial state, according to the Commonwealth Grants Commission, and was given $1.2 billion in federal top-up funds in June as mining revenue fell.

Victoria and New South Wales continue to lead the nation in Gross Domestic Product but are rewarded with a lower relative GST share as a result…

Victoria should not be treated as a bank for states which fail to adequately diversify and position themselves for cyclic change.
Even though I am a Victorian, I side with WA on this issue.
As noted by Moodys in April, WA is currently being penalised in its GST allotment (let along grants) via the Eastern States' (especially Victoria's) rapid population growth:
Although the total grant pool will rise by 5% to AUD62.7 billion, the redistribution will change grant levels on the basis of the state's fiscal capacity (its relative ability to raise revenues and its cost of providing services) and population…

Northern Territory and Western Australia anticipated larger grants in their budget forecasts, so the lower-than-forecast grant adversely affects the states' budget outcomes. The states' varied reliance on these grants also affect the magnitude of the actual budget effect (see Exhibit 1).

Western Australia's grants are to rise by 19.1% because the sharp decline in iron ore prices and NorthWest Shelf liquefied natural gas have adversely affected its revenue raising ability. However, the 19.1% increase is well below the state's forecast rise of more than 40% because of lower population growth and relatively lower spending on roads maintenance. As a result, Western Australia's deficit could widen to 13.8% of revenues from the state-projected 11.8%, unless offsetting measures are taken.

The largest beneficiaries are Victoria, whose grant will increase 8.1%… Victoria's larger increase reflects an larger share of grants and higher population growth…
It's a bit rich for the big parasitic Eastern States to run population ponzi economies that exacerbate their enormous external imbalances while boosting their own GST allotments at the expense of surplus economies like Western Australia: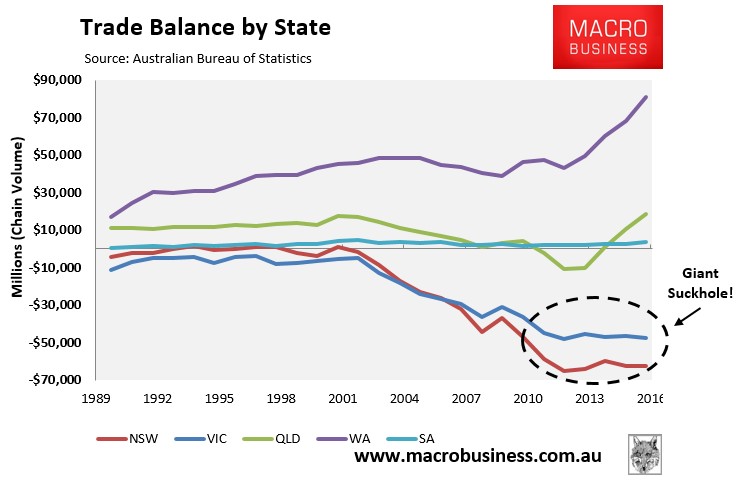 The fiscally disastrously Barnett Government has been voted out. Time for a fresh start.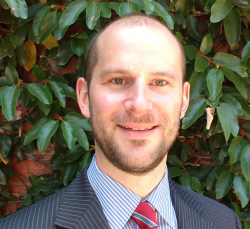 Latest posts by Unconventional Economist
(see all)