We are continually told by the property lobby and the Coalition that the secret to housing affordability rests in liberalising planning and building more homes.
Australian housing is expensive, we are told, because the planning system is dysfunctional, the states have locked-up land supply, and there has been insufficient investment in infrastructure.
Last week, Dr Nigel Stapledon, Chief Advisor at property advisory consultancy MacroPlan, penned an article once again blaming the supply-side of the housing market on Sydney's housing woes:
There is an argument out there, which defies the laws of gravity but keeps getting printed in our media, that somehow supply does not matter when it comes to housing.

The report by ex-RBA Governor Glenn Stevens to the State Government earlier this year, provides a very succinct argument on why supply does matter.

Stevens' report looked at both demand and supply factors, but with reference to Sydney the focus was on supply as the primary fault line…

The Stevens report acknowledges that some things on the supply side are not amenable to change, namely Sydney's natural geographic constraints.

Other things are amenable to change but slowly. Chief among them is a 20-30 year backlog in investment in transport infrastructure, which is "a critical weakness" in terms of both supply and in explaining the anti-growth views of Sydneysiders…

The primary focus of the Stevens report is on the things "that ought to be more amenable to change more quickly." He goes on to discuss how regulation, zoning and approval processes make the supply side far less flexible than it could be. Stevens observes that the length of time required for rezoning and development approval is "much too long", tying up capital which ultimately feeds into the cost of land. Related to that, the complexity of the planning process means that it requires large developers with large resources to navigate that complexity, while small developers would struggle – hardly conducive to a competitive market.

Stevens understands that, if changes are going to be made to the planning process to facilitate growth, the really hard challenge is to sell to the majority of voters the reality that Sydney's population is going to grow, and that we need to accommodate (not perpetually resist) that growth.
This site has long argued that better land-use and planning would create a better functioning housing market and help to improve affordability (principally by lowering land prices).
However, one wonders how an esteemed professor like Nigel Stapledon can ignore the most obvious cause of Sydney's (and indeed Melbourne's) housing woes: the federal government's mass immigration 'Big Australia' program.
Just look at the next chart showing the surge of net overseas migration (NOM) into New South Wales and Victoria (read Sydney and Melbourne) over the past six years: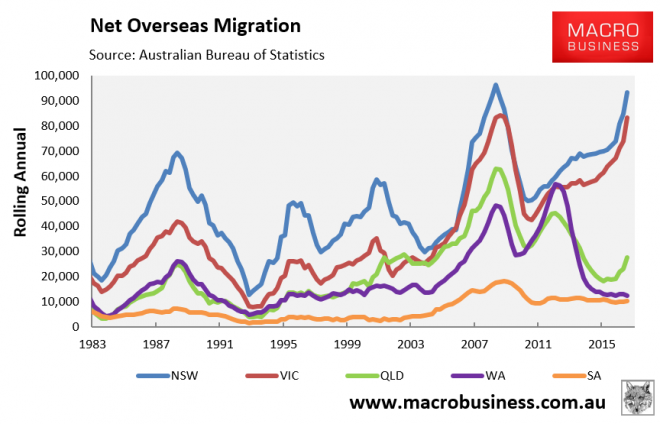 And compare this to the growth in dwelling values across the five major markets: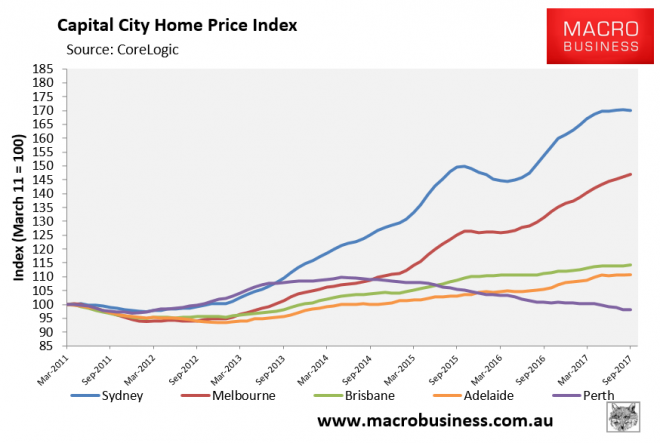 You don't need a PhD to see that excessive demand from immigration has been the primary driver of price growth across Sydney and Melbourne over the past six years, whereas growth in the other capitals – where NOM has fallen – has been weak (negative with regards to Perth).
Indeed, the simplest way to 'solve' Sydney's housing woes would be to slash immigration and allow supply in housing and infrastructure to catch up. After all, the State Government's own demographic projections show that NOM will account for 88% of the projected 1.74 million increase in Sydney's population over the next 20 years: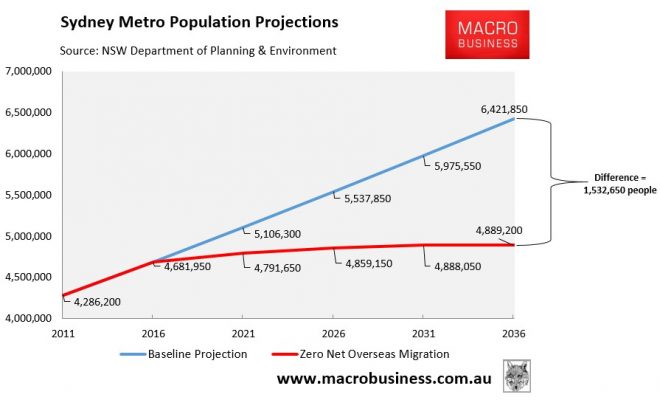 It's also not like 'supply' has been weak. Dwelling construction has hit record levels across Sydney and Melbourne: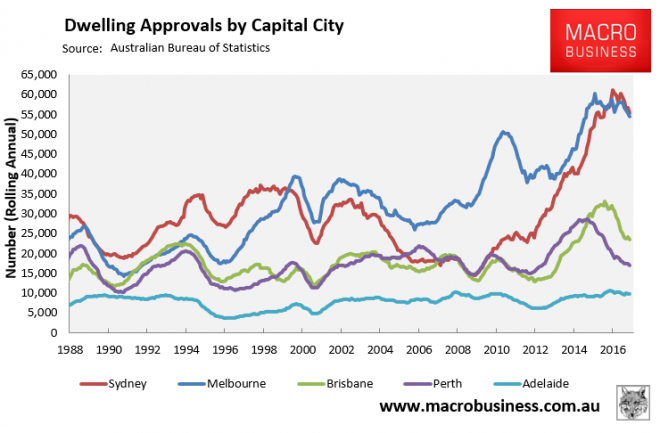 And yet this still hasn't been enough to mitigate price rises given the rampant immigration-fueled population growth.
In summary, commentators like Dr Stapledon need to stop blaming a lack of 'supply' for Australia's housing woes. It is the federal government that has chosen to open the immigration flood gates, leading to massive inflows of new residents into Australia's big cities (especially Sydney and Melbourne), in the process crush-loading housing and infrastructure.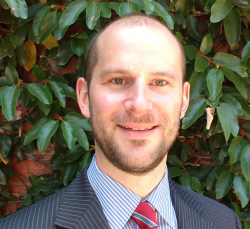 Latest posts by Unconventional Economist
(see all)