The most recent ABS demographic statistics for the March quarter of 2017 revealed break-neck population growth for both Victoria (read Melbourne) and New South Wales (read Sydney):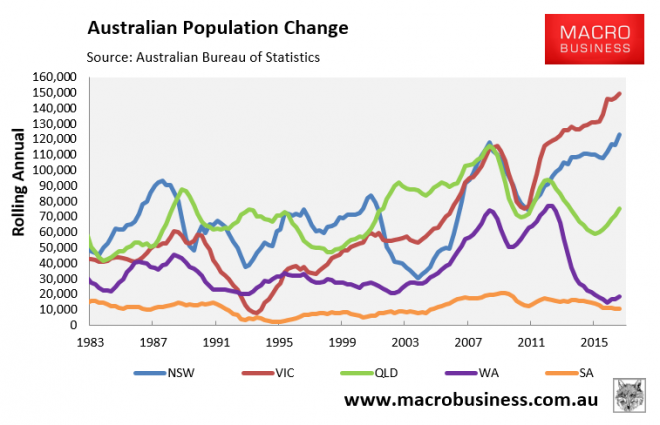 Driven primarily by rampant immigration: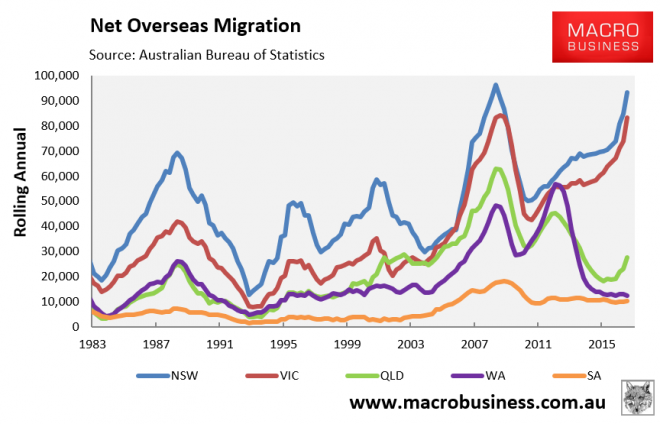 This time last year, Infrastructure Partnerships Australia (IPA) released a report that used Uber driver information to measure "road network performance" in Sydney, Melbourne, Brisbane and Perth to drill down into average travel times at different hours of the day. This research found that "efficiency" pretty much followed the level of population growth: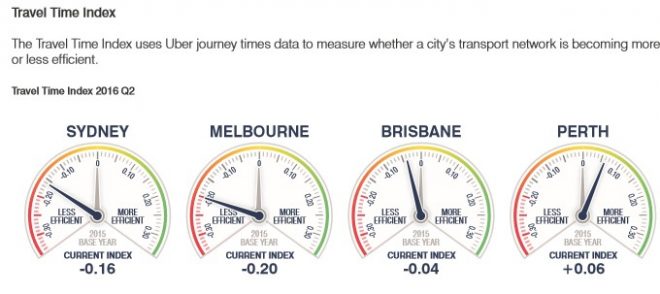 In Melbourne, which is the population ponzi king, travel times worsened materially, followed by Sydney, which has also experienced manic population growth.
Brisbane only experienced a minor worsening in travel times. Whereas in Perth, where population growth has cratered, travel times have actually improved.
Yesterday, the Arcadis Sustainable Cities Mobility Index 2017 was released, which found that Melbourne has ranked poorly on its transport efficiency in a global survey of cities. From The Herald-Sun:
Melbourne was ranked number 55 out of 100 urban centres surveyed…

Hong Kong was rated number one, followed by Zurich, Paris, Seoul, Prague, Vienna and London, said the index compiled by global design consultancy Arcadis.

Brisbane, Sydney and Canberra performed better than Melbourne…

The Arcadis report said that Melbourne's rapid population growth was affecting its mobility but the Metro Tunnel project would help free up the train network.

Arcadis city executive Melbourne Pru Sanderson said that the city was still paying for decades of urban sprawl driven by car use…

Ms Sanderson, a former CEO of state development agency VicUrban, said that policies like Plan Melbourne were addressing the density issue but the problem would take decades to turn around.

"We need to get smart buses better on the agenda, we need to get better bicycle routes better on the agenda and safer pedestrian routes in certain neighbourhoods too," she said.

Ms Sanderson said that a car congestion tax for the inner city should be considered, but only as part of a suite of congestion-busting measures.

A Herald Sun analysis of 2016 census data on how people get to work has revealed that car use is rising in the outer suburbs.

In the City of Casey, which includes Narre Warren, Berwick and Cranbourne, 79.2 per cent of workers went to work by car in 2016, up from 76.5 per cent in 2011, while the corresponding figures for the City of Frankston were 71.9 per and 69.2 per cent.
As usual, Ms Sanderson has ignored the simplest solution to Melbourne's traffic woes: slashing the federal government's mass immigration program, which is the primary driver of Australia's (and by extension Melbourne's) strong population growth. The federal government raised Australia's permanent migrant intake from around 80,000 at the turn of the century (and a historical average of 70,000) to 200,000 currently: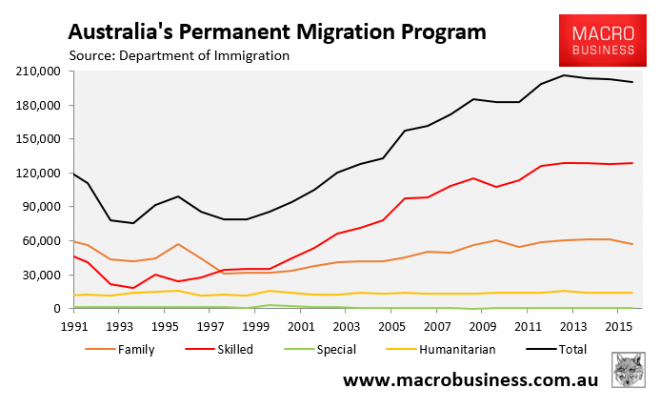 And the lion's share of these migrants have flooded Sydney and Melbourne, as confirmed by the latest Census, creating the population pressures in the first place.
As shown in the next chart, which comes from the Productivity Commission, Australia's population will reach more than 40 million mid-century under current mass immigration settings, at least 13 million more than would occur under zero net overseas migration (NOM):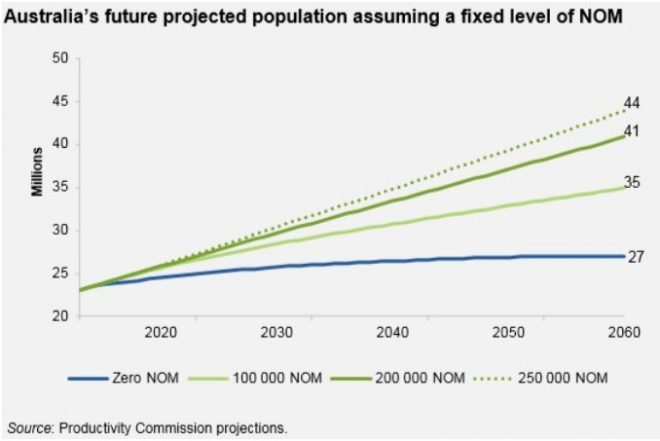 That's a heck of a lot of extra people to build infrastructure and housing for versus a lower or zero NOM policy.
The fact remains that it is a direct policy choice how 'big' Australia becomes, not a fait accompli. So why aren't these so-called 'experts', as well as the Victorian and New South Wales Governments, lobbying the federal government to slash the immigration program and relieve the intense population pressures afflicting Melbourne and Sydney, thereby lowering the living standards of incumbent residents?
The 'solution' is staring Ms Sanderson in the face, if only she dared to open her eyes.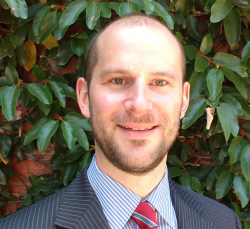 Latest posts by Unconventional Economist
(see all)