Former treasurer Peter Costello has argued that compulsory superannuation contributions should be taken out of the hands of bank-run retail super funds and union-backed industry super funds, who are gouging members with excessive fees. The chairman of the $133 billion Future Fund contends that this money should instead be invested in a government-run fund such as the Future Fund, or one structured along the lines of the Canada Pension Plan Investment Board. From The Australian:
Mr Costello criticised the ­efficiency of compulsory superannuation, a system established by the Keating government in the early 1990s, which now requires 9.5 per cent of workers' earnings to be diverted into private accounts that are collectively worth more than $2.3 trillion, and can't be touched until they retire.

The sector, which critics claim is inefficiently run, is on track to earn $23bn in fees this year.

"There is a fair argument that these compulsory payments should be allocated to a national safety-net administrator — let's call it the Super Guarantee ­Agency," Mr Costello said.

He suggested the Canadian Pension Plan Investment Board, which manages $C317bn ($325bn), offered a better model…

"The system has created an industry, which has certainly ­delivered benefits for those in it," Mr Costello said.

About 400,000 "first-timer" employees make about $800m in annual super contributions a year, according to the Productivity Commission.

"This is such a valuable stream of income, mandated by the state," Mr Costello said…

"There would not be another western country where the stock exchange is so dominated by ­financials and in particular by the main banks — the quad­ropoly," he said…

"You can see why an air of impregnability and complacency has seeped into the management in Australian banks. Market discipline is negligible," he said.
It's hard to disagree with Costello on this issue.
The Canberra Times earlier this year reported that bank-run superannuation funds, in particular, were creaming it:
Australians are paying $31 billion in superannuation fees every year, with half that money going to funds that manage just 30 per cent of all accounts, according to a report commissioned by Industry Super Australia.

And banks are raking in about $8.7 billion of those fees, making super "a honey pot for Australia's scandal-prone banks", according to Industry Super Australia chief executive David Whiteley.

Meanwhile, not-for-profit funds collected $13 billion worth of fees while managing 42 per cent of Australia's $2.2 trillion worth of super savings. But the retail sector, which includes banks, collected $15.5 billion for managing just 29 per cent of funds, according to a quantitative assessment of fee revenue by the Rainmaker group…
Indeed, there are arguably few better businesses to be in than Australian superannuation.
Thanks to compulsory contributions, set at 9.5% of employee wages currently, along with a largely fixed cost structure, the superannuation industry continues to rake it in, earning fat fees on everyone's retirement nest egg.
If superannuation was a well functioning and competitive market, average fees would have fallen as the value of funds under management has risen. After all, it should not cost ten times more to manage $1 billion of funds under management than it does to manage $100 million.
Yet, despite the huge explosion of superannuation balances since the superannuation guarantee (compulsory super) was introduced in 1993, average fees have barely changed, according to the Grattan Institute (see below charts).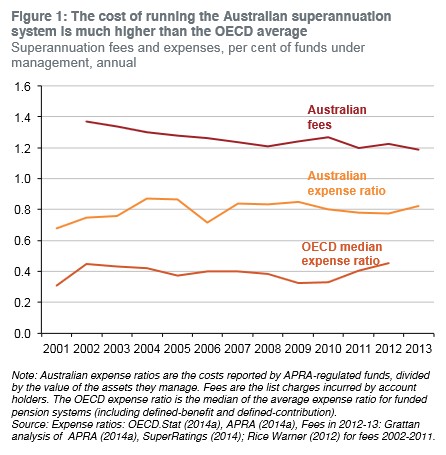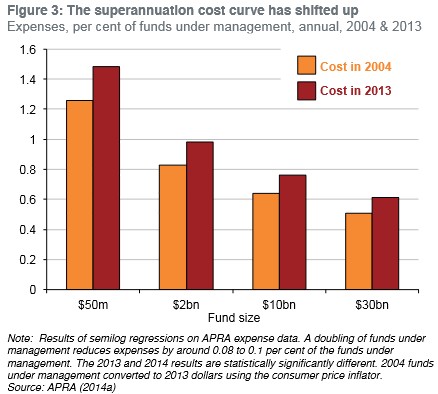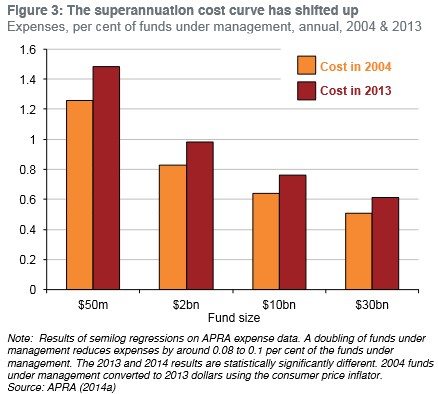 According to Grattan:
A larger system of larger funds should have incurred lower costs and charge lower fees, because big funds have lower costs…

Australian funds charge fees that are three times the median OECD rate, on average… Many countries have superannuation pools much smaller than Australia's, yet their funds charge customers much less.
The Draft Report of the Murray Financial System Inquiry (FSI) noted similar concerns, and included the below chart showing that Australian superannuation fees are high by global standards: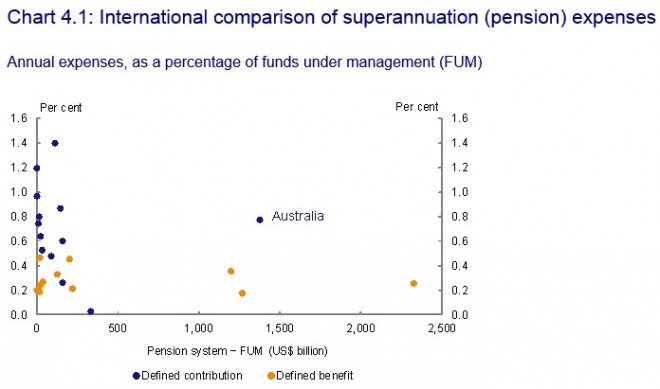 And that super fees had not fallen in line with what could have been expected given the substantial increase in scale: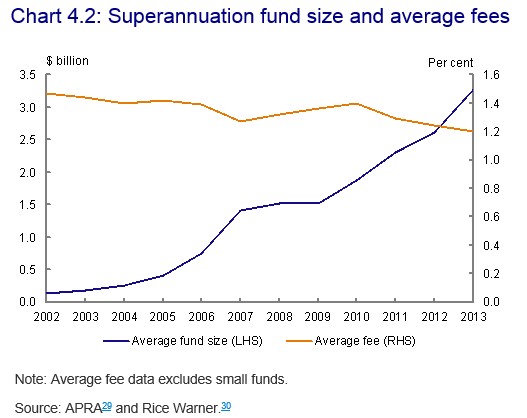 All of which suggests that Australia's superannuation funds are not just inefficient, but are gouging members – helped along of course by our system of compulsory contributions, which has provided the industry with a "sheltered workshop" by which to operate.
The above fee-gouging partly explains why Australia's financial sector has experienced such explosive growth over the past few decades (the other key ingredient being the explosion in household debt):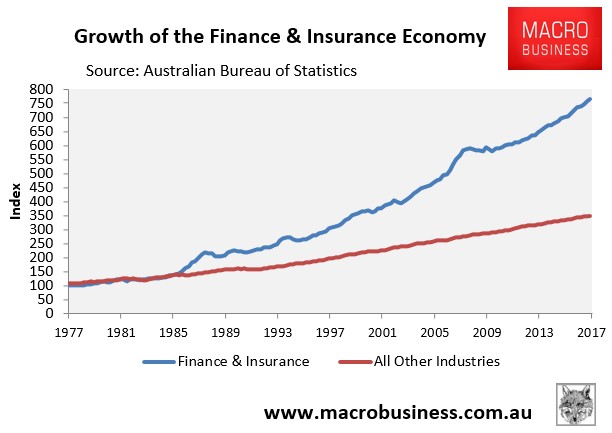 Is there a bigger economic parasite than Australia's banks?