Via The Guardian yesterday:
Australia does not "fully know" how an increasingly assertive China will use its power, Penny Wong has warned in a speech pledging to safeguard Australia's sovereignty while accepting China as a global player.

The defence and security communities must be "on the lookout for threats" as government and business expand the trade relationship with China, the Labor foreign affairs spokeswoman told the Australian Institute of International Affairs in Canberra on Monday.

But Wong warned that discussion about China was "vulnerable … to infection with undertones of race and alienation", citing One Nation's "dystopian rhetoric" as an example.

Wong said Australia must "understand China, its motives and its mindsets" because "we don't yet know how its pursuit of a more ambitious agenda will play out globally" nor "how China intends to condition its use of power".

"China is becoming more assertive, and more inclined not only to demand a place at the table, but also a say in which table and what design," she said.

"China is becoming more assertive, and more inclined not only to demand a place at the table, but also a say in which table and what design," she said.

Wong said that Australia should work with China "to encourage it to play the positive role it is capable of in supporting and furthering regional stability and security".

Wong said Australia must afford China the "priority it merits", including by not remaining "defiantly monolingual", instead committing to ramp up study of Mandarin.

Wong encouraged greater integration of economic and security policy, noting that China's belt and road initiative was an example where assessment purely on strategic implications could see Australia "missing out on its potential" but a "purely economic approach ignores our own strategic interests".
Sensible enough stuff. I am beginning to feel a little more comfortable with China's power trajectory. It's not that is appears any less nationalistic, it has become more so. It is what underlies that that I now see as the determining factor in the future of Chinese power projection. From Willy Lam via Goldman:
Interview with Willy Lam

Willy Lam is an adjunct professor at the Center for China Studies and the Department of History at the Chinese University of Hong Kong. He is also a senior fellow at the Jamestown Foundation in Washington, DC. Dr. Lam has spent 40 years researching and writing on China's politics, public administration, and reforms. He has held senior editorial positions at media organizations including the South China Morning Post and CNN's Asia-Pacific  headquarters. Lam is the author of six books on China, including "Chinese Politics in the Era of Xi Jinping" (2015). He is the editor of the just-published "Routledge Handbook of the Chinese Communist Party." Below, he  discusses Xi Jinping's consolidation of power over the last five years and gives his predictions for the composition of the new Politburo Standing Committee, China's senior-most leadership.

Allison Nathan: You have published six books on China's leadership, most recently about Xi Jinping. How would you describe Xi and his goals?

Willy Lam: Xi Jinping is a charismatic and authoritarian leader, significantly more so than his two predecessors, Presidents Hu Jintao and Jiang Zemin. As a "princeling," a descendant of a prominent official, Xi has always had confidence to act authoritatively and to take risks. This has likely contributed to his persona as a strongman with a Machiavellian streak.

Xi is also a nationalist. His most famous slogan, the "Chinese Dream," conveys the idea of China rising up after one and a half centuries of Western colonialism. His goal is for China to close the development gap with the US, and to restore its rightful position in the world as the Middle Kingdom of the 21st century. This emphasis on nationalism is understandable given that the so-called Chinese economic miracle—annual GDP growth rates of 9-11%—ended several years ago, even before Xi took power. With the economic outlook less rosy than before, nationalism has become a key pillar of the party's legitimacy.

Finally, Xi is a Maoist. He firmly believes that power and national resources should remain concentrated in the Chinese Communist Party (CCP); indeed, he views this monopoly as critical to the party's survival. For example, the lesson Xi draws from the demise of the USSR is that criticism of party founders weakened and eventually undermined the Soviet regime. So Xi believes that for the CCP to survive into the 21st century, there should be no criticism of Maoist norms and practices.

Allison Nathan: Many observers have noted Xi's consolidation of power. What evidence is there of this consolidation?

Willy Lam: There are many examples of Xi's consolidation of power. In just five years, he has built his faction into the most powerful one within the CCP, which in itself is a testament to his influence. This faction consists of Xi's former associates and protégés in Fujian and Zhejiang provinces, where he worked earlier in his career, as well as officials who have worked in his home province of Shaanxi and some of his classmates and early acquaintances. Xi is also personally  involved in policy decisions to a greater extent than many of his predecessors. For example, the CCP has had a long tradition of granting authority over economic matters to the premier. Buttoday, the ultimate arbiter of financial and economic policy is Xi himself. In addition, Xi has secured a firm grip on the army, the police, and the overall security apparatus by promoting his protégés to senior positions across these entities. Whoever controls the military in China effectively controls the party and the state, so this leaves Xi's power unchallenged. Finally, the effectiveness of Xi's anti-corruption campaign has both demonstrated and enhanced his power. The Central Commission for Disciplinary Inspection, the official institution in charge of this drive, has been effective at rooting out not only corruption but also political adversaries.

Allison Nathan: What outcomes of the 19th Party Congress would indicate whether Xi has consolidated his power further?

Willy Lam: There is a broad expectation that this Party Congress will cement Xi Jinping's absolute authority. For example, it is very likely that the Congress will decide to change the CCP Constitution to include Xi Jinping  Thought as a supreme guiding philosophy for the party and state. In CCP ideology, "thought" is far superior to "theory," and the former has previously applied to the ideas of only one leader—Mao Zedong. Formalizing Xi Jinping Thought would therefore elevate Xi to the status of Mao's 21st-century equivalent.

Some analysts have also speculated that the Politburo Standing Committee (PSC), China's highest ruling council, could shrink to five from seven members, which in their view would reflect further consolidation of power by Xi. I think the number of members will remain seven because Xi will still feel the need to give two or three seats to representatives of other factions. But this has no bearing on his level of influence. There is no doubt that Xi has overriding authority regarding the composition of the new leadership and that he will dominate the new committee regardless of its size.

Finally, there is considerable focus on the fortunes of two individuals. The first is Wang Qishan, the current head of the anti-corruption campaign and a close ally of Xi who is widely regarded as China's second most powerful leader. Wang is 69 years old, one year above the age at which most PSC members retire. But some analysts believe that he could stay on, interpreting Wang's recent high-profile meetings with foreign officials and public figures as a sign that his political fortunes are rising. However, there is a good possibility that Wang will retire, largely because his anti-corruption drive has put him at odds with non-Xi-dominated power blocs in the CCP, including the Communist Youth League faction led by Hu Jintao and the Shanghai faction led by Jiang Zemin. Letting Wang retire could therefore allow Xi to obtain more concessions from these factions. It would also help Xi manage two other issues: Wang's own power-grabbing tendencies, and corruption allegations against him.

The second official in focus is Premier Li Keqiang, who is a member of the Communist Youth League faction I just mentioned. There is speculation that Li could lose his premiership and be relegated to the less powerful post of Chairman of the National People's Congress, China's parliament. I believe he will remain premier, but that Xi will continue to be far more influential in setting economic policy, given that Li's own policymaking capacity has beensubstantially diminished under Xi's dominant rule.

Allison Nathan: What do you expect the new composition of the Standing Committee to be?

Willy Lam: Beyond Xi and Li keeping their seats, I would group potential PSC inductees into three tiers according to their chances of joining the committee. In the first tier, I believe the most likely candidate is Li Zhanshu, Xi's most trusted advisor. Li is already a Politburo member, and there seems to be a high  probability that he replaces Wang Qishan as the anti-corruption tsar. The next most likely candidate is Zhao Leji, who is another very close associate of Xi and the director of the Organization Department, the head of personnel within the CCP.

In the second tier, I would place Xi Jinping's key advisor on both domestic and foreign policy, Wang Huning. Wang is a former professor from Shanghai who has served three Chinese presidents: Jiang Zemin, Hu Jintao, and now  Xi Jinping. But there is no precedent for a policy advisor advancing to the PSC, which limits his chances. Also in the second tier are two potential inductees whose odds depend on the extent to which Xi appeases other factions. One is Han Zheng, the longstanding party secretary of Shanghai who has professed allegiance to Xi Jinping but has some ties to the Shanghai faction. The other is Wang Yang, vice premier of the State Council, who represented China in the Comprehensive Economic Dialogue with the US and is a senior member of the rival Communist Youth League faction.

The third tier consists of rising stars from the so-called sixth generation, the politicians born from the late 1950s to the late 1960s. The two most talked-about names are Hu Chunhua, the party secretary of Guandong province, who is already a Politburo member but is a protégé of Hu Jintao, and Chen Min'er, the newly-promoted party secretary of Chongqing and a protégé of Xi Jinping.

Allison Nathan: Will Xi pick a successor? And is he attempting to lay the groundwork for a third term?

Willy Lam: A big question mark remains as to whether Xi wants to tap a successor anytime soon. He has long-term ambitions for China; the "Chinese Dream" is for China to become a full-fledged superpower by 2049, the centenary of the establishment of the People's Republic. In the eyes of Xi Jinping, these long-standing goals require that he stay in power as long as possible. If Xi were committed to serving just two five-year terms like his predecessors, he would have promoted dozens of officials from the seventh generation—the cadres born in the 1970s—by now. Instead, only four members of that generation occupy senior positions today. In my opinion, Xi islikely to remain supreme leader for at least fifteen years, until the 21st Party Congress in 2027. If that is indeed the case, he is in no hurry to pick a successor.

Allison Nathan: Will Xi use his power to propel economic reform?

Willy Lam: In my view, only to a very limited extent. China's  economic report card under Xi has been mixed. He has continued some of the economic reforms first initiated by Deng Xiaoping. And there have been achievements across various parts of the economy. China now owns more miles of highspeed railway than the rest of the world combined, for example. And it has made advancements in artificial intelligence, robotics, green technology, and so forth. But this innovation has been largely state-sponsored, and there has not been much progress with regard to the long-standing goal of restructuring the economy in terms of breaking its dependency on government investments and developing consumer spending and services.

Xi's priority is preserving the CCP's monopoly on power. Therefore, the party will not tolerate any mistake or adopt any policy—no matter now brilliant—that could jeopardize its control. Xi made this clear in a speech in which he compared China to the Titanic, saying that if China starts to sink, "it will go down just like that." So he is keenly aware of avoiding any possible threat to party stability. What this means in practice is that China will remain a mixed economy, partially integrated into the international marketplace, but still with a dominant party-state apparatus in sectors such as defense, finance, insurance, oil and gas, and telecommunications. Indeed, Xi is a firm believer in state capitalism and there is no indication that he will relax control over China's state-owned conglomerates. Having come to understand his view of the world, it is clear to me that he is more Maoist than he is reformist.
I initially thought that Xi was an economic reformer. That seems naive in retrospect. He is a power man, born and bred Party. That comes with one very large and unavoidable corollary.
The debt-dependent Chinese economy is headed for one of two outcomes.  First, the model is driven full bore until it breaks and debt crisis ensues.  Second, reform steps in and the debt-soaked state owned enterprises that dominate resource allocation are broken up one way or another. That drops growth but accelerates it shortly afterwards in a flowering of decentralisation.
But there is a third option and it appears that is one that China has chosen. It is the Japanese way, to drive the debt model to its logical conclusion and then drive it some more, not letting it go bust by retaining centralisation. This is "extend and pretend" with occasional bouts of reform punctuated by more debt booms that are literally forced into the economy by public-owned and policy banks.
This path leads to Japanese-style economic stagnation as  SOE's choked with debt dominate resource allocation over market efficiencies.  That is going to keep growth higher in the short term but guarantees its slows permanently in the long.
There is one more parallel with Japan that we should mention at this point and it is the reality is that China's demographic trends will compliment this great bogging down nicely.
Interestingly, China's dependency ratio profile – i.e. the ratio of the non-working population, both children (< 20 years old) and the elderly (> 65 years old), to the working age population – is also very similar to Japan's in the 1990s (see next chart).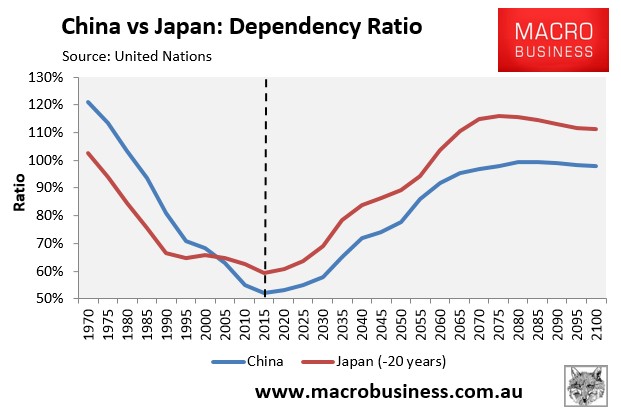 In turn, the profiles of the number of working age people per dependent are very similar in the two countries: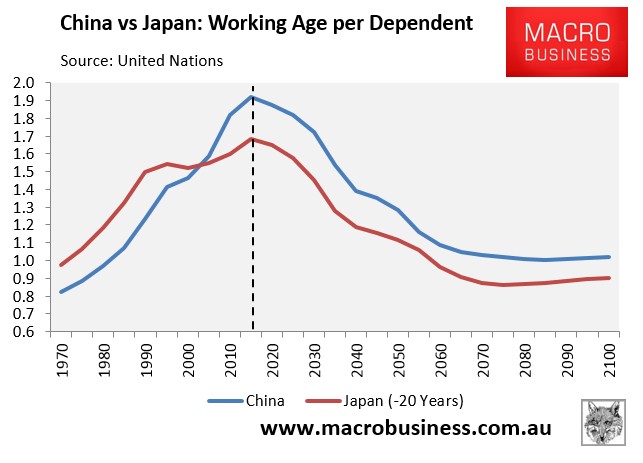 Chinese economic stagnation is ahead. It's not imminent but it is now the base case over the long term.
Such a trajectory for Chinese wealth is not consistent with growing power projection, at least not seriously so in terms of regional hegemony. As Willy Lam says, nationalism will grow to replace advancing prosperity as the fulcrum of Communist Party legitimacy but without the economic dynamism to back it up Chinese power will follow its economy into relative stagnation.
If the Chinese sphere of influence is already approaching its widest circumference then all of the attendant tensions in regional ideas, power structures and economic ties and will contract with it, and Labor's notion of the Asian Century with China at its centre is more likely a tale of fading glory that global domination.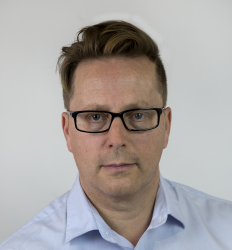 Latest posts by David Llewellyn-Smith
(see all)