Depending on which paper you read, the ACCC has just condemned the entire National Electricity Market. If you read The Australian it's all the fault of renewables:
Malcolm Turnbull faces a crucial cabinet debate today with a new warning from voters against schemes that pass hidden power costs on to households, with ­almost 60 per cent of Australians saying they will not pay a cent more for clean energy policies.

The warning, in a special Newspoll survey, comes as the consumer watchdog prepares to release extraordinary research today showing households are paying $103 every year on average for environmental schemes.

The Australian Competition & Consumer Commission will warn today of "unacceptable pressure" on households from the spike in energy prices, which have soared 43.7 per cent in a decade — an average increase of more than $500 per bill — as a result of network costs, retail margins and climate-change targets.

The conclusions highlight the challenge for Mr Turnbull and his cabinet colleagues as they meet in Canberra to decide on a new ­energy policy that is expected to emphasise reliable supply and ­affordable prices rather than cuts to greenhouse-gas emissions.

Dumping the idea of a clean energy target, the cabinet is ­expected to endorse a framework to scale back subsidies for renewable energy while encouraging ­investment in new power generators without hastening the closure of coal-fired power stations.

…The regulator's findings clear the ground for a government campaign on energy prices this week, as Mr Turnbull and Energy Minister Josh Frydenberg seek to contrast their plan with Bill Shorten's proposal to generate 50 per cent of the nation's electricity from renewable sources by 2030.

The government has abandoned the clean energy target proposed by chief scientist Alan Finkel, amid warnings from Coalition backbenchers that the subsidies for solar and wind power, passed on to consumers through an emissions intensity scheme, would result in 42 per cent of electricity coming from renewable sources by 2030.

In another sign of a key contradiction at the heart of energy policy, the Newspoll shows 63 per cent of voters support subsidies for renewable power but do not accept paying those subsidies in increased electricity bills.
If you read The Guardian, it's all the fault of the network operators:
Residential electricity prices have increased by 63% on top of inflation over the past decade, according to Australia's competition watchdog, mainly due to higher network costs, which comprise 48% of a household bill.

An interim snapshot, to be released by the Australian Competition and Consumer Commission on Monday ahead of the expected unveiling of the Turnbull government's new energy policy this week, found there was a "severe electricity affordability problem across the national electricity market, and the price increases over the past 10 years are putting Australian businesses and consumers under unacceptable pressure".

It noted that "large increases in electricity prices have not been matched by price increases in other areas of the economy, nor in wage growth" and it said the burden of higher electricity prices "disproportionally affects those segments of society least able to afford it".
If you read the AFR, it's all the fault of the lack of competition:
The competition watchdog has flagged government measures to clip the market power of the big three energy companies, suggesting their rising shares of the retail and generation markets are fuelling electricity price rises and helping them get around regulation designed to protect consumers.

Australian Competition and Consumer Commission chairman Rod Sims has put vertically integrated generators and retailers AGL, Origin and Energy Australia under the spotlight for their influence over wholesale prices in the regulator's preliminary findings of an investigation into the electricity market.

"This market dominance has led to non-vertically integrated retailers having limited access to risk management products, and outcomes for consumers and businesses are being driven by pricing practices that are not consistent with vigorous competition," the report said.
If you read the Domainfax dailies then property prices are going up.
In truth, there's not much that is new here. The Garnaut Review made these pricing break-ups clear a decade ago: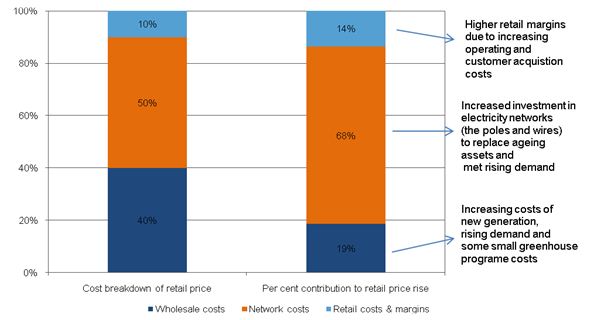 The big network price rises happened mostly pre-GFC as government corporations gold-plated their networks with $80bn of mis-allocated capital pre-GFC. This delivered Australia not only a price hike but a large negative productivity shock: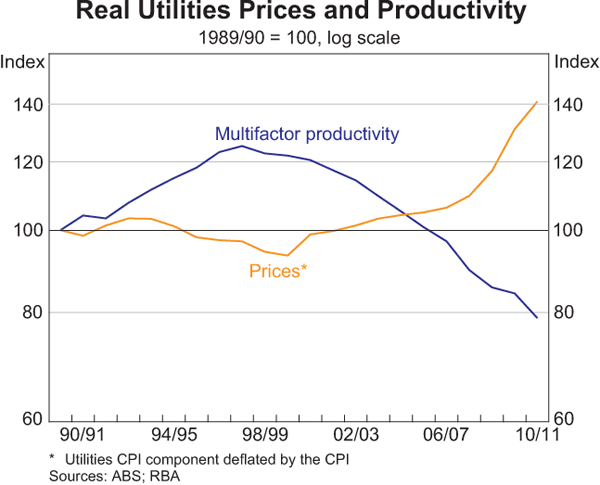 Given they were doing it to fatten the government's own dividends and privatisation sales prices good luck turning back that clock. For more on that you can read the Australia Institute.
What is most interesting today, if you look closely at the AFR charts, is the mismatch in recent price rises between households and business and their respective causes.  For households, 17% of recent price rises are driven by generation. For business, it's 37%. The difference comes down to bulk power contracts, which have been targeted by the Gas Cartel for much more pain than households to manage the political fallout.  It's exactly the same in the gas bill. Nothing if not tricky these blood-suckers.
I really can't see the ACCC report making any difference to anything which adds to its own woeful performance in recent years, most pointedly allowing the formation of the Gas Cartel. The report is simply too broad and offers something for everyone, as the above coverage testifies. It'll be misused by all accordingly with Do-nothing Malcolm deploying his Enron election strategy, Labor going for renewables and letting the Gas Cartel off free of charge.
Beneath that, the energy transformation will continue as renewables, storage and energy efficiency make gains. At least the ACCC did recommend the 5-minute change to NEM bid process which will aid that. All governments will likely adopt it.
Eventually households will see lower energy prices as renewables and demand-destruction pushes gas towards the margins. But business is buggered. As gas volumes fall, the Cartel will only raise prices to offset lost market share so contracts for both power and gas will get more and more painful.
My advice to them is to either get off the grid or offshore as soon as you are able.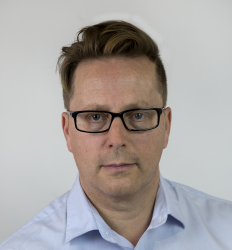 Latest posts by Houses and Holes
(see all)