Via the AFR comes five solutions:
One priority is to ensure the existing coal fleet which will supply the bulk of our power for a decade or more as we continue the transition to clean power is as efficient and reliable as it can be…Engineers at GE – a traditional power engineering giant now heavily into renewable energy – say our coal fleet could be made to yield 1000-1500MW of extra power and 19 million tonnes less CO2 at a cost of no more than $57 million-$114 million.

…Natural gas is a better transitional fuel than coal because it emits about half the CO2 of comparable coal plant and is easier to build in small, flexible units.

…Critics rightly point out that the big 100MW battery being built by Tesla and Neoen at Neoen's Hornsdale wind farm in South Australia will only cover SA's power needs for an hour – if that. But this misses the point. Distributed energy resources in a decentralised grid will involve dozens of batteries, gas plants, pumped hydro storage and "behind the meter" assets. As the grid becomes smarter these can conducted – like an orchestra, to use AEMO chief Audrey Zibelman's metaphor – to plug the gaps in the system and avoid blackouts and outages like the ones that plagued SA, NSW and Victoria last summer.

…Household and small business scale batteries such as those offered by Tesla, LGChem and Sonnen are better value than grid scale batteries because they compete with the retail price of electricity, which is three to four times wholesale.

Demand response is how we knit all these distributed energy resources together into an orchestra that can hit the high notes when the grid is under most strain. Behind the meter energy includes not just batteries and solar panels but electric vehicle chargers and smart thermostats on energy hungry appliances such as pool pumps and air conditioners. Bloomberg New Energy Finance says behind the meter energy could be 45 per cent of system capacity by 2040.
An admirable effort and aspirational list to be sure.
But only one item can do anything within three years and probably longer: gas. There are idle gas resources across the network. Give them cheaper gas and they will spring to life.
Moreover, gas sets the price of electricity in the National Electricity Market owing to where it sits in the wholesale electricity market bid stack. See Australian Energy Market Operator description below: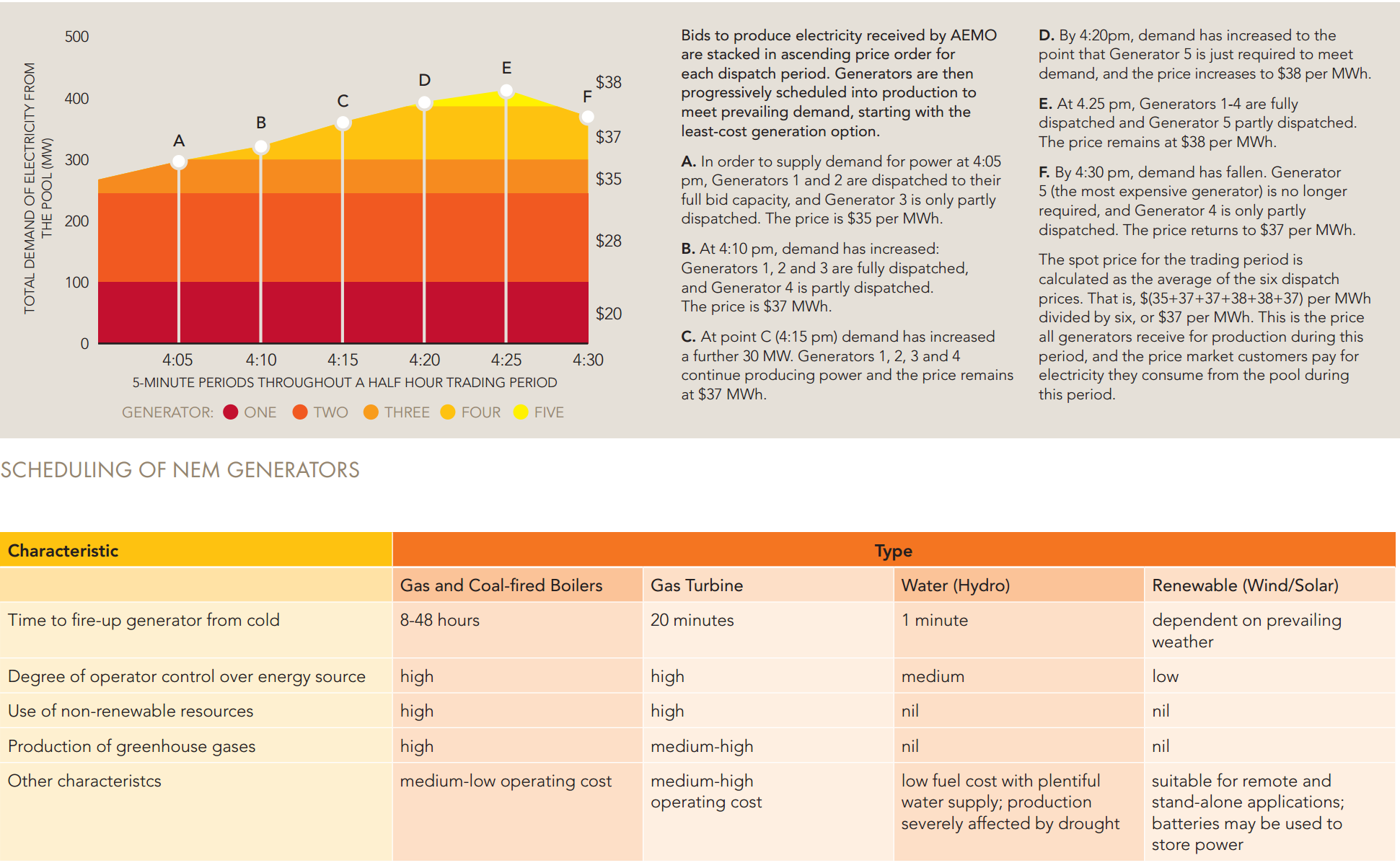 There is no way out of this without using a "sledgehammer". The government's gas reservation facility, the ADGSM, is too slow and weak to bring down prices enough. It must be seriously boosted.
If it wants to see results, the government will need to nationalise somewhere along the supply chain. Buying Santos and shutting one LNG train is one option. Buying (or expropriating) and force developing reserves in a national gas company with mandated rates of return is another. Either of these options would benchmark east coast prices. The simplest and quickest solution is plain old price controls.
There is no gas market anymore so quibbling about sovereign risk is pointless.
But no:
A federal plan is under way to ­encourage more capacity at the nation's biggest coal-fired power stations as the Turnbull government prepares for a report on ­future electricity shortages while fielding backbench complaints about the shift to renewable ­energy.

The government has prioritised ways to expand existing coal power stations as soon as possible if the report warns of dangerous shortfalls in the electricity grid stretching from South Australia to Queensland.

Backbenchers are pushing for a drastic shift in the energy debate to put reliability and price ahead of the need to meet climate-change targets, with some Liberals and Nationals determined to oppose any scheme that favours renew­ables over coal.
It won't happen in time for the election and won't boost output enough to impact the marginal price set by gas.
It's gas, you idiots.