We've lived the housing and mining booms. They're over. Now it's time for the Botox Boom.
Yes, Australia is getting work done and it's beginning to show. The recent run of economic data has unmistakably improved, from commodity prices, through the labour market and onto business investment.
However, there is one difference between the Botox Boom and those that came before. It is by and large fake, produced by force-feeding mass immigration and government spending into broken economic structure. It is thus a profitless boom, as the crucial underpinnings to boost income for both capital and labour are missing.
Consider the drivers of the Botox Boom.
The first is population-led construction. The dwelling construction boom is steadily turning bust and as it shrinks through 2018 it will take away some 0.5% of GDP per annum for several years at least. But the tail-end of that boom has now been crossed over by another in infrastructure. This will add 0.4% to GDP this year then keep adding 0.2% through to 2020. Some are saying it will last ten years. It'll be more like two as NBN investment winds down, via ANZ: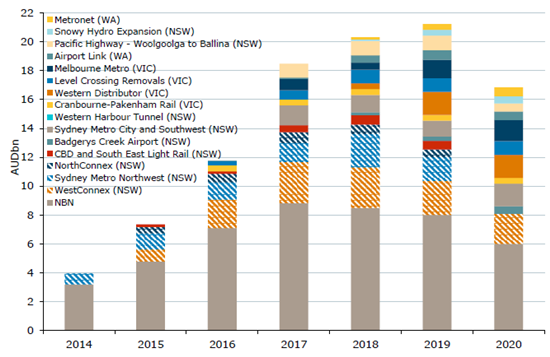 Remember that building-led growth is ponzi-growth. If you're not building more than last year then you're shrinking. It's the rate of change that matters not the absolute level.
There will be some productivity improvement from the boom but given many of the new roads, rail, airports and broadband are crush-loaded before launch, as well as poorly planned and selected to boot, the impact will be minimal.
The second driver of the Botox Boom is rebounding business investment. The ABS capex outlook is now suggesting that next year will be the bottom for the "capex cliff". That's good news but, again, the big improvements are in sectors that benefit from mass immigration. Service sectors of this nature tend not to improve productivity, either. They are people-to-people operations that expand capacity not efficiency. At least until automation moves up the value chain but we're not there yet. Tradables like manufacturing and mining are still falling.
The third driver is the "fourth phase" of the mining boom. It is that big miners are cutting production to boost international prices. That is economically irrational for a low cost producer but it works short term. Moreover, with the capacity shrinkage, the fourth phase is productivity destructive given it delivers lower output for the same sunk costs. Nor is there any flow through to wages without investment and because the sector is radically under-taxed most of the income windfall flows straight back out again to foreign shareholders.
The fourth driver is energy, the most fake of all. LNG mega-projects continue to come online, adding to growth via volumes in net exports. But these are profitless as well. Built with sunk capital that keeps disappearing in asset write downs. The only profits that are flowing to the sector come entirely from the local cost of gas that has skyrocketed on shortages. These are economic rents ripped straight out of the wider economy, destroying profitability wherever energy is used. Next year's corporate profits growth outlook is for modest growth of 4% in the wider economy while it is 28% for the great energy gouger.
The Achilles heal of the Botox Boom is households. The poor debt-sodden fools will get a few modest pay rises as activity increases over the next six months (before decreasing again through 2018) but wages are going nowhere as cheap foreign imports inhabit every crack and crevice in the labour market and there is no productivity growth to deliver income. Household stress will rise with every incremental stall and fall in the housing market.
The Botox Boom will thus deliver the appearance of growth. I suspect we will see 3% plus by year end now (before fading again next year). We're going to see some short term Budget improvement too, nearly all thanks to mining: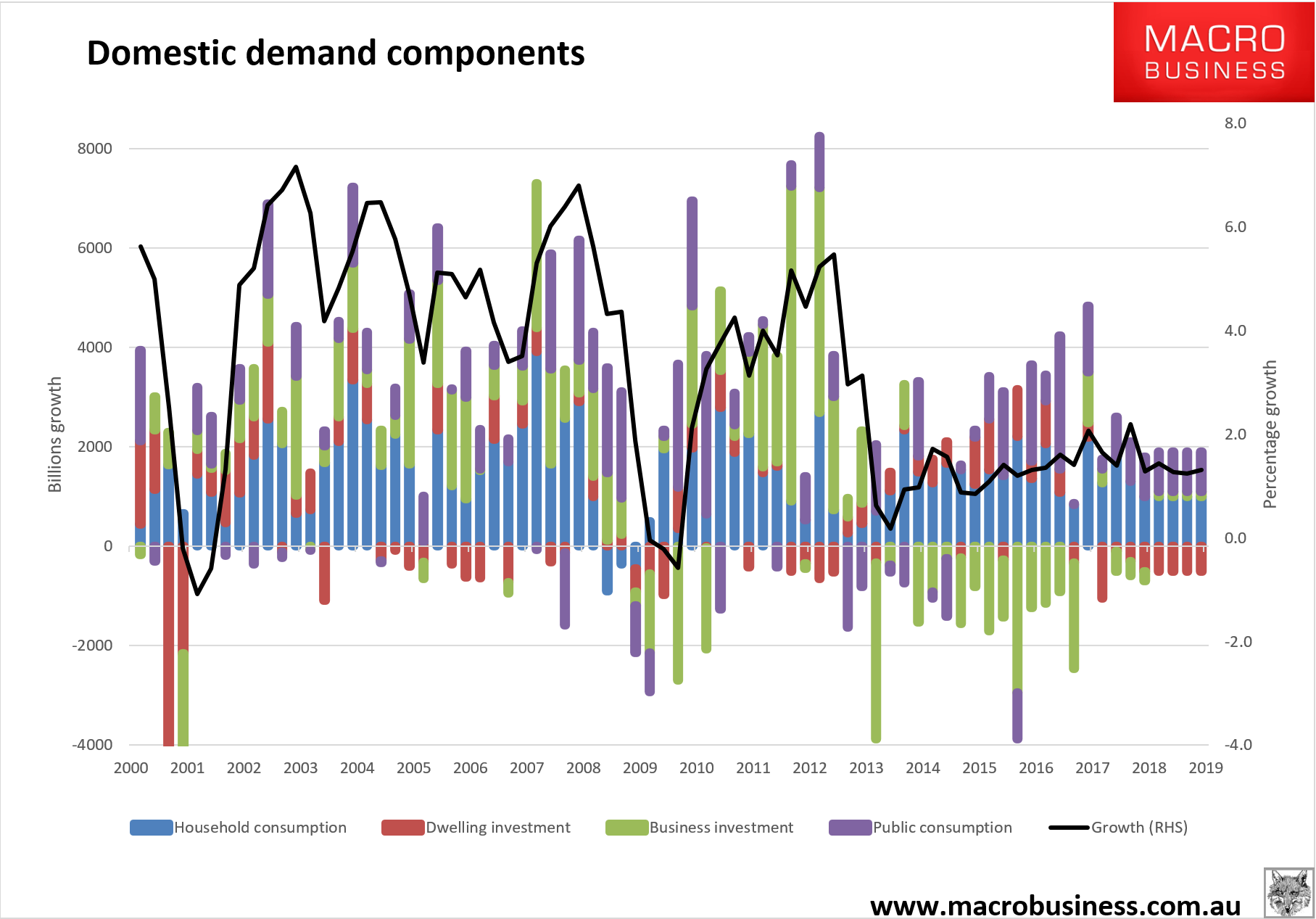 But don't mistake that for real beauty, rising living standards or progress. For that we needed to take a different path when the mining boom aged into bust. That was our chance for productivity and competitiveness reform, to send ourselves to the fat farm, and come out a few years later fighting fit to take on the world via tradables.
Instead we've gone under the knife, stuffed the economy with immigration collagen, rentier Botox and fiscal deficit implants, under which we've aged all the more.