by Chris Becker
Overall a positive day on stock markets in Asia, but we're not seeing the kind of rises earlier in the week as the risk on mood hesitates. Currencies were largely unchanged, particularly Yen which has seen some reversal of its safe haven buying of late while commodities were equally sanguine.
In mainland China the Shanghai Composite lifted only slightly, up 0.1% to 3384 points as it tries again to melt up to resistance at 3400 points.  The Hong Kong based Hang Seng Index however reversed direction falling about 0.3% as it couldn't clear the local resistance level at 28000 points: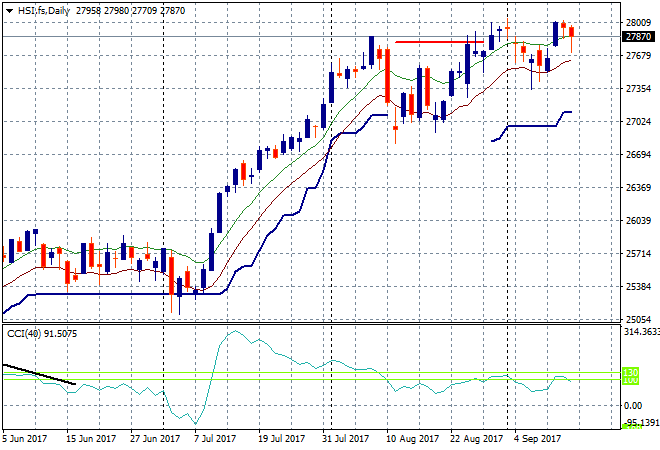 Japanese stocks had another positive day as the correlation with the USDJPY continued. The Nikkei lifted 0.4% to finish at  19865 points, still poised to break above 20,000 points anytime soon. This might be a target too far however as the four hourly chart of the USDJPY pair shows a possible topping out action here, with local resistance at the 110.25 level firming and momentum rolling over: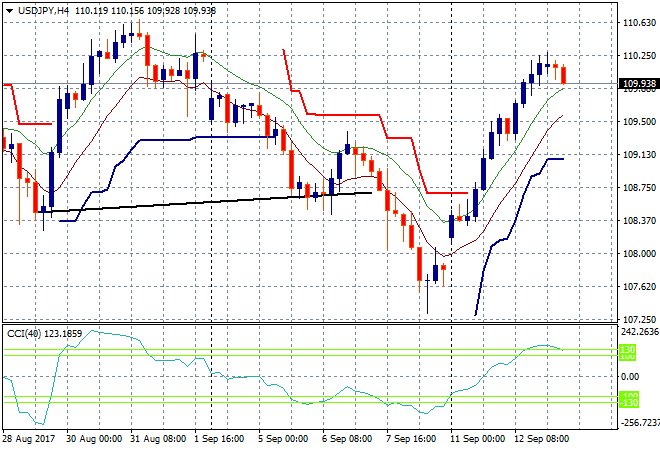 S&P futures have retreated slightly after last nights record high: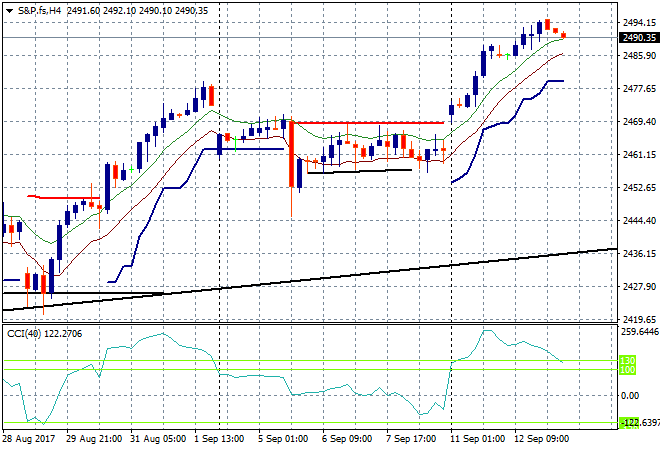 The ASX200 could not make good on its great start to the week by dropping a few points to finish at 5744 but still remaining above the 200 day moving average. While it surged higher at the open, a late selloff in mining stocks and some of the peripheral banks saw a scratch session, although CBA is doing well here to recover.
The Aussie dollar's "beautiful retracement" down to ATR support at the 80 handle is effectively over as it slowly melts back up again. However, tomorrow's jobs numbers and Chinese FAI prints may be a fly in the ointment here, so watch out below: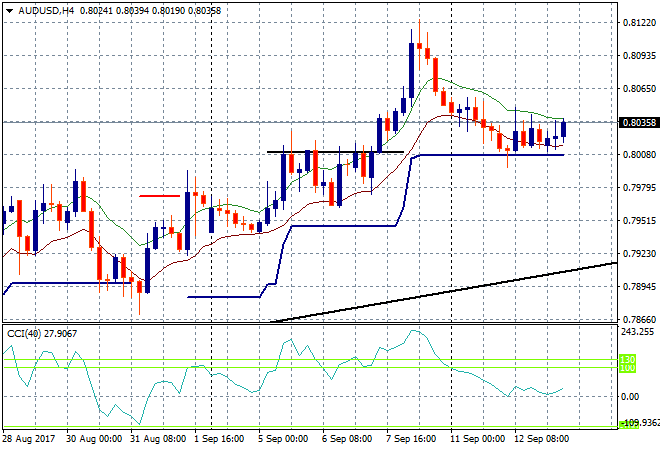 The data calendar includes a smattering of final number prints for Europe and US overnight, namely German CPI and industrial production, but these are all factored in. The August crude oil production print could be interesting however and give WTI crude the catalyst it needs to get moving.