by Chris Becker
Asia starts the week stronger with stocks rallying across the region, disregarding the poor Friday night lead from Wall Street as the deluge in Florida from Irma has been less than expected. A gap down in Yen has supported Japanese stocks in particular while undollar assets like gold and Australian dollar have come off a bit from their late surge last week supporting other risk assets .
In mainland China the Shanghai Composite is lifting going into the close, currently up 0.3% to 3376 points as it starts the week again to lift above resistance at 3400 points.  The Hong Kong based Hang Seng Index has done much better, up nearly 1% almost above its own resistance level at 28000 points, staging for a key breakout here: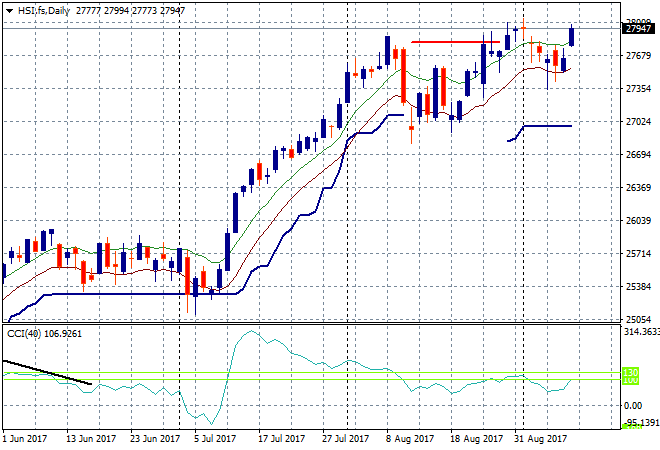 Japanese stocks gapped higher on the open even with the firm Yen over the weekend, but this was thwarted by a similar gap higher in the USDJPY pair and an ease in tension over the Korean sitution. The Nikkei rallied strongly to gain 1.4% and finish at  19545 points. The USDJPY pair gapped significantly higher – curse you no weekend trading – after having collapsed through daily and weekly support previously. By lifting above the 108 handle its not yet out of the woods with trailing ATR resistance at the 108.70 level the key level to watch tonight: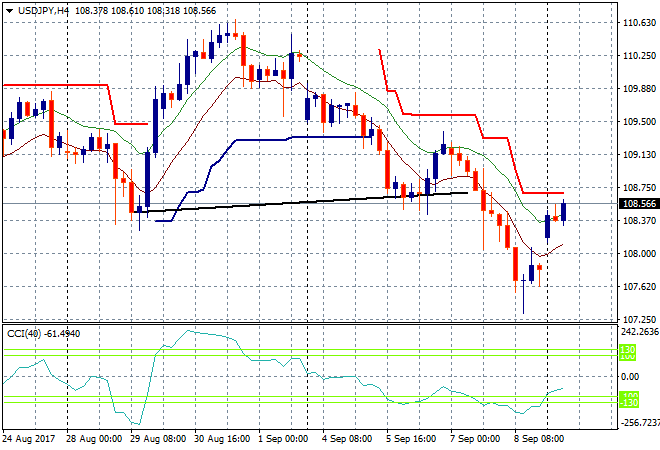 S&P futures are building significantly too, currently nearly 0.5% higher and thus taking out all of last week's sideways motion: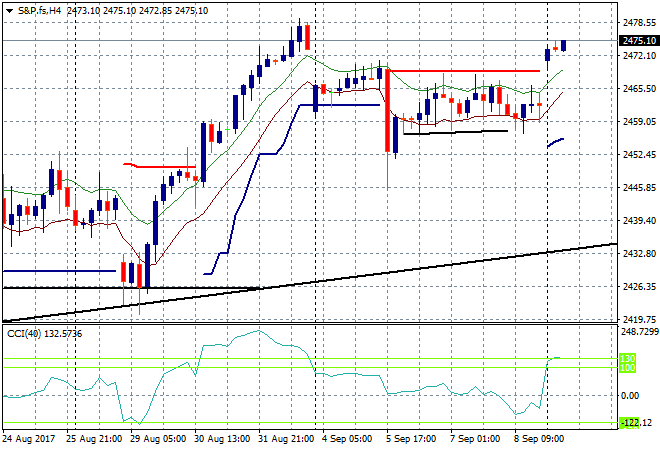 The ASX200 had a solid session zooming higher on the open and staying there all day to finish 0.7% higher at 5713 points and getting back above the 200 day moving average again. It was a broad rally with banks rallying 1-2% higher dragging up some flailing mining stocks in the process.
"This is far too fast, so expect a retracement" is what I said in closing on Friday, but this has been a weak retracement to start the week, barely falling to above the 80 handle. Could it go further? Possibly down to ATR support at the 80 handle proper but is still pretty supported here: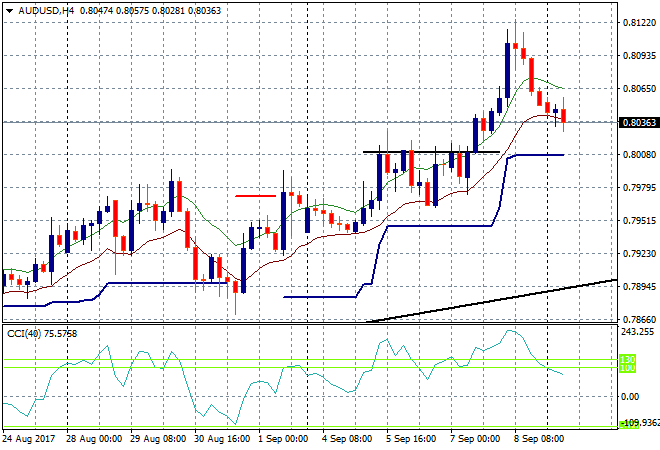 The data calendar starts the week slowly with some Treasury auctions overnight.