by Chris Becker
The bottom is falling out of the USD as Hurricane Irma looms off of Florida having wiped out the Caribbean and the dovish tone of the ECB. The Aussie dollar has spiked through 81 cents alongside gold while Yen zooms higher kicking Japanese stocks to the ground as only Chinese stocks remained in the green.
In mainland China the Shanghai Composite has sold off going into the close, currently down 0.3% to 3354 points as its unable all week to get up to resistance at 3400 points.  The Hong Kong based Hang Seng Index however has rallied, up 0.4% but also unable to breach its own resistance level at 28000 points: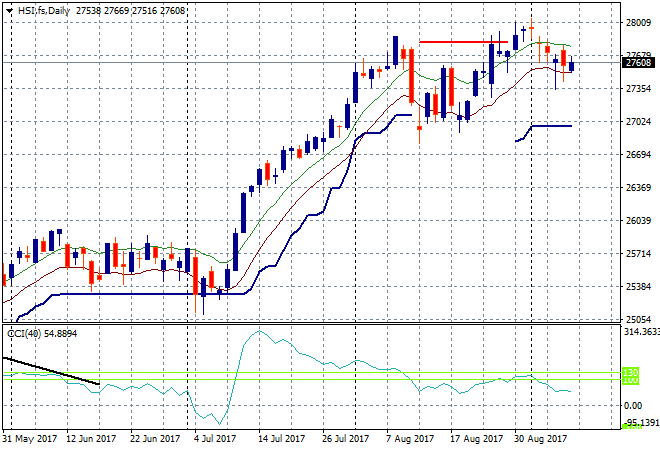 Japanese stocks fell immediately on the open and stayed down today, with the Nikkei finishing off 0.6% to 19271 points in response to a very firm Yen. The USDJPY pair has obliterated daily and weekly support here, falling straight through to 107.80 in a very sharp downside move.  This takes it to its lowest level since November last year: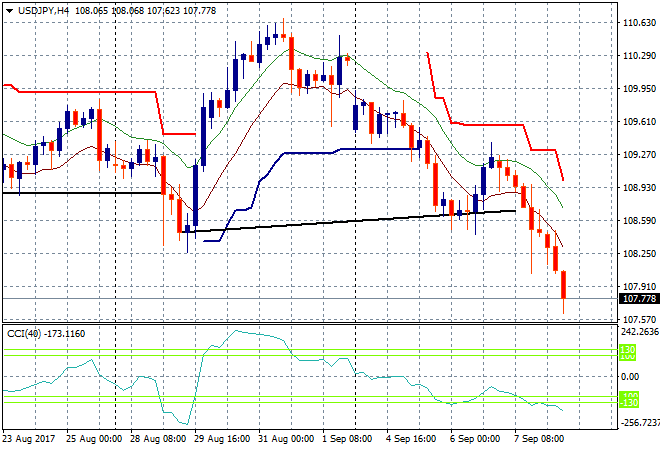 S&P futures are hesistant here as we move into what could be a stormy (sic) session on Wall Street with Irma bearing down on Florida: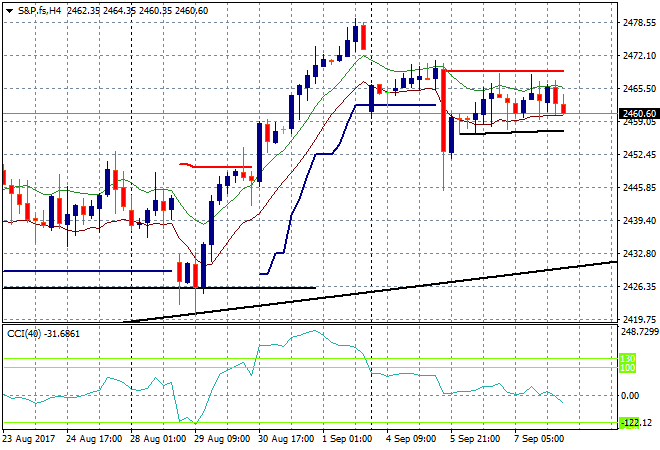 The ASX200 had a poor session as expected, falling 0.3% to 5672 points and below the 200 day moving average again in what could be a big indicator of a correction ahead. Banks were the major drag on the bourse, with most of the major four off 1% or more.
The Aussie dollar has gone boom! After breaking out last night above 80 cents against the USD it went nuts when traders went all in short USD, sending the Pacific Peso straight through 81 cents and already half way to my target at 82 cents. This is far too fast, so expect a retracement: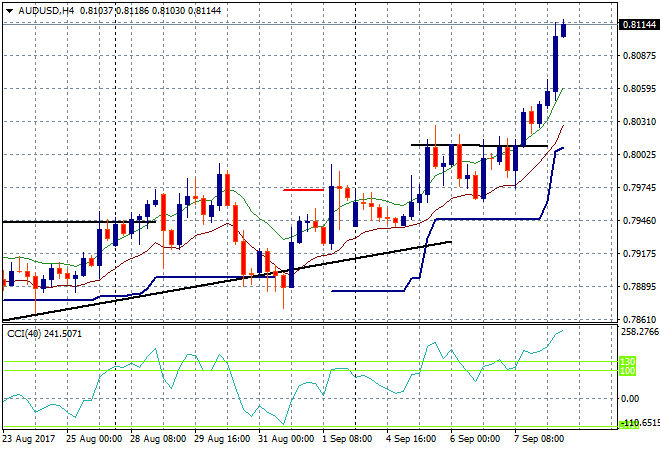 The data calendar ends the week somewhat quietly with Canadian unemployment that only major release overnight, followed by a private oil rig count and some consumer credit figures.