by Chris Becker
Hesitation across Asia as the reaction to the debt ceiling deal in the US which sent American and some European stocks higher did not translate to similar gains here. Most markets put in scratch sessions or mild losses as the USD continued to retreat while commodities were relatively stable. Risk is prepositioning for the ECB's interest rate meeting later tonight in addition to unresolved tensions in Korea and the looming prospect of further devastation from Atlantic Hurricanes.
In mainland China the Shanghai Composite finally couldn't finish its current run trying to reach up to 3400 points by dropping almost 0.4% to 3373 points, breaking a five day deadlock.  The Hong Kong based Hang Seng Index is off a similar amount, now down more than 2% since its recent high but holding on to daily support: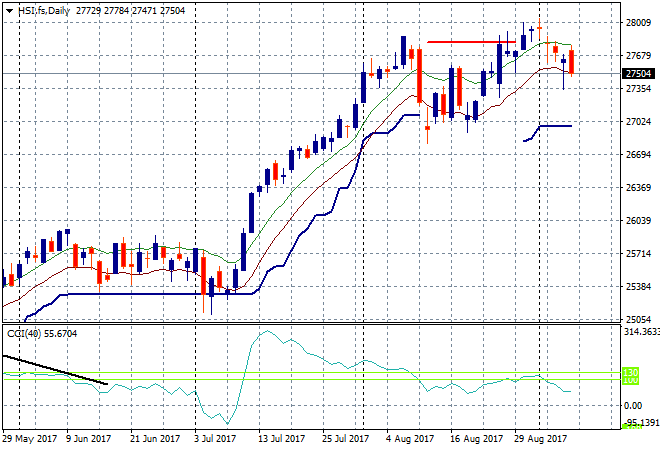 Japanese stocks reacted positively to the selloff in Yen overnight, with the Nikkei up 0.2% to 19396 points. This keeps it well below the very firm resistance at the 20,000 point level and still beholden to further moves in Yen.  The USDJPY pair is giving back some of its overnight gains, currently hovering just above the 109 handle: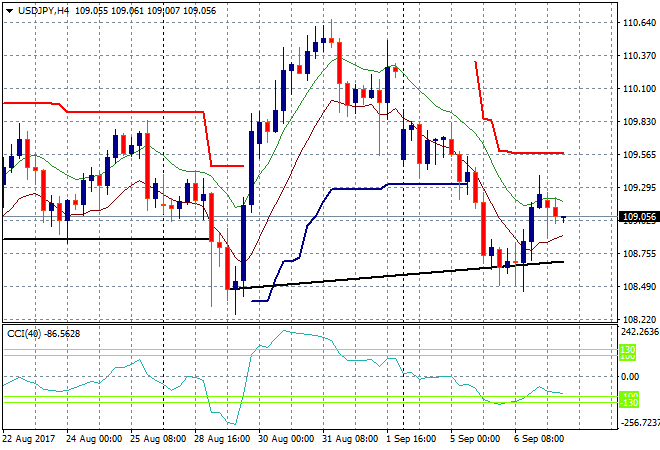 S&P futures are somewhat steady but the lack of volume and direciton here is telling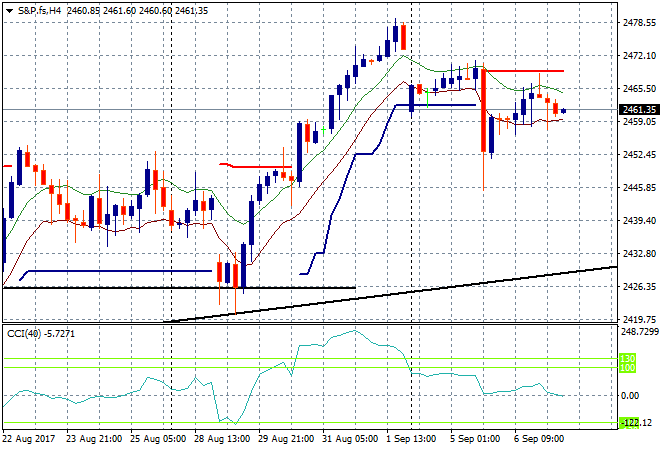 The ASX200 this time gapped up on the open, but wasn't able to stay there for the session, eventually closing for a scratch result at 5689 points. Yet again, no real direction or definable mood as we swing around the 200 day moving average again.
The Aussie dollar remains below 80 cents against the USD with a muted response to the retail and trade figures today. Resistance just above the handle is where the action will be on the upside but I'm closely watching the low moving average at 79.65 for a breakdown: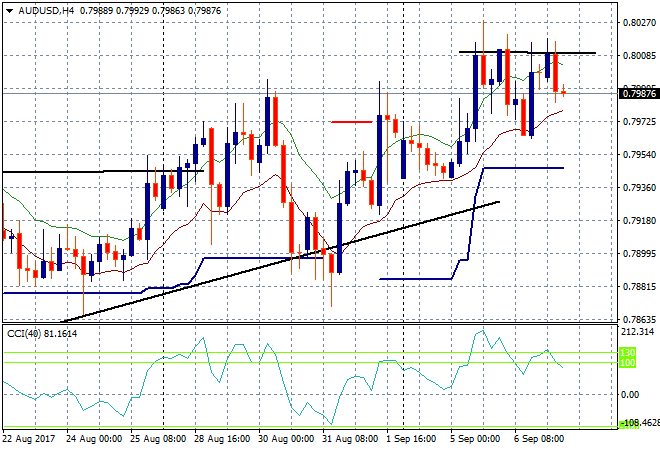 The data calendar tonight will focus squarely on the ECB interest rate meeting. All eyes on Euro!