by Chris Becker
The lack of volatility as safe havens are bid up left right and center is still pushing stock markets down across Asia today, as tensions over North Korea remain high. The Yen is nearing a year high while gold remains highly elevated as managers switch from cautious mode to risk-off mode leading up to the ECB meeting later in the week. The disappointing Aussie GDP print didn't shake up the dollar as much as expected as commodity markets remain well bid under a weak USD.
In mainland China the Shanghai Composite is putting in its near fifth straigh scratch session to be steady at 3382 points, now in full stall mode here in its attempt to reach up to 3400 points.  The Hong Kong based Hang Seng Index is cracking however, falling nearly 0.7% to break the low moving average on the daily chart. This is setting up for a correction down to daily support at the 27000 point level: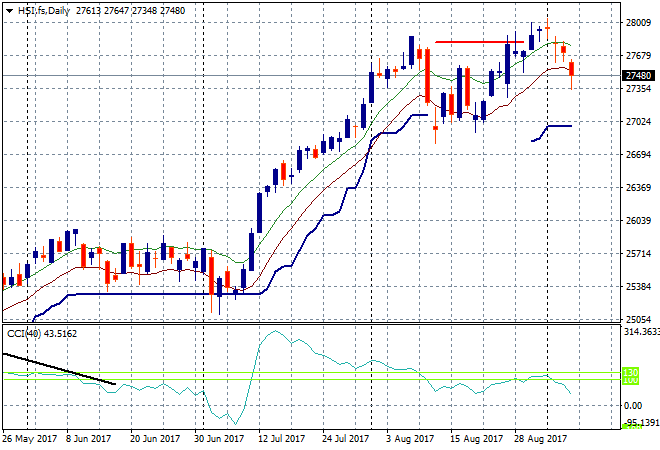 Japanese stocks has a slight reprieve as Yen remained steady throughout the Asian session after its big rally overnight. The Nikkei only lost a handful of points to close at 19357, still below the very firm resistance at the 20,000 point level.  The USDJPY pair is hovering above last week's intrasession lows at the mid 108's but for mind is setting up for a further fall: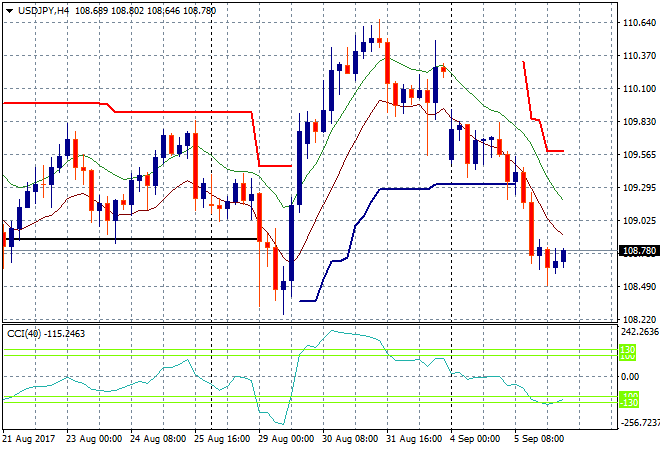 S&P futures are steady in anticipation of what could be a volatile session as Irma makes here way across the Atlantic: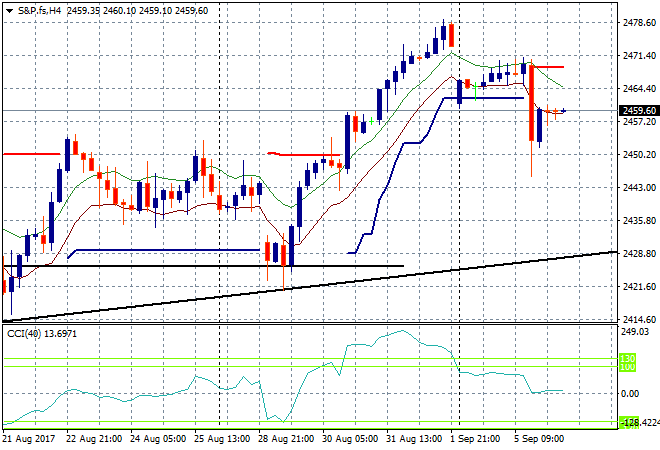 The ASX200 once again tanked on the open, but stayed there for most of the day, eventually closing down 0.3% to be at 5689 points.  Once more we have this dance above and below and around the 200 day moving average again, with broader losses than in the previous session, particularly CBA which looks set to head back down to $70 per share again: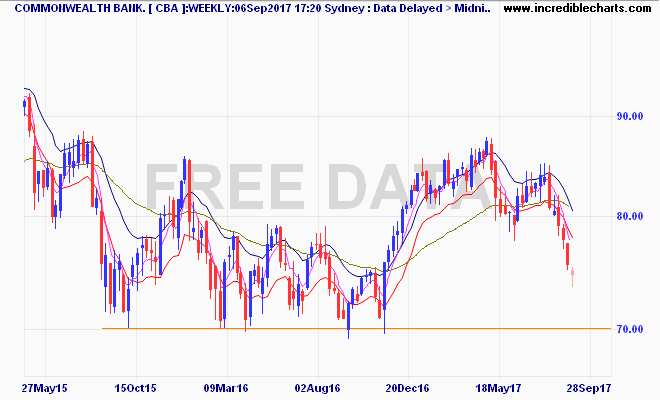 The Aussie dollar fell below 80 cents against USD and on the other crosses on the less than spectacular GDP print in the morning session and remains below that level going into the London open. The medium term setup is still pushing higher to break through and stay above the 79.80 level, but I'm closely watching the low moving average at 79.65 for a breakdown: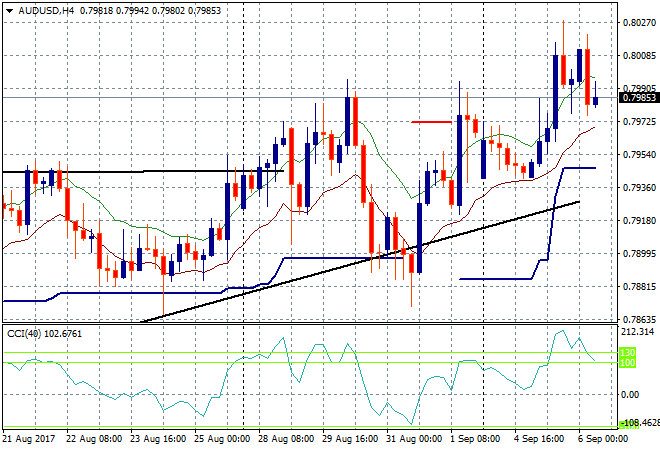 The data calendar has a few releases to keep an eye on, first up in Europe its German factory orders for July, then the Canadian central bank meets later on in the session.