by Chris Becker
A poor start to the week in Asia as yet again, tensions rise on the Korean peninsula. The usual response is a run to safe havens with Yen bid up strongly alongside gold, with the former providing a huge headwind to domestic Japanese stocks. Only Chinese bourses have advanced as the tepid NFP print on Friday also puts caution to the buy button pushers.
In mainland China the Shanghai Composite is up a few points at 3372 slowly melting up to 3400 points after the big breakout last week.  The Hong Kong based Hang Seng Index is off nearly 1% to come back below 28000 points and setting up for a potential swing short position, although firm support is a ways off: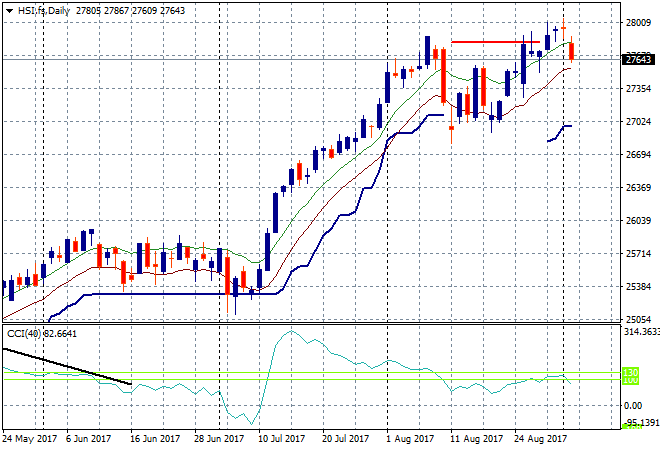 Japanese stocks were hardest hit, with the Nikkei falling almost 1% exactly to close at 19508 points, still below the very firm resistance at the 20,000 point level.  The USDJPY pair has dropped back well below the 110 handle and is currently setting up for further falls tonight as it slips to 109.50 and perhaps down to ATR support at the 109.30 or so: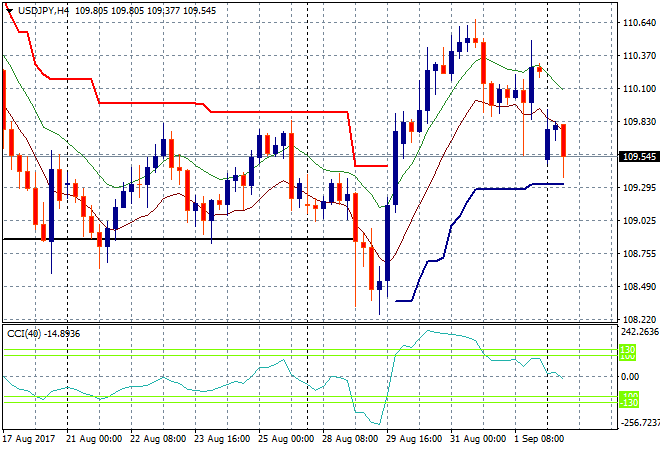 S&P futures have gapped down suggesting a significant drop on the open later tonight for US stocks: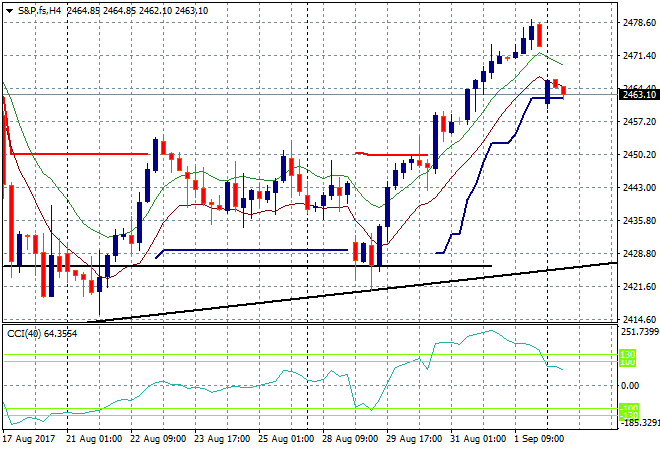 The ASX200 starts the week poorly as well, losing 22 points or about 0.4% to close just above the critical 5700 point level. This takes it back to the 200 day moving average once again, with broad losses in financials the major culprit here.
The Aussie dollar has fallen back somewhat but is not yet below the previous resistance now support zone in the short term at 79.50 against USD, but its close. There is potential for a fall through to the daily uptrend line at around 79.20 on any major risk-off event: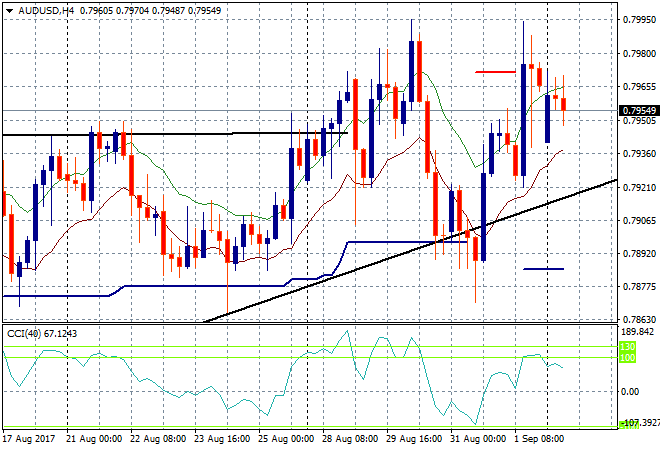 The data calendar starts the week very quietly following the NFP print as usual, with nothing of note slated tonight.