The AFR is excited:
The infrastructure boom could last longer than the mining boom, engineers have forecast as rising job vacancies on hundreds of projects, worth more than $100 billion around the country push up engineering and construction wages.

"The jobs data is as clear as a bell, we're on the up," said Brent Jackson, executive general manager of industry body Engineers Australia. "Because we've got so many projects on the boil, we're not going to see this boom back off for an awfully long time."

Engineering and construction is one of the few industries in which workers are getting pay rises as demand for skilled engineers enables people to jump from one project to another, boosting their salaries.

Some 3579 engineering jobs were available nationally in June – up 32 per cent on a year earlier, according to Engineers Australia. Most of the jobs are in NSW and Victoria as the states proceed with tens of billions of dollars of new road and rail projects.

"There's no doubt it's a competitive market out there – the east coast is experiencing an unprecedented infrastructure boom," said Joe Barr, chief executive of contractor John Holland.
It's certainly good news to see some major city de-clogging. But in terms of adding to growth (and jobs) it isn't going to last "decades". In fact, it'll be largely over next year: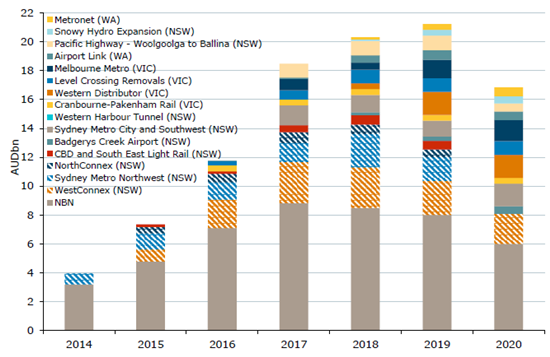 The big jump in spending is this year. For 2018 and 2019 the rise is a lousy $2bn or so. By 2020 a new capex cliff appears.
So, this year adds 0.4-0.5% to growth. For two years after that just 0.1%. Then it takes it all away fast as the NBN spend retrenches.
One has to remember that building-led growth is dumb growth. It only adds to growth and jobs if it is building more than the year before. That is, you make yourself thoroughly hostage to the rate of change in spending.
Obviously this kind of resembles a ponzi-scheme.