As do-nothing Malcolm and his loser mates attack renewables and champion coal, the real culprit, gas prices, being forced to discount because it has flooded regional markets, via Goldman:
It has been suggested in the press that Petronet may have successfully renegotiated terms with ExxonMobil relating to its c.1.5mtpa 20-year contract with the Australian Gorgon project. In exchange for reduced pricing (lower oil linkage) and significantly improved shipping terms (now delivered; previously FOB), Petronet has reportedly agreed to increase its offtake volume by c.67% (an additional c.1mtpa, taking Petronet's total offtake from Gorgon to c.2.5mtpa). India's oil minister Dharmendra Pradhan commented, "…India has yet again been able to address the long term price issue of LNG from Gorgon to suit Indian market."

Buyer's market: We see this outcome, if finalised, as reflective of an oversupplied, buyers' market in which buyers want lower prices and suppliers want to reduce spot LNG exposure through medium/long term volume placement. This substantive re-negotiation may tempt other buyers in the region to more aggressively seek renegotiated terms – particularly those off-taking similar product from similar suppliers at significantly higher prices.

Australia LNG returns already lacklustre: Unfortunately for Upstream investors, on our oil price deck all Australian LNG projects built in the last investment cycle are likely to earn a sub-cost of capital life-cycle return (excluding PNG LNG); renegotiated contracts would detract further from this (with debottlenecking a clear positive from some projects, e.g., PNG LNG, Pluto LNG).

Details of contract price/term changes: Press reports (Bloomberg, Reuters) suggest the following changes have been proposed: (1) oil linkage (slope) for 1.5mtpa existing contract reduced from 14.5% to 13.9%, (2) shipping terms for 1.5mtpa existing contract improved to delivered basis (DES), previously FOB (saving Petronet in the order of c.US$0.50-0.75/MMBtu), (3) additional contract 1.0mtpa at 12.5% oil linkage (DES). The delivered price based on the renegotiated price would be US$7.37/MMBtu (base) and US$6.63/MMBtu (new volume) compared to spot prices currently at c.US$6.20/MMBtu (West India DES).

Implications for other suppliers: Listed Australian LNG exporters did not sign long term contracts with Indian off-takers, and have managed to defend contract terms to this point with China SOE off-takers. Therefore, whilst it is difficult to see any positive in another contract re-negotiation for suppliers, it is also not enough to cause us to alter our earnings/cashflow forecasts for the Australia LNG group. However, for other suppliers with Indian long term contracts, further re-negotiations still remains an outstanding risk (based on the Minister's comments, and the outcome achieved with ExxonMobil).

Implications for India gas value chain: We believe the re-negotiation in gas prices is on the margin positive for India gas demand. BPCL Gail and IOC are the buyers for Gorgon volume with 40%/30%/30% exposure. We expect respective savings of 1.0%/2.0%/0.5% for FY19 EBITDA based on the renegotiated price for BPCL, GAIL and Indian oil. Petronet LNG has back to back take or pay contracts with the buyers for Gorgon volumes and would benefit from improved visibility for demand. 1 mn tonnes higher LNG volumes imply 8% higher FY19 EBITDA for Petronet LNG.
It remains my view that this is only the beginning. The glut is beyond huge: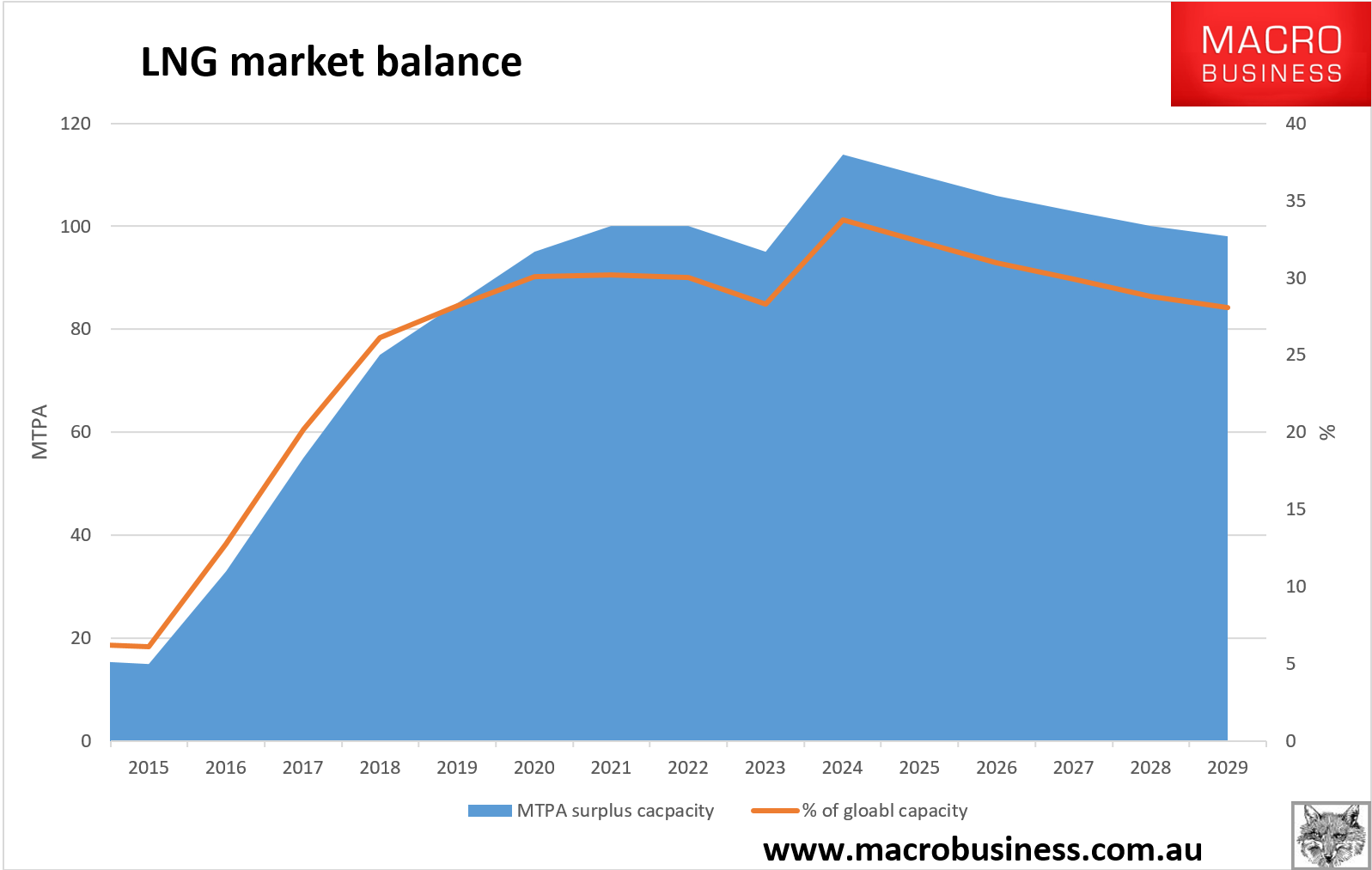 And whenever we next hit a global growth shock, there is going to be such a gigantic gas glut that I expect the contract system to virtually collapse.
Yet we'll see local gas prices rise because the Aussie dollar will fall and the gas cartel will link local prices to the oil price as it diverts volumes.
Remember that by next year we'll be exporting 4200Pj of gas and the local shortage is 200Pj, just 4% of volumes. Yet that has driven our gas price to $17.50Gj from $3Gj, more or less 600% inflation in a few years, as it fell by 70% in Japan and India to half our rates today.
In any nation with even an ounce of self-regard the pitchforks and torches would be marching on the capital.