Back in April 2014, the hospitality industry demanded that access to so-called 'skilled' temporary 457 visa workers be relaxed to fast-track thousands more foreign chefs, cooks, waiters and bar staff:
The department is evaluating an industry request to fast-track thousands more foreign chefs and cooks on temporary work visas.

Separately, the department is considering lowering the existing requirement for 457 visa workers to have "functional ­English'', as part of a government-ordered inquiry into the temporary work scheme.

Restaurant and Catering Australia chief executive John Hart yesterday revealed the hospitality industry wants the agreement to extend 457 visas to cover waiters and bar staff, as well as skilled chefs and managers.

The industry also wants to waive English language requirements and axe the $53,900 minimum salary…
Now, the industry has thrown another tantrum over the Turnbull Government's modest reforms to temporary 'skilled' workers, playing the usual 'skills shortage' card. From The ABC:
Some of Australia's top restaurateurs are warning their businesses are being put at risk due to an extreme skills shortage in hospitality that is being exacerbated by the Federal Government's drastic changes to the 457 visa program.

The changes, announced in April, will abolish the pathway to permanent residency for key roles including restaurant managers, bakers and cooks.

The hospitality industry relies on foreign workers to fill certain roles, from a French pastry chef to a specialist in sake.

But business owners have told Lateline the changes mean a level of uncertainty that will jeopardise their plans for expansion — and ultimately impinge on the quality and diversity of the Australian dining scene…

Prime Minister Malcolm Turnbull, in announcing the abolition of the 457 visa category, said the change was designed to ensure Australian jobs were filled by Australian workers where possible, and that foreign workers were not being brought in "simply because an employer finds it easier to recruit a foreign worker than bother hiring an Australian".

Will Aldous, a migration agent at TSS Immigration, called that scenario "ridiculous".

"Our clients go through an extensive application process," he said.

"They're vetted by the Government. It's not a quick fix; it takes a long time. The business that will typically use this program will do so as a last resort — they pay $4,000 to $5,000 to bring someone in on a 457 visa."

Critics say the changes, which not only remove the pathway to permanent residency but increase the cost of hiring a skilled migrant and place a higher English language requirement on applicants, will create uncertainty for those currently here.

"These are people who have uprooted their lives, taken children out of schools in home countries [and] put them into an environment where English is a second language," Mr Aldous said.

"[They] now face the prospect of that dream being shattered because of this change in regulation. They will have to depart — some [won't] even work out the term of their of 457 visa."

Migration consultant Angela Chan said that would be problematic for an industry already facing a skills shortage.

"It was faced with a critical shortage before the abolition of the 457 program," she said.

"It's projected that there will be a skills shortage of 120,000 by 2020 of workers within hospitality and tourism industry."
The fact of the matter is that the hospitality industry has been one of the biggest users (abusers?) of the 457-visa system. According to the Department of Immigration's latest statistics, "Cooks" was the biggest occupation where primary visas were granted, whereas "Cafe or Restaurant Manager" was the third biggest occupation: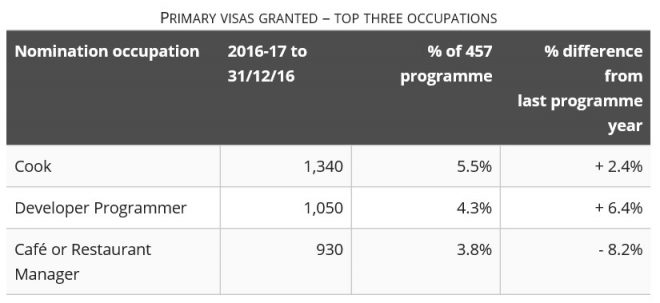 The hospitality industry is a key pathway to employment for unskilled and unemployed Australians, as well as university students seeking part-time work. Strengthening visa requirements for hospitality would improve this pathway, while at the same time strengthening local workers' pay and conditions – vital given Australian wages growth is so alarmingly low.
This last point is important. As explained by The Australia Institute's chief economist, Richard Denniss:
…the purpose of 457 visas is to suppress wage growth by allowing employers to recruit from a global pool of labour to compete with Australian workers. When demand for workers rises, employers need to bid against each other for the available scarce talent. It is only in recent years that the wage rises that accompany the normal functioning of the labour market have been rebranded as a "skills shortage".

When demand for petrol rises on the Thursday before a long weekend, it would be rare to hear it called a "petrol shortage". The petrol stations receive a windfall profit, the customers get grumpy, and that is pretty much how capitalism works.

The increase in price that accompanies an increase in demand is inevitably good for sellers (like workers with rare skills and petrol stations) and bad for buyers (like employers and holiday makers). But the existence of higher prices is not, in itself, evidence of a problem. Indeed, economists would usually argue that such price rises often increase economic efficiency.

The first efficient function of high wages, or high petrol prices, is that it helps to ration something scare. Those employers who value the skills the most, and those drivers with the least petrol in their tank, will pay the higher prices while others will choose to wait or find an alternative. This takes some heat out of the market.

The second thing economists like about high prices – for wages or petrol – is that, if they are expected to stay high, people will find, or invest in, ways to use less of the scarce resource. That is why high wages boost productivity growth; they give employers an incentive to invest in better processes, machinery and training.

It's not an accident that more machinery and fewer shovels are used to build roads in Australia than in developing countries. Because we have higher wages, rational road-building companies invest in bulldozers and graders rather than recruit huge teams of labourers. If Australia wanted to "create jobs", we could ban bulldozers. But while lowering the productivity of construction workers would boost employment in the short term, it would do nothing to boost living standards in the long term…

The third, and possibly most important, benefit of high wages and high petrol prices is that they have the potential to encourage new workers, and new petrol stations, to enter the market. If a "skills shortage" leads to a boost in wages for plumbers or aged-care nurses, the most likely response is for the higher wages to attract more people into the industry. Similarly, firms that want to avoid "skills shortages" could do something old-fashioned like train up their workforce of tomorrow…
Exactly. Instead of demanding the federal government allow a continuous stream of cheap foreign labour, perhaps the hospitality industry should try and train some local staff, or even better, pay higher wages to attract local workers into the industry?