According to Gotti, yes:
A big part of the energy problem is gas prices. There are two "real, practical solutions" required. The first is to divert gas that was ear marked for Queensland LNG exports to NSW and Victoria. As far as I can tell the federal government has done this. Well-done Josh Frydenberg. The second "real, practical solution" is to allow production of the abundant non-fracked gas available in Gippsland and Narrabri. To date the major parties have preferred their voters to pay higher gas prices. Once voters wake up that they are paying through the nose to win "green seats" there will be a party from the right or the left that creams the votes as we have seen in the UK and US. The higher gas prices also boost power prices
At least he gets the key role of gas. There is some evidence of price falls. Citi reckons prices will come down further yet as the cartel tries to dodge more restrictions:
  LNG producers managing gas supply volatility — During the month, APLNG undertook a 10 day single Train shut down, with gas supply reducing by ~900TJ/d. In parallel, volumes were managed via increased gas supply to QCLNG (+250TJ/d) and GLNG (+250TJ/d), domestic supply increased (+100TJ/d) and reduced APLNG field production (-200TJ/d), indicating a likely means for industry to work together to minimize gas supply volatility for future shut-downs. Ironically gas prices in Brisbane spiked ~A$1/GJ when the Train was taken offline, perhaps given limited gas pushed into domestic market as anticipated. However the real test for LNG industry will be October, when QCLNG shuts down 2 Trains (~1500TJ/d supply), roughly equal to the entire East Coast gas market demand. Ironically, we could see significant suppression to spot gas prices, at a time the Australian Government is announcing ADGSM gas reservations, given perceived shortage of supply.

 Domestic gas prices continues to decline, down 1-8% MoM in August — LNG producers continue to support domestic market over exports, with pipeline data suggesting that supply is up 5% MoM to 321TJ/d. However, we may have to wait until November (after QCLNG's 2 Train shut-down in October) to better understand if LNG projects are consciously supporting domestic market over exports. Increasing supply to domestic market should bode well for negligible government action from ADGSM.

 Spot LNG prices higher, up to US$6.0/mmbtu but likely to weaken in next 12 months — Prices moved higher on supply side shortfalls from LNG projects as well as incremental demand in Asia from hot weather and winter stockpiling by Japanese utilities. However, we expect spot LNG prices to weaken over the next 12 months as new supply ramps up (>50mtpa from Ichthys, Prelude, Yamal, Wheatstone, Cove Point) and seasonally weaker demand.
But with gas contract prices still at $17.50Gj, double the price of the same gas in Japan, the reservation mechanism it's flagrantly too weak so far: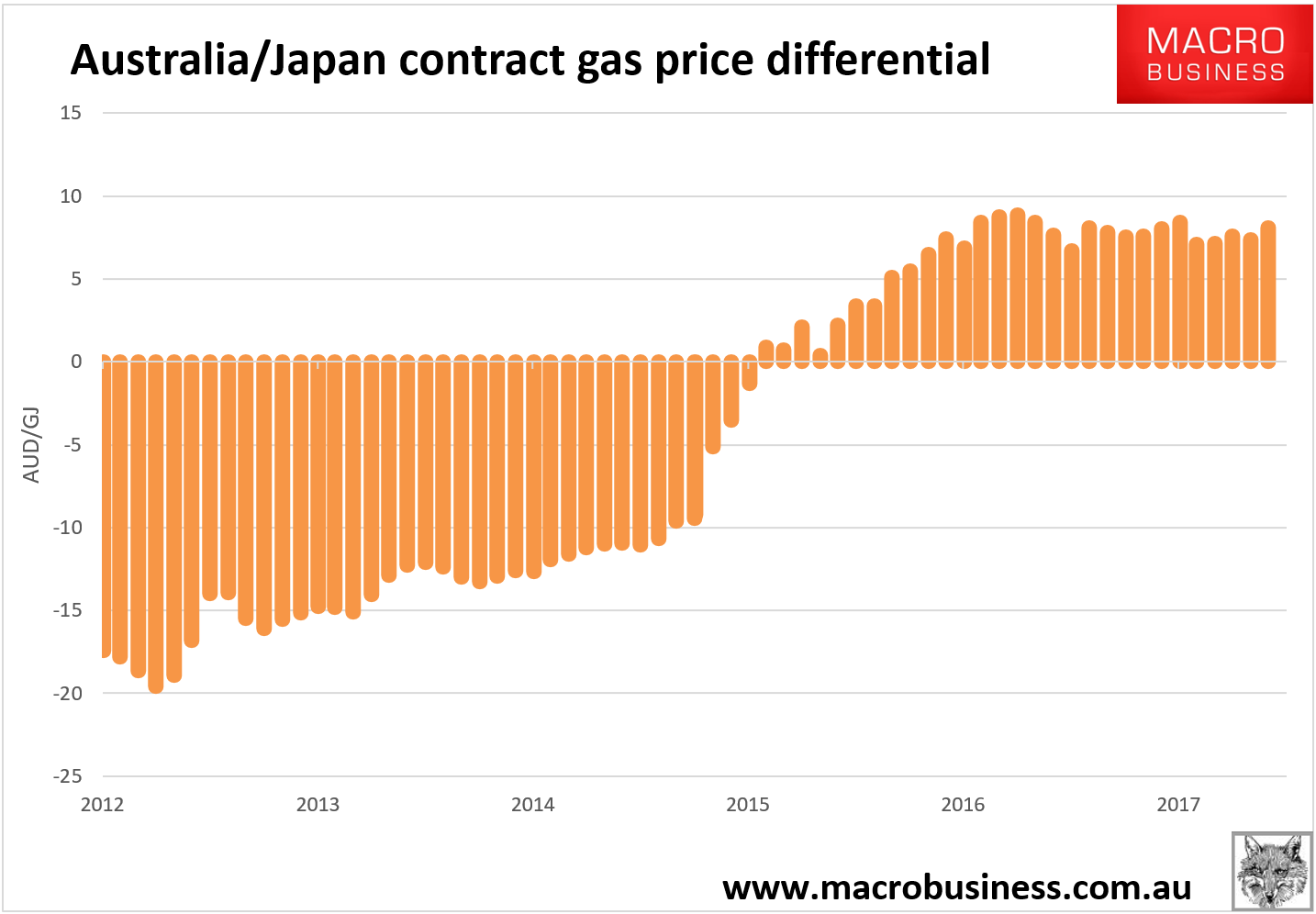 Not until this chart shows prices at roughly $2 below zero will we have reached export-net back. That is, prices need to fall by 60% from here.
Until then it is a discretionary pricing rort.