Reap the whirlwind. The Coalition's self-made energy crisis has finally exploded.
From the top, mining is furious:
The chief executive officer of miner Rio Tinto has lashed out at Australia over its rising energy costs, saying the country had kicked "a national own goal" letting states set their own energy targets and make their own gas access arrangements.

In a speech at a Minerals Council event in Parliament House in Canberra, Jean-Sebastien Jacques said Australia was "an energy-rich country" and it "should have affordable, secure and flexible supply".

Electricity companies will write to a million households by Christmas to offer them cheaper power plans, Prime Minister Malcolm Turnbull demanded.

But within a decade the country had "gone from having some of the most competitively priced energy in the developed world to having nearly the most expensive"

"The future of many operations – mining, manufacturing, agriculture – and businesses large and small are at risk. The lessons of the past decade would suggest less state-based intervention and more national coordination," Mr Jacques told his audience of mining industry leaders and politicians.

"Too many states going in too many directions on their own targets, on their own gas access arrangements, have been too much of a national 'own goal'."
Business is livid:
Australia's largest energy users have warned that an estimated $9 billion in additional electricity and gas costs will feed through to the broader economy, threatening jobs and investment, as business drives pressure on Canberra to ease predicted power shortages.

Major packaging and brick makers, supermarkets, soft-drink bottlers and poultry producers said yesterday the bill shock would chip away further at profit margins and could push up consumer ­prices as a political firefight continued over Malcolm Turnbull's push to extend the life of the 1900 megawatt Liddell power ­station beyond 2022, a call rejected by its owner AGL.

Economists, including Nat­ional Australia Bank chief economist Alan Oster, warned the power bill shock was expected to show up in national inflation figures as early as next month.

He predicted headline inflation would increase 0.6 per cent for the July-to-September quarter, purely from energy price rises.

"And that is significant, ­because what it means is that if you are running the rest of your price increases by about 0.6 or 0.5 per cent, which is where they are at, you suddenly have a 1.2 per cent (inflation figure),'' Mr Oster said.
It's turned toxic for households and the populists, Andrew Bolt:
IT takes world-class idiots to give Australia not just world-record electricity prices, but blackouts, too.

Your bills have doubled in a decade and the Australian Energy Market Operator on Wednesday warned of summer shortages.

You think "idiot" is too strong? Then how could a country with huge resources of coal, gas and uranium run short of electricity?
And policy process is out the window as Do-nothing Malcolm channels his self-generated chaos towards AGL, at the AFR:
Energy giant AGL has earned the wrath of the coal sector and Malcolm Turnbull has urged the company to put consumers before shareholders as he pushed the company to agree to sell the Liddell power station rather than allow it to close in 2022.

Mr Turnbull and Energy Minister Josh Frydenberg will meet AGL chief executive Andy Vesey on Monday in a bid to convince him to sell the old coal-fired plant in the NSW Hunter Valley, even though it would be against AGL's commercial interests to effectively establish a competitor in the generation market.

"Generators, electricity companies, obviously prefer electricity prices to be high. That's when they make a lot of money," Mr Turnbull said.

"Our perspective, our responsibility is to the Australian people, whether it's mums and dads, families, whether it's businesses, to ensure that electricity and all energy, is affordable and reliable."
The Coalition attack dog, The Australian, has launched a culture war on the energy retailer:
A senior manager in charge of promoting the energy policy of Australia's largest electricity producer previously worked for activist group GetUp!, which is committed to shutting down the coal-fired power industry.

Self-described political strategist Skye Laris is an executive member of AGL Energy managing director Andy Vesey's team as he sticks with the company's plan to shut down the Liddell power station in the NSW Hunter Valley, despite protests the planned closure threatens energy supplies.

Ms Laris, who joined AGL in February as senior manager, digital engagement, is now a senior manager, public advocacy for the company. She is a former campaign director for GetUp! and has worked in a series of senior ALP jobs, including leading the party's digital campaign for the 2013 federal election campaign and during Bill Shorten's first few years in the Labor leadership.

Immediately before joining GetUp! in March 2011, she was chief of staff and policy adviser to Labor frontbencher Tony Burke, who is also her partner.
Yet why would AGL sell the plant? It knows what's coming, via Matthew Stevens:
Not quite four weeks ago, in the AGL profit briefings, Vesey was pushed on whether the sort of incentive power prices that we are seeing right now might make it more sensible to keep Liddell running beyond its current execution date.

In saying no at great length, Vesey noted first that sustaining Liddell was "not a free option".

"We believe that the reduction of carbon risk in our portfolio is still very important. The greenhouse gas policy that we put forward in April 2015 is what we operate by and we are sure of the decision that that plant will close at the end of calendar year 2022.

"The reason I say that is it's sort of not a free option because [of] that age of plant, which was built approximately 1975," he said. (Just for the record, that is not quite right. In fact Liddell was commissioned over two years from 1971.)

"So it's just a bit younger than I am," Vesey quipped before expanding on his Liddell logic.

"It will require a significant investment and so, you know, if you're thinking about extending the life of a plant like that for 10 years, let's say, the level of investment would be significant.

"And the question we have to ask if we're going to make a significant investment in generation, would we do it in an older plant which is less reliable with higher maintenance costs or should we be making that investment in new technology which aligns with what we believe is the future which will be a greater value long term to our shareholders and customers.

"Well, we've chosen the second and we are still of that view."

And there's the rub.
And he's right, as Goldman confirms again today:
The low price achieved in recent renewables auctions worldwide implies a significant acceleration in cost reduction for wind/solar. We estimate that the costs of these technologies has decreased by c.60% on average over the last seven years, making wind/solar the cheapest way of producing electricity. We believe that there is still significant room for further cost reduction, and expect a further c.37% decrease in costs over the next eight years. Prices achieved by wind/solar in recent auctions have been surprisingly low… We see the outcome from the recent auctions (Exhibit 14) for wind and solar as solid evidence of the improvement in the competitiveness of these technologies, with prices of c.US$30/MWh in different countries, e.g. Morocco, the United Arab Emirates, Mexico, Chile and the US (in the US, wind and solar are awarded with tax benefits on top of the achieved price in the auction).

…implying a significant reduction in costs for these technologies We estimate that the wind and solar levelized cost of energy (LCOE) has decreased by c.50% and 70% respectively since 2009. We expect this trend to continue and (based on IRENA's forecasts for investment costs and our expectation of more efficient turbines and the evolution of cost of capital) estimate a c.33%/43% reduction in LCOE for wind/solar over 2017-25 (Exhibits 15-16).

Wind and solar are currently the cheapest ways of producing electricity when all costs (including investment) are included We estimate that the reduction in LCOE for wind/solar has made these technologies the cheapest way of producing electricity when all the costs, including investment costs, are taken into account (Exhibit 17).
Laura Tingle says this is all wonderfully clever:
So now let's bring some politics back into this. What has happened as a result of this intervention? Well Turnbull is talking about coal-fired power which keeps his conservative wing happy. But he's talking about it as a short-term fix, not about building a new coal-fired power station.

For the rest, he's talking about "making renewables reliable" through projects like his beloved Snowy Hydro 2.0.

The shift might have been lost in the noise. But it is to a much better place for Turnbull to be politically than he was at the beginning of the week.
Except keeping bullying Liddell to stay open won't fix energy prices today. It's five years away, for heaven's sake. All of the government's answers are many years away yet the crisis is NOW.
The ONLY way to deliver cheaper energy prices is cheaper gas. That's all there is. Gas sets the marginal cost of electricity in the NEM not renewables. But Do-nothing has botched it, via The Australian:
Shell Australia expects the federal government to activate export curbs for Australian gas this year, despite early signs of wholesale gas prices falling and increasing flows of gas from Queensland to the high-demand southern states

Shell Australia chairman Zoe Yujnovich said she expected the Australian Energy Market Operator to declare a "structural shortfall" in domestic gas supplies within the next four weeks, providing the government with a trigger to impose export restrictions.

But she said any restrictions were "less likely" to fall on Shell's export portfolio because it was already a net contributor to the local market.

The government created the Australian Domestic Gas Supply Mechanism in June amid a rolling energy crisis that has seen soaring household and industrial prices and threatened the viability of large commercial users.

The mechanism gives the government unprecedented power to limit gas exports from the three terminals on Curtis Island in Queensland.

Energy Minister Josh Frydenberg can effectively divert gas back into the market to ensure there is an adequate supply of affordable gas for domestic consumers. But the mechanism is focused on companies that are not "net contributors" and draw more from third-party sources than their own dedicated export reserves.

"We feel that that is less likely to have an impact on our export portfolio," Ms Yujnovich told a Bloomberg forum in Sydney yesterday.

"That won't be the case across all the venture partners on Curtis Island.
The ADGSM is not tough enough. Contract prices have come down from $20 to $17.50Gj. A few years ago here it was $3Gj. The same gas can still be bought in Japan for $9Gj. And we should be paying $2Gj cheaper than that if prices met export net-back: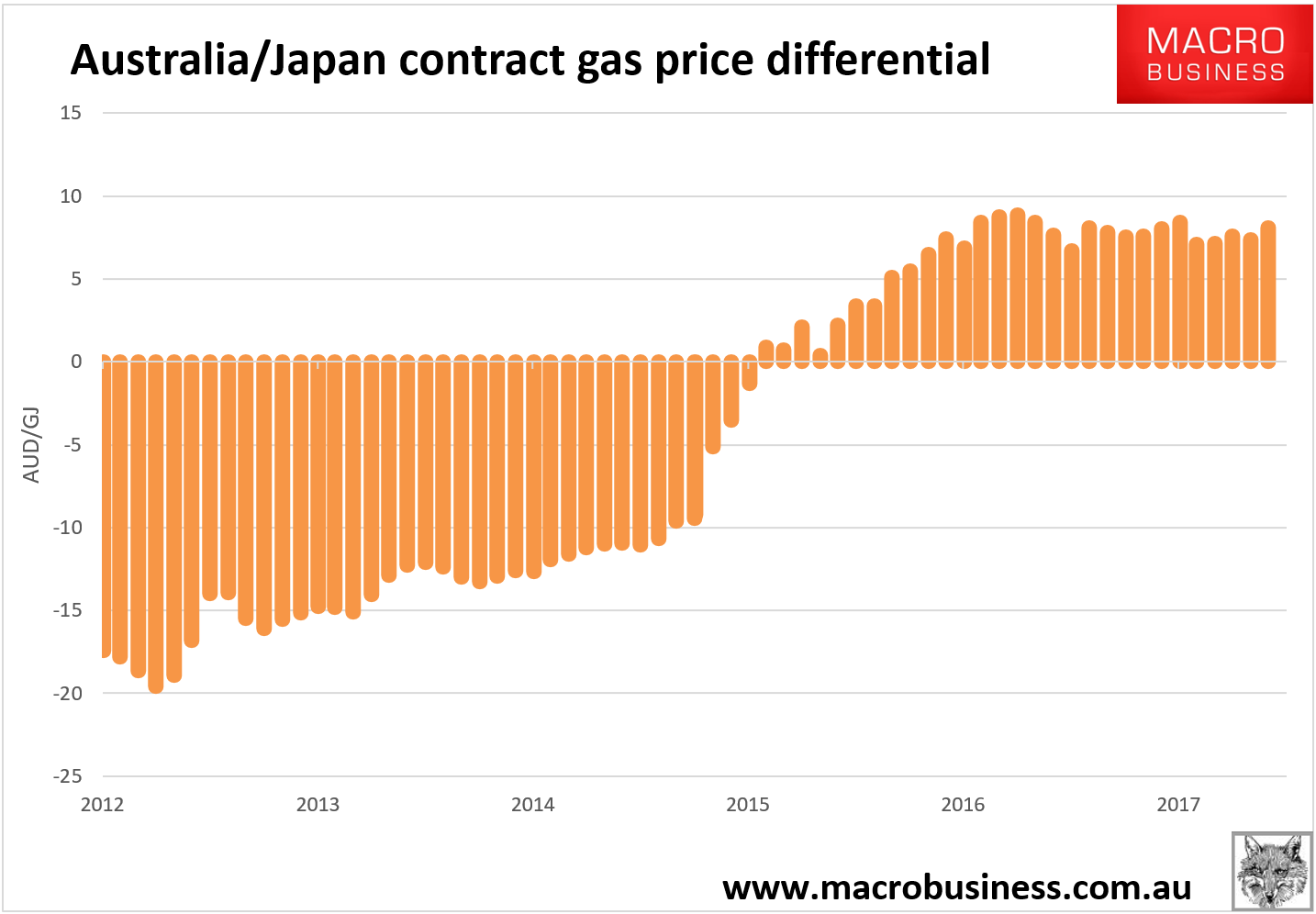 The one company most responsible for denuding the east coast of gas, Santos, is powering on the stock market because the ADGSM failed to force it to redirect enough gas locally. It's too slow and too weak. Nor is there any apparent plan to bring Shell into a regulatory umbrella despite it sitting on, and failing to develop, the largest gas reserves on the east coast.
The eastern economy is caught in a dramatic energy shock that was long predicted. Do-nothing Malcolm has butchered the policy response, stuffed the politics and is now spraying blame like a crazy Catherine wheel in a poorly co-ordinated bullying campaign against energy retailers that won't impact prices for years when the gas cartel is making out like a bandit.
The energy chaos descending on the east coast is a direct reflection of a decade of Coalition energy bastardry, first in trashing the carbon price, and today in a deeply confused, hollow man PM.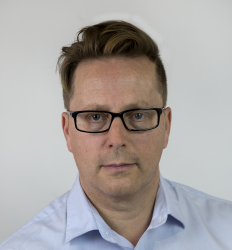 Latest posts by Houses and Holes
(see all)