by Chris Becker
The most important economic event on the calendar came and went on Friday night, the US monthly employment data print, or "nonfarm payroll" or NFP. It was a good print, coming in slightly over expectations, but didn't fire up stocks nor bonds after the release.
Here's the sticky from the BLS via Calculated Risk:
Total nonfarm payroll employment increased by 209,000 in July, and the unemployment rate was little changed at 4.3 percent, the U.S. Bureau of Labor Statistics reported today. Employment increased in food services and drinking places, professional and business services, and health care.

In July, average hourly earnings for all employees on private nonfarm payrolls rose by 9 cents to $26.36. Over the year, average hourly earnings have risen by 65 cents, or 2.5 percent.
emphasis added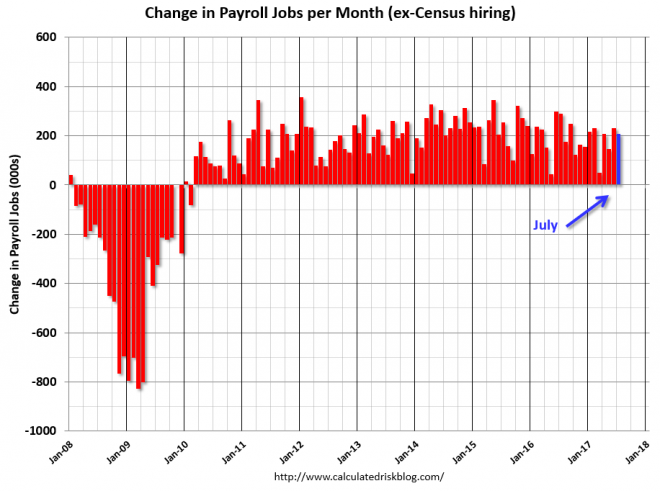 With headline unemployment (but not underemployment, or youth employment) still treading near record lows and with wage inflation kept under check, the Federal Reserve has no reason to accelerate its rate rise agenda from here.
In fact wage growth is trending down still:

source: tradingeconomics.com
If Trump wants to hit his magical 4% annual GDP number, beyond actually passing any legislation – ha ha – wage inflation needs to be the central focus of any domestic economic agenda. If he had one that is.
For comparison purposes, here's the change in private sector jobs for the last series of Presidential terms:
Mr. G.W. Bush (red) took office following the bursting of the stock market bubble, and left during the bursting of the housing bubble. Mr. Obama (blue) took office during the financial crisis and great recession. There was also a significant recession in the early '80s right after Mr. Reagan (yellow) took office.

There was a recession towards the end of President G.H.W. Bush (purple) term, and Mr Clinton (light blue) served for eight years without a recession.

The employment recovery during Mr. G.W. Bush's (red) first term was sluggish, and private employment was down 811,000 jobs at the end of his first term.   At the end of Mr. Bush's second term, private employment was collapsing, and there were net 396,000 private sector jobs lost during Mr. Bush's two terms.

Private sector employment increased slightly under President G.H.W. Bush (purple), with 1,510,000 private sector jobs added.

Private sector employment increased by 20,966,000 under President Clinton (light blue), by 14,717,000 under President Reagan (yellow), and 9,041,000 under President Carter (dashed green).

There were only 1,937,000 more private sector jobs at the end of Mr. Obama's first term.  At the end of his second term, there were 11,756,000 more private sector jobs than when Mr. Obama initially took office.

During the first six months of Mr. Trump's term, the economy has added 1,027,000 private sector jobs.
The orange has a fair bit more of catching up to do. Maybe hire more golf caddies?