It has been well documented on this site that Auckland's housing shortage continues to worsen as dwelling consents – just 10,100 in the year to June: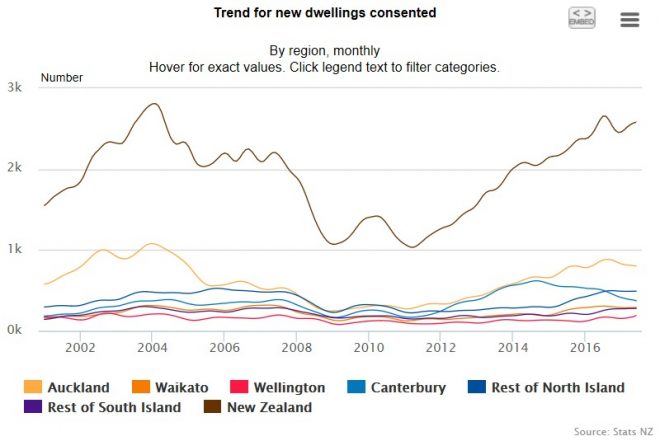 Have failed miserably to keep pace with the city's population growth, whereby 35,772 net migrants have descended on the city over the past year, around half of New Zealand's total: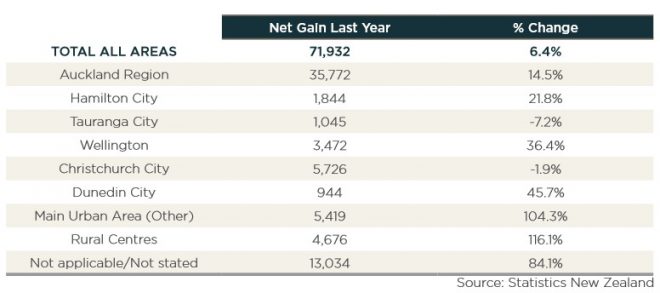 Whereas total Auckland population growth was 44,500, again around half of New Zealand's total: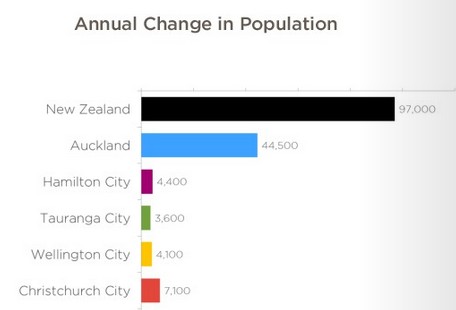 In addition to driving-up home prices into the stratosphere, forcing many young Kiwis out of home ownership, this mass immigration is now also helping to push-up rents while lowering wages. From Interest.co.nz:
Rents are rising faster than wages in most parts of the country, with the gap widening particularly quickly in Auckland, according to interest.co.nz's inaugural Rental Housing Affordability Report…

The situation is particularly acute in Auckland, where the average rent increased from $499 a week to $519 a week, up $20 a week (+4%), while average after tax pay rose from just $962 a week to $972 a week over the same period, an increase of just $10 a week (+1%).

So in Auckland, average rents rose at four times the rate of average take home pay, and in dollar terms, the rent rise was double that of average take home pay…

Auckland's relatively low growth in average net pay could be an unfortunate side effect of the high rates of net migration into the region.

Net migration is running at a record high and is accounting for nearly two thirds of Auckland's population growth, adding between 40,000 and 45,000 new residents to the city over the last 12 months.

That means migration is the main driver in the demand for more housing which is running well ahead of the rate at which homes are being built.

So migration will undoubtedly be putting upward pressure on rents.

And it may also be contributing to the region's lower rate of growth in average pay, with some economists believing that current patterns of migration suppress wage growth, particularly for lower paid jobs.

But whatever the reason, the current figures point to Aucklanders who don't own their own homes being caught between the rock of rapidly rising rents and the hard place of slowly rising wages.
Like the Coalition Government in Australia, the National Government has pinned the blame for Auckland's housing crisis on a lack of supply and rigid planning, without addressing the many demand-drivers under its control that are also making housing unaffordable, let alone holding back wages.