Statistics New Zealand has released its population estimates for the June quarter of 2016, which recorded an unprecedented population increase of 100,400 (2.1%) in the year to June, driven by a record high 72,300 net migration: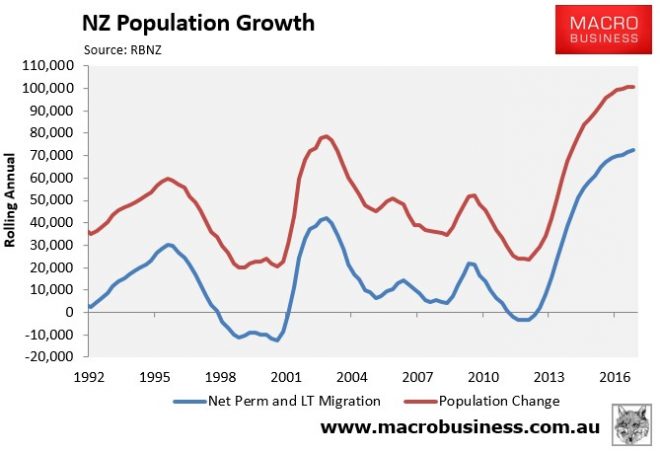 According to Statistics New Zealand:
"Our current net migration rate is high by New Zealand standards, but historically it has fluctuated more than other countries," population statistics senior manager Peter Dolan said. "At the moment we're experiencing rates similar to Australia's in 2009."

"Most migrants are arriving on short-term work and student visas," Mr Dolan said. "However, many of them extend their visas, or transition to other visa types including residence visas. It makes sense to count long-term stayers as part of our population, rather than as short-term visitors."
Separately, Statistics New Zealand also notes that the immigration explosion has increased the proportion of 15-39 year-olds in the population:
"Half of last year's growth was in the 15–39 age group," population statistics senior manager Peter Dolan said. "This reflects the contribution of migration to our population growth, with net migration of 50,000 among those aged 15–39 years."

As a result of recent migration flows, the share of New Zealand's population aged 15–39 years rose from 33 percent in 2013 to 34 percent in 2017. This is a reversal of the trend that saw the share drop from 41 percent in the mid-1980s.
The temporary demographic improvement is one of the key arguments used by boosters in favour of mass immigration. Of course, basic commonsense tells yo that these migrants will grow old and will add to the pool of ageing Kiwis in 30-years time, thus necessitating an even bigger immigration intake in the future to again ward off population ageing – an unsustainable proposition that amounts to little more than 'ponzi demography'.